Death of the DSLR? What's in store in 2014 for photography?
Recently I've seen a number of gloomy reports on the decline of digital camera sales and the suggestion that DSLRs will no longer be the mainstream camera for most photographers. While there may be a little truth in that, in the (almost) words of Mark Twain "The death of the DSLR has been greatly exagerated"!
The basic fact is that, taken on a global basis, overall sales of digital cameras are declining. Exactly what the cause of this is is hard to say, but the increasing number of people using Smartphones is certainly high on the list. With the imaging capability of Smartphones getting better, the convenience of just carrying one device outweighs the greater capabilities of a dedicated digital camera for many people. If all you are doing is posting "Selfies" to Facebook, it really doesn't matter what you use - plus you can post those photos directly from the Smartphone, so they go on-line instantly. Even if you're not posting selfies, you can still make instant Instagram type postings of your vacation, family or even your art. The dedicated small consumer oriented digital camera clearly has some stiff competition.
So what are the numbers? Let's look at the period from January to October 2013 and compare it with the previous year (January-October 2012) and see what the trends are. These numbers are from the Camera and Imaging Products Association (CIPA) of Japan and represent the number of cameras (not the value of the cameras).
| | | | |
| --- | --- | --- | --- |
| Shipments | 2012 Jan-Oct | 2013 Jan-Oct | % of sales |
| Total production | 100% | 59.4% | 100 |
| To Japan | 100% | 87.3% | 13.5 |
| To the Americas | 100% | 61.7% | 25.5 |
| To Europe | 100% | 60.6% | 29.5 |
| To Asia | 100% | 58.4% | 29.5 |
| Other shipments | 100% | 46.9% | 2 |
From those figures it's pretty clear that digital camera sales are dropping everywhere in the world. Japan is the best market and even there things are down by 12.7%. In the Americas (which is mostly US sales) things are down by 38.3%.
Perhaps more interesting is how the various market segments are doing. Here we can divide things up into digicams with fixed lenses, and interchangeable lens cameras of two types, SLRs and mirrorless cameras. Again these numbers are relative to 2012 camera shipments.
| | | | |
| --- | --- | --- | --- |
| | Digicams | DSLR | Mirrorless |
| Japan | 77.5% | 130.8% | 112.8% |
| Americas | 57.8% | 87.6% | 53.1% |
| Europe | 55.9% | 79.8% | 71.9% |
| Asia | 51.4% | 76% | 92.9% |
| Other | 44.1% | 82.9% | 72.8% |
Looking at these numbers it's clear that on a worldwide basis, and especially for the USA, DSLR sales are holding up relatively well compared to the other market segments. Except for in Japan and the rest of Asia, DSLRs sales are holding up much better than mirrorless camera sales. Just looking at the Americas (mostly) USA, DSLR sales are down by 12.4%, but mirrorless camera sales are down by 46.9%. On top of this, the absolute numbers show that for every mirrorless camera that is sold in the Americas, 10 DSLRs are sold, so not only is the drop in sales of mirrorless cameras more drastic, not that many mirrorless cameras are sold.
Just about the only bright spot is Japan, where Interchangeable lens camera sales are up, though again DSLRs are leading with a 30.8% increase in sales over a 12.8% increase for mirrorless cameras. Also, for every mirrorless camera sold, only 2 DSLRs are sold, so mirrorless cameras are a much larger part of the overall market. In fact although the US market is at least twice the size of the Japanese market, more than twice as many mirrorless cameras were sold in Japan as were sold in the US.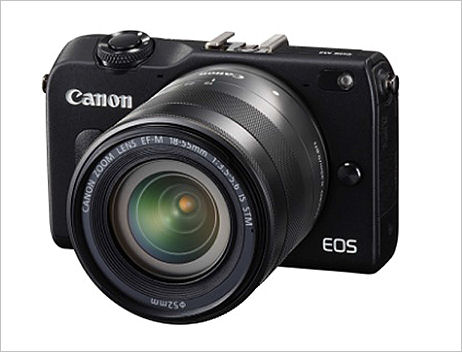 Canon EOS M2 (only for sale in Japan)
Those keeping up with new cameras will have read that Canon introduced an update of their EOS-M mirrorless camera (see EOS M2 Preview) but decided only to sell it in Japan. It's preet easy to see why. In Japan they can expect it to sell, while in the US (and to a lesser extent in Europe, where DSLR sales out number mirrorless sales by about 7 to 1) there's a small and declining market that Canon apparently don't seem to want to chase.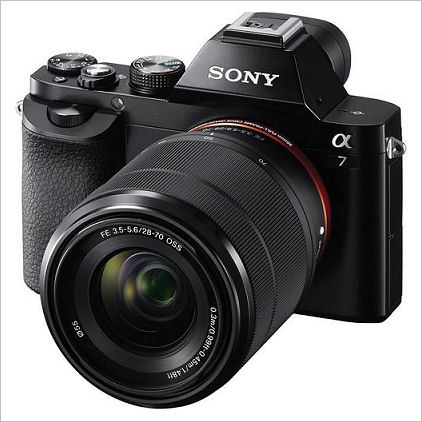 Sony A7, full frame mirrorless DSLR
So why are mirrorless camera sales down? Well, for a start they are not new anymore, so the "novelty" sales are dropping. Second, I don't think they have generally made good on their promise of smaller, lighter (cheaper?) systems which are just as good as DSLRs. Sure they are smaller and lighter than a DSLR, but the lenses for the APS-C models aren't. Mirrorless camera AF is also generally slower than a DSLR. I personally can't really see the point of a slightly smaller, lighter camera attached to one or more large, heavy and expensive lenses, especially if it doesn't AF as well. I can see the appeal of a mirrorless camera if you're a street photographer using a few small, fast prime lens, but that's a pretty small segment of the photographic market. The new Sony A7 full frame mirrorless camera suffers from the problems of the lenses having to cover a full 24x36mm frame and so generally being larger and heavier than the camera (not to mention having to buy a whole new set of lenses since existing Sony lenses for their NEX series of mirrorless cameras only cover an APS-C sensor).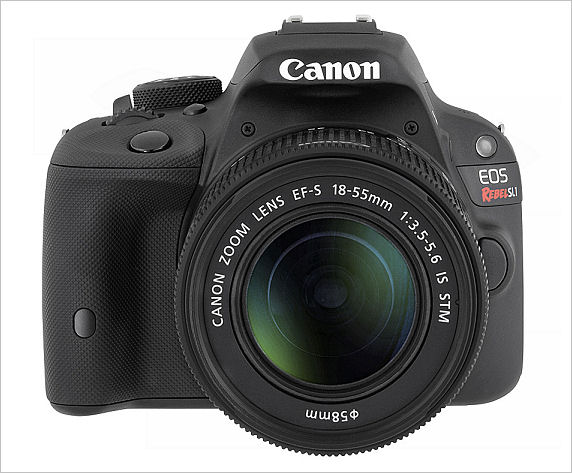 The Canon EOS Rebel SL1. Smallest, lightest DSLR available
Canon have demonstrated with the EOS Rebel SL1 that you can make a pretty small, light, inexpensive DSLR. With the EOS 70D they showed that you can get excellent AF "mirrorless" by making each and every pixel of the sensor capable as acting as a phase sensitive AF detector, so that the Live View and Video performance can equal that of a mirrorless camera. So why do you need a mirrorless camera body? Reflex viewing is clearer and sharper than an electronic viewfinder and has zero lag time.
When mirrorless cameras first came out and were gaining in popularity, some predicted that they would replace DSLRs. Well, I just don't see that happening. DSLRs still generally have better viewfinders, faster AF and with Live View and hybrid sensors can pretty much do anything a mirrorless camera can do and with the EOS Rebel SL1 Canon have showed they can be small and light too.
I should probably add that I think mirrorless cameras do have some useful attributes. In fact I own an Olympus Pen E-PL1 mirrorless myself. It is small when used with the Olympus collapsible 14-42 zoom and I can adapt pretty much any manual focus SLR lens to it, including several Konica lenses which can't be adapted to any DSLR because of the short back focus distance. However it in no way replaces my DSLRs. It's an additional camera, not an alternative camera.
So what can we expect in 2014
I think we'll see a reduction in the rate of introduction of new cameras, especially consumer oriented digicams. Some companies have already announced that they will be cutting back (e.g. Panasonic). Olympus have already dropped out of the DSLR market and are concentrating on their PEN series mirrorless cameras. Sony are still heavily invested in mirrorless cameras and in 2013 introduced the first full frame mirrorless, the Sony A7. I'd be surprised to see much new mirrorless development from Canon aimed at the US market. Nikon have a small niche market with the 1 Series cameras, but I don't really see them expanding that much.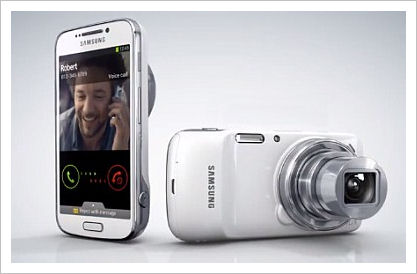 Is it a phone? Is it a camera? Actually, it's both - Samsung Galaxy S4 zoom
I think we'll still see higher end fixed lens digicams, but these will be the more expensive, larger sensor models. Obviously we'll also see the photographic capability of Smartphones expanded. Right now the Nokia Lumia 1020 with its 41MP sensor leads the pack, but I expect we'll see others following that lead. In fact the 16MP Samsung Galaxy S4 Zoom with a 10x optical zoom (with optical stabilization) may already be even better. It's as good as most small fixed lens digicams. In fact it is a small sensor fixed lens digicam, it's just small and has a phone in it (along with all the other Android goodies). It's a bit thicker and heavier than a typical Smartphone, but maybe it's just the first example of a "no-compromise" integrated camera and phone.
There's no doubt however that Nikon and Canon will dominate the DSLR market and they may even strengthen their position there. I'd expect to see a few new models, but I'm pretty sure that the pace of new model introduction will be slower than it has been in the past. However I don't really see any decline in DSLRs as the first choice of most serious photographers, and while Pentax and Sony have a small presence in the market, I really don't see them strengthening their positions. Sony seem to be somewhat more interested in developing the mirrorless market at the moment and they have the lion's share of it.
The DSLR is far from dead or dying. Unless someone comes up with something that's technically better and more versatile, DSLRs aren't going away. As yet mirrorless cameras are not disruptive technology. Mirrorless cameras aren't the equivalent of VHS (over Beta) or CDs (over Vinyl).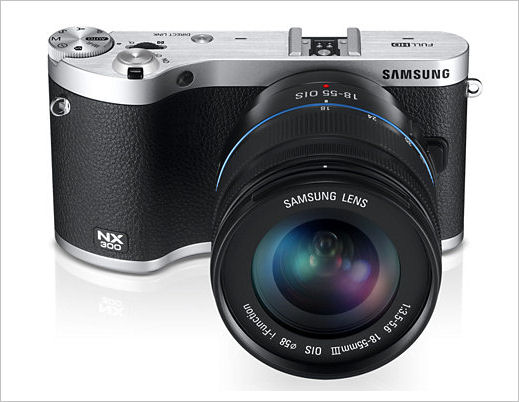 Samsung NX300. Excellent WiFi interface
What else might we see in 2014? Well, I expect to see better and easier to use (i.e. more seamless) wireless connectivity being built into more cameras. So far Samsung are probably leading in that respect and they have an interesting (though rather expensive) new Android powered Galaxy NX mirrorless camera with 3G/4G (as well as WiFi) built in. Their experience in being a major manufacturer of Smartphones and Tablets shows in the WiFi interface they used in the Samsung NX300. You could see that as something that will appeal to the Smartphone user who is looking for a new camera. With a similar interface and capabilities as their Smartphone, but much better imaging capability with interchangeable lenses, I can see it appealing to some younger photographers who have grown up with Smartphones. Enhanced connectivity is sure to be a feature of many, and probably most, new cameras in 2014 and beyond. Easy connectivity may be the factor that pulls Smartphone users into the interchangeable lens camera market. Complex WiFi setup and limited or awkward functionality will drive them away. The connectivity and interface can be equally well applied to DSLRs and mirrorless cameras.
On the Canon hardware front, I'd expect Canon to update the EOS 7D with a EOS 7D MkII. Some have suggested that there's no market for a high end APS-C camera now that full frame cameras like the EOS 6D aren't too different in price, but I disagree. I think there's a good chance Canon will update the EOS 7D with a hybrid sensor like that found in the EOS 70D, plus faster operation and AF via the Digic 6 processor - and of course WiFi. It still think most of what I wrote earlier this year about an EOS 7D MkII holds true.
What would I like to see in 2014
Obviously the Swiss Army Camera which combines everything from a fisheye lens to a long telephoto and low noise ISO 256000 capability in a pocket sized camera with fast AF and selling for under $500 would be nice, but it's not going to happen.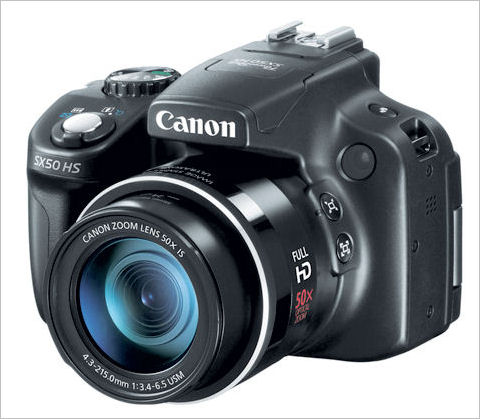 Canon Powershot SX50 HS. 24-1200mm optically stabilized zoom
In the realms of the possible I'd like to see a high end "Bridge" camera. I was impressed with the Powershot SX50HS when I reviewed it. In fact I actually went out and bought one! It's a small sensor digicam, with an articulated LCD, EVF, RAW image capability and a 24-1200mm lens with excellent image stabilization. Image quality is surprisingly good. And it's not expensive! However if Canon made something similar but speeded up the operation with a high end Digic 6 processor, more memory for a bigger image buffer, speeded up AF (perhaps by incorporating phase sensitive pixels) and installed a higher resolution EVF, it would be an even better camera that would cover the photographic needs of a lot of people. While a small sensor is a limitation for high ISO work, sensors are getting better and better and even the existing Powershot SX50 HS isn't bad, so small sensors are good enough for many purposes.
I'm too old and too traditional to want WiFi (or even video) in my camera, but I expect to get both and I'm resigned to it!