Canon EOS 5D MkIV First Look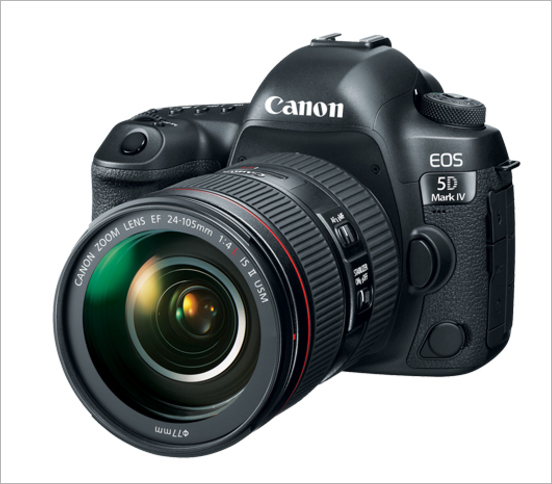 Canon's latest pro level DSLR (released in August 2016) is the Canon EOS 5D MkIV, and update of the EOS 5D MkIII. The Mk IV adds a number of new feature such as a higher resolution dual pixel sensor, 4K video, an upgraded AF system (from the 1D X Mark II), built in WiFi and GPS, a touch screen LCD. The "list" price of the EOS 5D MkIV is the same as that of the EOS 5D MkIII, $3499, though of course the street price of the Mk III will lower. Right now (mid 2017) you can get a for around $2299 while the is selling for $3299. So if you don't need the new features, you can still get a Mk III and save around $1000.
Here's a list of the major new features of the Canon EOS 5D Mk IV:
30.4MP CMOS full-frame sensor with Dual Pixels
Dual Pixel AF allows continuous Servo AF in Live View and video
DCI 4K 30/24p video using Motion JPEG + 4K Frame Grab
61 zone AF with 41 cross-type sensors (same as 1D X Mark II)
Center cross zone sensitive to -3ev. Live View AT sensitivity to -4EV
Native ISO 100-32000, expandable to 50-102400
7 fps continuous shooting
Dual Pixel Raw (image microadjustment, bokeh shift, ghosting reduction)
150,000-pixel RGB+IR metering sensor
1.62M-dot 3.2" rear LCD with full-time touch sensitivity
Built in GPS
Built in WiFi With NFC
Improved weather-sealing
Built-in bulb timer intervalometer
Canon EOS 5D MkIV, 5D MkIII and 5Ds Compared
This table shows a comparison of the three EOS 5D models currently in the stores. The 5D MkIII will, of course, be phased out now. The red background shows the camera model with the "best" feature. As you can see, the new Canon EOS 5D Mk IV wins the feature contest in every respect except for sensor resolution.
Canon EOS 5D IV

Canon EOS 5D III

Canon EOS 5DS

List Price (MSRP)
$3499
$3499
$3699
Typical Street Price
$3499
$2249
$3499
Sensor Pixel Count
30.4MP
22.3MP
50.6MP
ISO range Native
Expanded
100 - 32000
50-102400
100 - 25600
50-102400
100 - 6400
50-12800
Autofocus zones
61 (41 cross-type)
over expanded region
61 (41 cross-type)
61 (41 cross-type)

Autofocus in Video and Live View
'Dual Pixel' phase detection
Contrast detection
Contrast detection
Metering Sensor
150k pixels
63-zone dual-layer
150k pixels
Rear LCD size
3.2" 1.62M-dot touchscreen
3.2" 1.04M-dot
3.2" 1.04M-dot
Maximum frame rate
7 fps
6 fps
5 fps
Maximum Video Resolution
DCI 4K/30/24p
1080/30p
1080/30p
Headphone socket to monitor audio
Yes
Yes
No
Memory Card
1x Compact Flash
1x SD/SDHC/SDXC
1x Compact Flash
1x SD/SDHC/SDXC
1x Compact Flash
1x SD/SDHC/SDXC
GPS
Yes
No
No
Wi-Fi/NFC
Wifi and NPS
No
No
Externally, the Canon EOS 5D Mk IV is essentially the same as the Canon EOS 5D MkIII. The differences are inside the camera. That's good because it means that anyone upgrading from the MkIII will instantly be at home with the control layout. If you look at the front view of the camera (above) you will see that the remote shutter releave has been moved from the side of the camera to the lower right front. Other physical changes which aren't visible are the inclusion of better gaskets and seals which make the Mk IV more dust and moisture resistant than its predecessors.
The major functional difference between the rear controls of the Mk IV and MkIII is that the Mk IV's LCD screen in touch sensitive.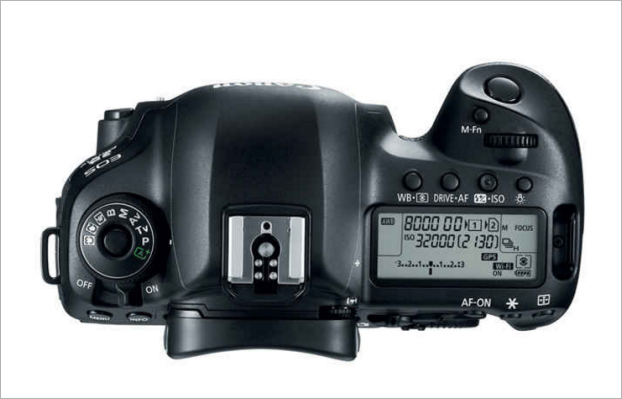 From both the viewpoint of specifications and from actual field testing, there's no doubt that the 5D MkIV is a better (more fully featured) camera than the 5D MkIII. The higher pixel count, expanded AF region, phase sensitive dual pixel along with 4K video, WiFi and GPS expand the capabilities of the camera significantly. If you want the ultimate in image resolution, at the expense of the loss of these features, then the is still the resolution leader.