Canon EOS 5Ds (R) press release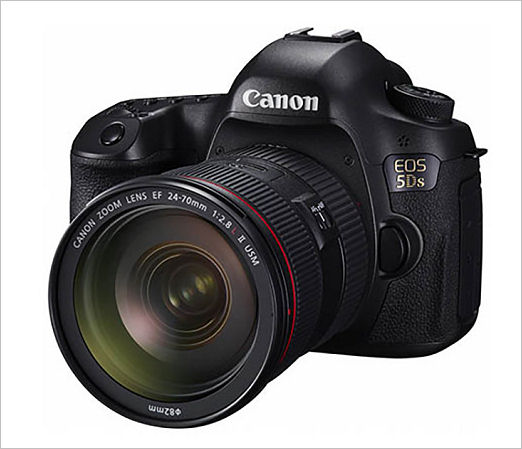 The big thing here is the use of a 50.6 MP sensor, enabling higher reolution images to be obtained when using good technique and good lenses. Apart from the sensor resolution, there's nothing really new here in terms of EOS 5D camera features. The 5DS R is capable of the highest resolution due to the effective removal of the low pass filter in front of the sensor. It doesn't actually have the low pass filter removed, rather it has a second filter installed the cancels the effect of the low pass filter. I believe this is the same strategy that Nikon used in their high resolution D800E. I'm guessing that this is because the low pass filter is actually bonded to the sensor, so it's easier to use a second filter to cancel out it's effect than to remove it. The point of doing this is to increase resolution (though at the risk of introducing more moire effects on high frequency detail).
Although there is no price listed here, prices have been quoted on other european sites. The 5Ds was listed at 3400 euros and the 5Ds R at 3699 euros. By comparison the current EOS 5D MkIII is selling for around 2500 euros. Since the 5D MkIII price in the US is around $3000, it looks like the 5Ds should retail for around $4200 here if the same relative prices hold. That would suggest that the 5DS R will probably be closer to $4500.
UPDATE
Well, the US prices are even lower than I'd estimated. The price at release will be $3899 and the price will be $3699. Delivery should start in June. As of June 2017, the price of the EOS 5DS-r is around $3700 and the 5DS is around $3500, so prices are holding up well!
Here is a copy of the official Canon Press Release"