The Canon EOS 6D is Canon's lowest cost full frame DSLR. It was designed to be smaller and lighter (and less expensive) than the more advanced EOS 5D MkIII and EOS-1D X models, yet still provide most of their functions, plus a few new ones!
The Canon EOS 6D is Canon's first DSLR with both built-in GPS and built in WiFi. No more having to plug in (and pay for) accessory modules, it's all right there in the camera. In addition the EOS 6D has an AF system capable of operating in lower light than any other EOS DSLR (when using the center AF zone).
Obviously some compromises had to be made to keep the cost low. The frame rate, while still pretty good at 4.5fps, is slower than the more expensive full frame models and the maximum shutter speed is slower (1/4000s vs 1/8000s). The AF system is less complex and configurable, with only the center zone being a cross type sensor.
Smaller and lighter than EOS 7D

The full specification of the EOS 6D can be found on the EOS 6D Specifications Page
Physical Configuration
The Canon EOS 6D full frame DSLR very closely resembles the EOS 60D crop sensor DSLR in terms of size, weight and control layout. Probably the biggest physical difference is that the EOS 6D has a fixed 3.2" LCD while the 60D has a 3" LCD which swings out, tilts and swivels. The EOS 60D also has a popup flash, while the EOS 6D (in common with all Canon full frame DSLRs) does not have a built in flash.
[Note that in the following descriptions "left" and "right" refer to the camera as it is normally held, i.e. pointing away from the photographer.]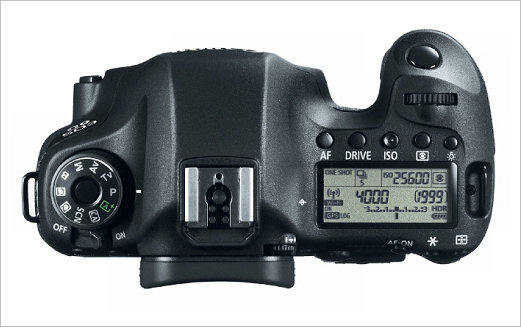 The shooting mode control dial and on/off switch on the the left side of the camera as shown above. The dial on the 6D is self-locking and the center button has to be depressed to change modes. M(anual), Tv, Av, P and B modes are available along withwo programmable positions, scene intelligent auto ("green square") and creative auto modes.
On the right side is the LCD which shows the camera settings including exposure, metering mode, ISO setting, focus mode, drive mode, remaining card capacity, battery status and GPS and WiFi status. Forward of the LCD are 5 single function buttons allowing setting of the AF mode, metering mode, ISO, Drive mode and LCD illumination. On a number of other Canon DSLRs (e.g. EOS 7D, 5D MkIII, 5D MkII) the buttons in front of the LCD are dual function, so if you are used to them, be aware of the difference here.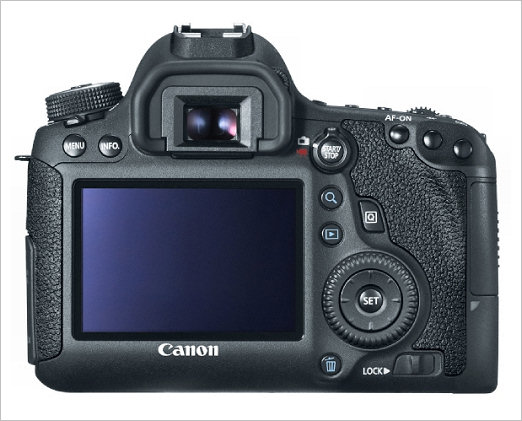 The rear controls are very similar to those found on the EOS 60D as previously mentioned. The functions of some of the buttons have been swapped, but the basic layout is the same. Both the 60D and the 6D use an 8-way controller integrated into the rear control dial rather than having the separate 8-way controller found on the EOS 7D, 5D MkII and 5D MkIII. The major difference between the 60D and 6D in this area is that the 60D has a 3" swing-out, tilt and swivel LCD, while the 6D has a slightly larger 3.2" LCD which is fixed in place.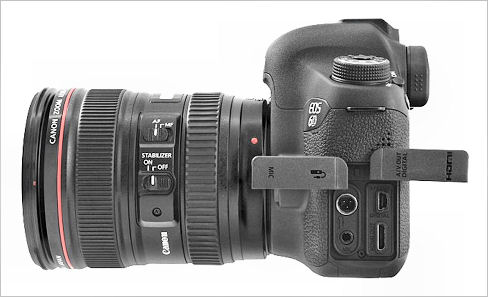 The I/O ports are found under rubber covers on the left side of the camera. There are connections for a wired remote release and an external stereo microphone (but there is no headphone jack to monitor audio during video recording). There's a USB (2.0) port, which doubles as an analog A/V output via the appropriate accessory cable and a mini HDMI connector for connection to a compatible TV or monitor. There is no PC sync socket.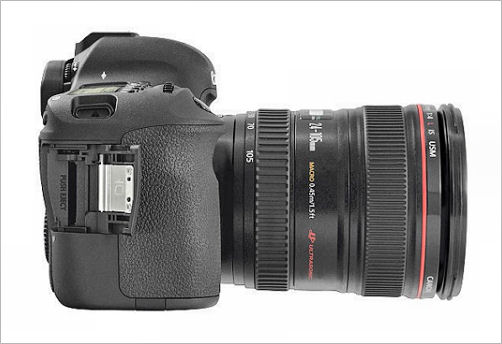 The memory card slot is found on the right side of the camera. It takes a single SD, SDHC or SDXC card (UHS-1 compatible). It cannot take CF (CompactFlash) cards (which all other EOS full frame DSLRs can).
The viewfinder has 97% coverage, slightly less than the 100% coverage of the EOS 7D and EOS 5D MkIII. The rear LCD does have 100% coverage when the camera is used in Live view mode. The viewfinder screen has the 11 AF zones marked and the active zone(s) flash in red to show that AF has been achieved and which zones have been used (in auto mode). Magnification is 0.71x and there is a -3 to +1 diopter adjustment.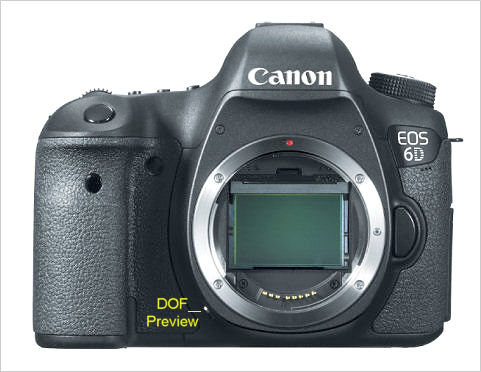 The DOF preview button on the EOS 6D is on the right side of the lensmount (like the 60D), not on the left as is found on the EOS 7D and 5D series bodies. Since I'm used to the 7D and 5D, I thought at first that Canon hadn't put a DOF button on the 6D but I was wrong. It's just on the other side of the camera, something I'm sure you get used to fairly quickly.
EOS 6D Operation
The EOS 6D is very responsive. The shutter lag is specified as less than 60ms, which puts it about even with the EOS 5D MkIII. The maximum frame rate is close to 4.5fps. Not superfast by today's DSLR standards, but probably fast enough for the vast majority of photographers (including me!). There's also a quiet shutter mode which significantly lowers shutter noise and is limited to a maximum frame rate of around 3fps.
With a fast (90 MB/s) UHS-1 SDHC memory card the buffer doesn't limit shooting JPEGs. You can shoot at ~ 4.5 fps until the card fills. The buffer is limiting when RAW images are saved though. When shooting just RAW, it takes 14-15 shots to fill the buffer, after which the frame rate drops to just under 1.5fps. If you want to save both RAW and JPEG files, you'll get about 7-8 images at 4.5fps after which the frame rate drops to just over 1fps.
With a slow card (class 4, 4MB/s) the JPEG buffer was still good for 41 shots at around 4.4 fps, after which the frame rate dropped to about 1.35 fps. Saving JPEG+RAW the buffer held 7 frames, after which the rate dropped to under 0.25fps (one frame every 4 seconds). Shooting just RAW the buffer held 12 frames after which the rate dropped to about 0.3 fps (one frame every 3.5 seconds).
So if you are shooting JPEGs even a slow card is probably enough for almost all photographers. When shooting RAW or JPEG+RAW a fast card won't really do much to the buffer size, but it will make a significant difference to shooting speed after the buffer fills. With a fast card you'll be able to shoot about 4-5x faster.
Autofocus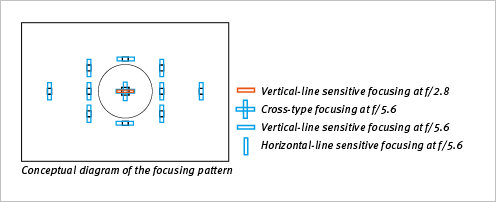 The EOS 6D has a relatively simple AF system consisting of 11 AF zones, with the center zone being a cross configuration (with high vertical line precision at f2.8) and the outer zones being sensitive to either horizontal or vertical lines to f5.6. This is similar to the AF system found on the EOS 5D and 5D MkII, but less complex than that found on the EOS 7D and EOS 5D MkIII. However the center AF zone can AF at -3EV @ ISO 100, that's 2.5 EV dimmer than the 0.5EV sensitivity of the EOS 5D MkII and even 1 stop dimmer than the -2EV sensitivity of the EOS 5D MkIII. It's the highest sensitivity of any Canon EOS DSLR, regardless of price.
In actual testing I was getting positive AF lock at a light level which required 1/8s at f4 at an ISO setting of 102400. That's pretty dim light! It corresponds to Canon's claim of -3EV at ISO 100. Under the same conditions with the same lens, I could not get AF with an EOS 7D or my original EOS 5D. AF is slower in such low light, but still much faster and more accurate than could be done by eye. AF time was well under 1s.
In normal use I had no issues with AF, which was fast, positive and accurate. My normal shooting method is to use the center AF zone, so I personally didn't have much concern over the fact that the peripheral AF zones have linear sensors. I did test them and found that they too provided fast and accurate AF under most conditions. However there will be some subjects that may give them problems. Most of the outer AF zones are horizontal line sensitive, so using them to focus on a subject with only vertical features could result in a drop in AF performance. For example using the leftmost AF zone, which is sensitive to horizontal features, AF on a set of horizontal windows blinds was perfect with the camera held normally (landscape orientation). However if the camera was rotated 90 degrees (portrait orientation), AF consistently failed. AF with the center zone cross type sensor gave the expected excellent AF performance regardless of the camera orientation. If all the AF zones are activated and the camera is allowed to chose, again AF is excellent with all camera orientations. The EOS 5D and 5D MkII also only had a center cross AF zone and linear peripheral zones and showed similar AF characteristics, so the 6D shouldn't be regarded as too limited in AF capability. However the multiple cross zones of the EOS 7D and EOS 5D MkIII do allow for single peripheral zone selection which isn't sensitive to camera orientation. The 7D and 5D MkIII also have more zones and more options on how the zones are grouped together and allow a greater selection of AF tracking options.
AF microadjustment is available on the 6D, with the same functionality as is found on the 5D MkIII. You can make separate adjustments for the short and long end of zoom lenses and you can save setiings based on the lens serial number, which I guess could be useful if you have two copies of a lens which needed different levels of AF microadjustment.
EOS 6D Exposure
The EOS 6D uses the same iFCL 63-zone Dual-layer Metering Sensor as the EOS 7D and EOS 5D MkIII. "FCL" stands for Focus, Color and Luminance and indicates that the metering system not only measure the light intensity in each of the 63 metering zones, but also takes color date and information from each AF zone into account when determining the best overall exposure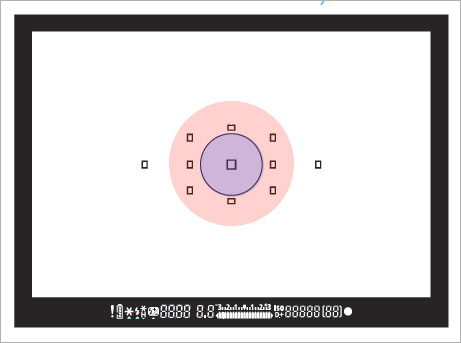 Approximate area of 8% partial metering (pink) and 3.5% spot (blue)
Metering options are 63 iFCL zone evaluative metering, an 8% partial (wide spot) mode, a 3.5% (spot) mode and a centerweighted averaging mode. The 3.5% spot metering area is shown by a circle on the center of the viewfinder screen.
Metering accuracy holds no surprises. It's generally very good and similar to that found on the EOS 7D and 5D MkIII. White balance is typical for EOS DSLRs. Pretty accurate auto WB under most conditions, but with a tendency to give warm images when shooting indoors under tungsten lighting, even in the tungsten white balance mode. You can get neutral colors if you do a custom white balance or set the correct color temperature. Tungsten balance on EOS DLSRs is set for 3200K, about right for tungsten photoflood lighting. However indoor room lights (60W, warm white) tend to be closer to around 2700K.
Resolution
Should you worry that the 6D has "only" 20MP while the 5D MkIII has 22MP. How important is the pixel count? The answer is "not very important", at least not when the pixel count of two sensors is small. In fact I chose to compare the 20MP EOS 6D resolution with that of the 13MP EOS 5D - because I have a 5D myself and wondered what the difference would be!
Purely from the point of view of pixel size and spacing, you can calculate that the theoretical resolution of the 20MP sensor in the EOS 6D is 25% higher than that of the EOS 5D. Now when I say "theoretical resolution" I'm talking about the Nyquist sampling limit, a somewhat esoteric term. It means that any information from the sensor above that limit is spurious, i.e. doesn't represent real detail. Most DSLRs (including the EOS 5D and EOS 6D and all other Canon DSLRs) have a low pass filter in front of the sensor so that any image is blurred just enough not to have information above that sampling limit. This slightly lowers the resolution in the image, but prevents false colors and moire patterns.
I looked at EOS 6D vs EOS 5D resolution with various techniques from slanted edge MTF determination to visual inspection of USAF 1951 and NBS 1010A resolution test charts. Looking at MTF 50 results using an EF 85/1.8 at f4, f5.6 and f8 and picking the highest resolution numbers (which were at f4), the 6D scored about 16% higher resolution than the EOS 5D. Note that this isn't limiting resolution, it's the point at which the MTF curve drops to 50%, but it's a good guide to relative resolution estimates.
From a visual examination of resolution test charts I'd say that the EOS 6D resolution appears to be approximately 18% higher than the EOS 5D. That number depends on my subjective evaluation of line patterns, so it's just an estimate.
Whatever numbers you pick, the EOS 6D certainly can provide higher resolution images than the EOS 5D, though in practice the difference between the images is actually quite small and not really noticeable unless you "pixel peep" quite closely. The sharper the lens the more obvious the difference may be, but the 85/1.8 is a very sharp lens at f4-f8 so it's a pretty good test lens.
Here's a "real world" sample. I shot with an EF 85/1.8 lens at f4, f5,6 and f8. With both the 5D and 6D the shot at f5.6 was maybe just a touch sharper than the shot at f4 and the shot at f8 just a little less sharp, so I picked the f5.6 images for comparison. First looking at 100% crops (note 100% crops from the EOS 6D appear larger than those from the EOS 5D because of the higher pixel count. In each case the crop area is approximately 300x300 pixels).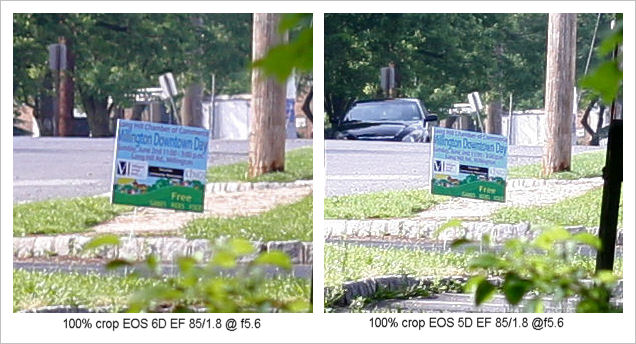 The 6D image looks slightly better here but the differences show up more on the 300% crops shown below: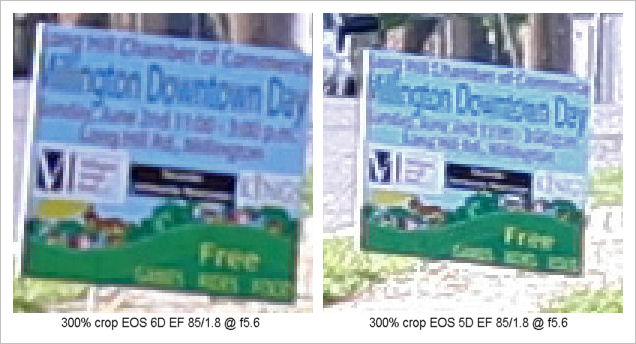 At this level of examination the superiority of the EOS 6D image becomes clearer. The bottom line is that, as expected, the 6D can outperform the 5D in terms of resolution and image quality, but you may have to be making pretty large prints (or heavily cropping the image) for the difference to be noticeable.
What about the 5D MkII and 5D MkIII? The pixel counts are so close (~20 MP for the 6D, ~21MP for the 5D MkII and ~22MP for the 5D MkIII) that you really wouldn't expect to see any significant difference in resolution. Remember the original 5D is just 13MP, and even that doesn't show a huge difference.
EOS 6D ISO Noise
The following figure shows 100% crops from an EOS 6D image from ISO 50 to ISO 102400. These were converted from RAW files using no noise reduction so that you can see the sensor noise rather than how well the NR algorithms work!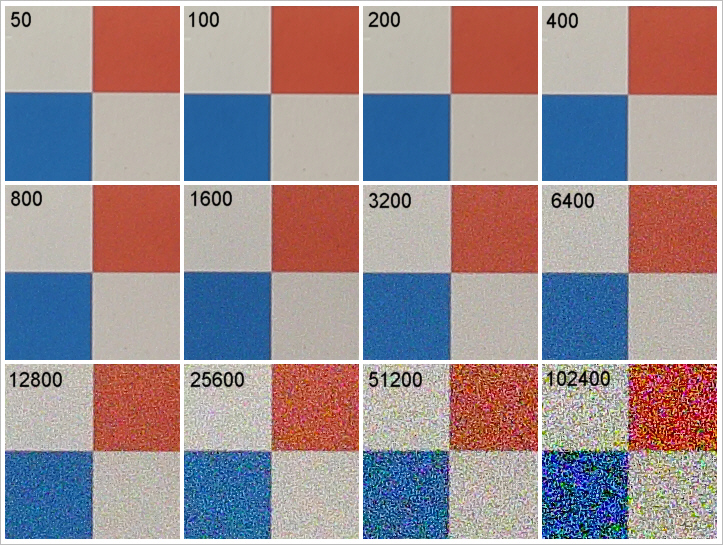 As you can see, the image is very clean and essentially noise free up to ISO 800. ISO 1600 and 3200 are also more than acceptable and could be cleaned up with noise reduction applied. At ISO 6400 you start to see some real noise, but it's still quite acceptable. From there on up noise starts to become somewhat intrusive, with the highest expanded ISO settings of 51600 and 102400 best saved for emergency use. However remember that these are 100% crops and no noise reduction has been applied. If you're shooting for the web or small prints, even ISO 102400 is fine as long as you don't demand perfection.
JPEG noise reduction can be applied at four levels, off, low, standard and high. 100% crops at ISO 102400 are shown below for each setting.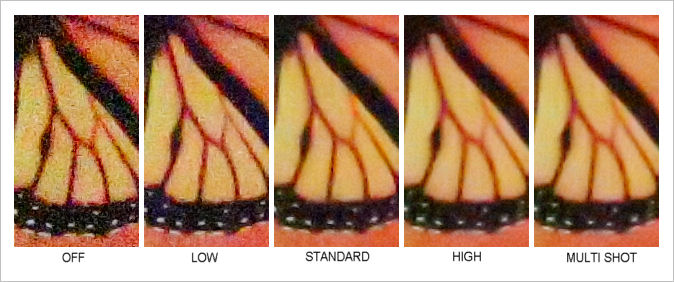 The EOS 6D also has an in-camera multishot noise reduction mode where the camera takes 4 shots in succession and averages the resulting images. This is limited to a JPEG only (RAW is disabled in this mode) and requires a static subject. You can, of course, do the same thing yourself by just shooting 4 (or more) images and using external software, and if you do, you can save both the original JPEG files and RAW files.
How does the 6D compare with the 5D MkIII with regard to noise? I'd say it's at least as good, if not slightly better.
EOS 6D Dynamic Range
The EOS 6D doesn't break any new ground with respect to dynamic range. The sensor appears quite similar in design and fabrication to those used in Canon's other full frame DSLRs and DR performance is on a par with that of the EOS 5D MkIII. So while the 6D breaks no new ground for Canon, it doesn't take a back seat to the more expensive FF DSLRs. The EOS 6D has around 3.5-4 EV of "headroom" above a mid-tone grey, with up to maybe another 1 EV when HTP (highlight tone priority) is used. The HDR mode can extend this further, but requires three exposures.
As expected, using the ISO 50 expansion setting results in reduced dynamic range and so should be used only when necessary.
HDR mode
The EOS 6D can shoot in-camera HDR images, but with a significant number of restrictions when compared with the 5D mkIII. For example the 6D can only shoot HDR in JPEG mode. The individual images are not saved, just the final HDR image. The 5D MkIII can also save the individual images and RAW files.
The way it works is that three images are shot and blended into the final image. You can choose the exposure steps (+/- 1, 2 or 3 stops) or you can leave it up to the camera to decide. You can set the camera to auto align the images if you are shooting handheld, or disable auto alignment if you're shooting from a tripod.
The HDR works and really acts as a more effective version of HTP (highlight tone priority). It does preserve highlight detail pretty well without generating the typical excessive "HDR look". Obviously there are problems if anything in the image moves since it is combining three separate exposures.
EOS 6D GPS
The EOS 6D has a built-in GPS function which is similar to that found on a number of Canon Powershot digicams. It can add GPS data to the EXIF information attached to images, plus there is a function to log the camera's position at user selected intervals (from 1 second to 5 minutes). Canon provide a Map Utility which allows you to display location information of a Google Map. The GPS data is also compatible with many other commercial and freeware programs which can provide similar functions.
GPS sensitivity seemed good with the camera outdoors, but acquiring a GPS lock indoors proved difficult at times. This isn't particularly unusual for GPS units but it's something to be aware of if you have some special need for GPS logging inside buildings.
GPS does place an additional drain on the battery, so for maximum battery life it should only be turned on when needed.
EOS 6D WiFi
The EOS 6D has WiFi built in. This can be used to connect to WiFi enabled printers, share images between compatible WiFi equiped cameras, view images stored in the camera on a PC or media device, upload images to the web or remotely control the EOS 6D from a smartphone or computer.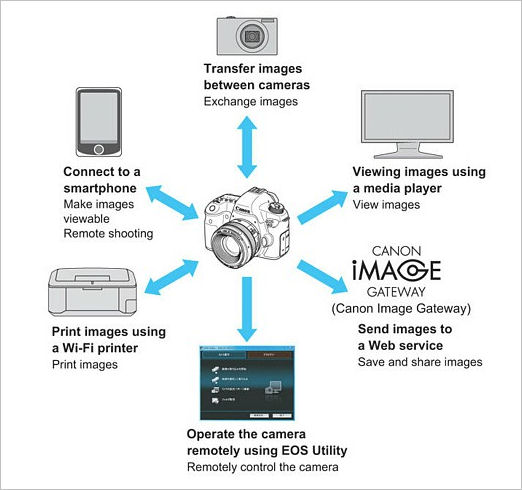 Below is a screenshot of my Samsung Galaxy 4.0 media player connected to the EOS 6D via a WiFi link. With the Canon Android app it is possible to view images stored on the camera's memory card, view the Live View screen, change exposure setting and focus and release the camera's shutter.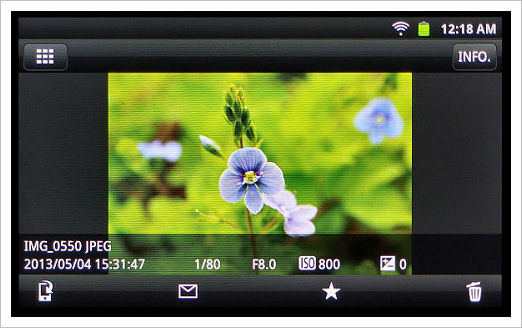 Setting up the WiFi connection is fairly easy. First you select WiFi from the 6D menu and assign a name (e.g. "EOS6D") to the camera. The camera will then provide a WiFi password. From the smartphone you then access the camera's WiFi signal by selecting the name of the network (e.g. "EOS6D") and entering the password provided by the camera. Once you have the connection setup, you can launch the Canon app and take control of the camera.
Since WiFi puts an additional load on the camera battery, it should normally be turned off when not in use.
EOS 6D Flash
The EOS 6D does not have a built in flash, nor does it have a PC sync socket for a hard wired connection to a studio flash. It does support all the standard Canon Speedlites and Speedlite accessories via the built in hot shoe of course. Flash sync speed is 1/180s. If required, a PC sync socket can be added via a hot-shoe mounted adapter. Speedlites settings can be controlled from the camera's menu system.
EOS 6D Video
Like all current EOS DSLRs, the EOS 6D is well equipped for shooting video, at least on an amateur level. The format options are 1080p at 30, 24 or 24fps, 720p at 50 or 60 fps and VGA (640x480) at 25 or 30 fps. Clip length is limited to either 4GB or 30 minutes, whichever comes first.
There's a choice of ALL-i (intra-frame) and IPB (inter-frame) compression schemes. All-i is the higher quality option but results in larger files and generates data at 3x the speed of IPB. There is SMPTE time coding embedded.
The EOS 6D has an internal mono microphone for audio recording or you can plug in an external stereo microphone. Audio level can be either manually controlled or set to auto, but no audio monitoring is avialable since the 6D lacks an output for headphones.
The EOS 6D does not track focus while shooting. In AF mode, focus is determined at the start of shooting. Monual control of both focus and zoom is available of course and the IS function of IS lenses can be used.
Overall image quality is excellent, but perhaps not quite as good as the EOS 5D MkIII. The 6D does suffer a little more from the effects of aliasing (Moire Fringing) than the 5D MkIII. It's not enough to bother the causal videographer, but might be an issue for serious cinematography. An external video aliasing filter (Mosaic Engineering VAF-6D) is available which can minimize aliasing effects.
Conclusions
I really liked the EOS 6D. Yes, it is a bit "stripped down" compared with the 5D MkIII, but it costs around $1899 vs. around $3299, so that's not surprising. However the 6D retains all the essential functions of the 5D MkIII, plus it has GPS and WiFi built into the camera. The 5D MkIII might be more rugged, shoot faster, have a more sophisticated AF system and a faster shutter, but not everyone needs all those (or wants to spend the extra $1400 to get them). The image quality of the 6D is right up there with the 5D MkIII and the 6D is capable of AF in even lower light then the 5D MkIII is (when using the center AF zone).
So who would the EOS 6D suit and who would it not suit? I'd say that the EOS 6D would be an excellent choice for anyone shooting in the studio, portraits, weddings, landscape, travel and art. Basically situations that don't require extreme speed or sophisticated AF tracking. The 5D MkIII would likely be a better choice for sports photographers and anyone who wanted to capture action with rapidly moving subjects and who needs the best possible AF tracking system. The EOS 6D is "weather sealed", but I believe the 5D MkIII may have enhanced weather sealing. Exactly what the difference is I don't know, but the 5D MkIII might stand up better in harsh environments (dust, rain).
Overall I think the EOS 6D give a pretty big bang for the buck. You get a 20MP full frame DSLR with GPS and WiFi built in for $1399. Only 10 or so years ago you'd have paid $1500 for an 8MP EOS 20D, and if you'd bought an EOS 5D MkII in 2008 you'd have paid $2700 for it. Compared with the prices and specifications of those cameras, the EOS 6D is quite a bargain. I have one myself and I love it.
Afterthought - EOS 6D, 5D MkII or 7D?
Update: This should now be 6D, 7D MkII, 5D MkIII or 5D MkIV! The current price comparison is shown below:

As you can see, for a full frame camera, the 6D is still a bargain.

Sometimes those deciding which camera to buy in the 6D price range consider the 5D MkII and 7D as possible alternatives. Clearly the EOS-1D X and EOS 5D MkIII could also be included, but price usually rules them out of consideration. The 5D MkII has, of course, been discontinued. A few new or refurbished bodies may still be available and they aren't too hard to find on the used market.

The table below compares specifications. The 6D certainly has a number of advantages over the 5D MkII including a faster and more powerful Digic 5+ processor, higher ISO settings, built in GPS and WiFi, a faster frame rate, more metering zones and can AF (using the center AF zone) in light that 2.5 stops dimmer. The 5D MkII has a faster sync and shutter speed, a 100% viewfinder, a PC flash sync socket. The 7D is cheaper, has a much faster frame rate, a more complex AF system with more zones and more cross sensors, faster shutter and sync speeds, along with a built-in flash capable of acting as a wireless controller plus a PC sync socket. Of course the 7D has an APS-C sized sensor, so for some that rules it out.

In the table below the parameters highlighted in yellow represent a "better" capability.
EOS 5D Mark II
EOS 6D
EOS 7D
Sensor MP
21
20
18
Sensor Type
CMOS
CMOS
CMOS
Sensor Physical Size
36x24mm
35.8×23.9mm
22.3 x 14.9 mm
Sensor Format
Full Frame
Full Frame
APS-C
Dust Reduction / Sensor Cleaning
Yes
Yes
Yes
Image Size (pixels)
5616 x 3744
5472 x 3648
5184 x 3456
Image Processor
DIGIC 4
DIGIC 5+
Dual Digic 4
Viewfinder Type
Pentaprism
Pentaprism
Pentaprism
Viewfinder Coverage
98%
97%
100%
Viewfinder Magnification
0.71x
0.71x
1x (but crop sensor)
Storage

Media

Compact Flash (Type I or II), UDMA, Microdrive
SD/SDHC/SDXC
Compact Flash (Type I or II), UDMA, Microdrive cards
Continuous Shooting Speed
3.9 FPS
4.5 FPS
8 FPS
Max Shutter Speed
1/8000 to 30 sec
1/4000 to 30 sec
1/8000 to 30 sec
Shutter Durability
150,000
100,000
150,000
Native ISO Sensitivity
ISO 100-6,400
ISO 100-25,600
ISO 100-6,400
Extended ISO Sensitivity
ISO 50, ISO 12,800-25,600
ISO 50, ISO 51,200-102,400
ISO 12,800
AF zones
9
11
19
Built-in Wi-Fi
No
Yes
No
Built-in GPS
No
Yes
No
Video
1920 x 1080 (30 fps)
1920 x 1080 (29.97, 25, 23.976 fps fps)
1920 x 1080 (30, 25, 24 fps)
LCD Size
3" Fixed TFT-LCD
3.2" Fixed TFT-LCD
3" Fixed TFT-LCD
LCD Resolution
920,000 dots
1,040,000 dots
920,000 dots
Touch Screen
No
Yes
No
Exposure Compensation
±2 EV (at 1/3 EV, 1/2 EV steps)
±5 EV (at 1/3 EV, 1/2 EV steps)
±5 EV (at 1/3 EV, 1/2 EV steps)
Bracketing
±2 (3 frames at 1/3 EV, 1/2 EV steps)
±3 (3 frames at 1/3 EV, 1/2 EV steps)
±3 (3 frames at 1/3 EV, 1/2 EV steps)
Built-in HDR Support
No
Yes
No
Battery
LP-E6 Lithium-ion Battery
LP-E6 Lithium-ion Battery
LP-E6 Lithium-ion Battery
Battery Life
850 shots (CIPA)
900 shots (CIPA)
800 shots (CIPA)
USB Version
2.0
2.0
2.0
Dimensions
152 x 114 x 75 mm
145 x 111 x 71 mm
148 x 111 x 74 mm
Weight
850g
770g
860g
All in all, I'd say the certainly offers the best "bang for the buck" when it comes to a full frame DSLR from Canon. However the 7D (now updated to the ) might well be an alternative for those who want to capture fast moving action, but don't want to spend well over $3000 on a camera body.
Custom Search