The Canon EOS 80D - A first look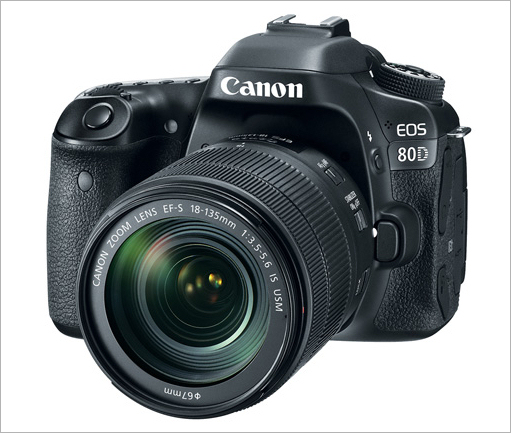 The new Canon EOS 80D
The Canon EOS 80D was announced on February 17th 2016. For those keeping track, the EOS 70D, which the EOS 80D will replace, was announced on July 2nd 2013, a cap of about 2 years and 9 months. There are two question that most people will have about the 80D. First, how does it differ from the 70D and second, does it have any new and innovative features not previously seen. I'll take those questions in order.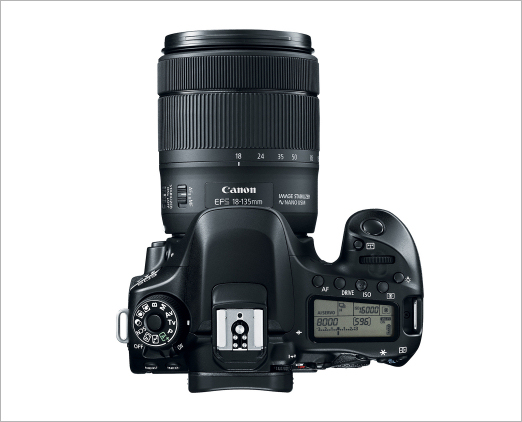 Canon EOS 80D - Top view
Canon EOS 70D vs Canon EOS 80D
• Although there are small differences, the 80D and 70D are very similar is size, weight and control layout. They also share similarities in terms of shooting modes, metering modes, flash sync, shutter speeds, many of the custom functions and the operation of the menu system. The 80D is an update of the 70D, not a new design. If you're familiar with all the functions of the 70D you're likely to find all of them in the 80D - plus a few more.
• The first obvious difference is that the pixel count has gone up from 20.2 Mp to 24.2 Mp. that's a 20% increase in the number of pixels and about a 9% increase in the theoretical maximum linear resolution. It's also about a 9% reduction in pixel size (20% reduction in pixel area). While smaller pixels should give higher resolution, but also higher noise, I doubt if most users would see any significant change in either area. I'm sure there will be measurable differences and S/N ratio many be better due to advances in other circuitry and signal processing. We'll have to wait for actual test data to find out exactly what's going on, but don't expect any big differences between the 70D and 80D. Any small differences are likely to be in favor of the 80D of course. Maximum expanded ISO stays at ISO 25000 but the 80D has an ISO 100-16000 base range while the 70D has ISO 100-12500. This implies that the 80D sensor, electronics and DIGIC 6 processor may have a slightly lower noise level than the EOS 70D, despite the smaller pixel size. Again, on testing will tell for sure.
• The Canon EOS 80D sensor is a dual pixel design (like the 70D), but is to be improved and Canon claimm improved performance in Live view with "smooth, fast and accurate autofocus with video and stills". The duel pixels don't affect normal, phase sensitive, AF. They only come into play for Live View (which includes video).
• The second major "spec" difference is a new set of AF sensors. In place of the 19 AZ zones of the EOS 70D, the 80D has 45 zones covering a somewhat larger area and all 45 zones have cross type sensors. This change will improve AF performance (in terms of reliability) for those who use off center AF zones for tracking or for automatic focus point selection. It's a plus for the 80D. Like the 70D, the 80D required a lens f5.6 or faster for AF to operate using the AF sensors.
• Going on down the list, the 80D uses the latest DIGIC 6 processor (the 70D has a DIGIC 5+), which should enable faster operation and (according to Canon) improved image quality for in-camera jpegs. I suspect any improve in image quality will be pretty small. Ultimate image quality will still be achieved by post exposure processing of RAW files. Both the EOS 80D and EOS 70D have a maximum continuous shooting speed of 7 frames/second. The size of the image buffer appears top be larger in the EOS 80D, though Canon USA haven't yet added that data to their website. From other Canon sites it looks like the 80D should have a JPEG buffer capable of holding around 150 images (vs. around 65 for the 70D). When it comes to RAW image storage it looks like the EOS 80D should have a buffer that can hold 25 RAW images (I measured a maximum of 20 images for the 70D with a fast memory card).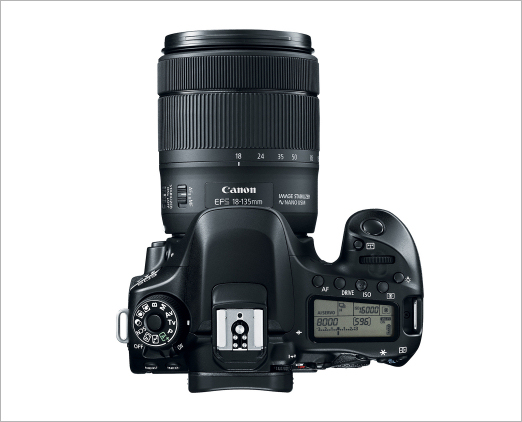 Canon EOS 80D with new EF-S 18-135mm F3.5-5.6 IS USM
• The 80D has built in WiFi and NFC, while the 70D has WiFi but not NFC (near field communication). NFC can make communication with a smart phone easier and quicker to set up. NFC required the smart phone (or other compatible device) be within a few cm of the camera. Typical maximum NFC range is 4cm.
• The EOS 80D adds a 7560 pixel fine-tuned RGB+IR metering sensor which assists in accurate exposure and adds a Color Tracking feature which detects skin color and helps track a moving person.
• The 80D has what Canon refer to as "Anti-Flicker shooting" which is designed to give more uniform results when shooting under flickering fluorescent lighting (or any other type of lighting which is rapidly flickering). The same technology is used in the EOS 70 MkII.
• The 80D viewfinder is capable of displaying more information than that of the 70D (see image below). The use can chose to turn off some of this additional information. The coverage is also "almost" (canon's words) 100%. The 70D viewfinder has 98% coverage. So far the actual viefinder coverage isn't listed on the Canon USA website. That space in the Spec sheet is blank. Presumably it's between 98% and 99.9%. I assume it it was 100% (like the EOS 7D and 7D MkII) Canon would say "100%" and not "approximately 100% viewfinder coverage". It's really no big deal though and won't make much difference to most photographers.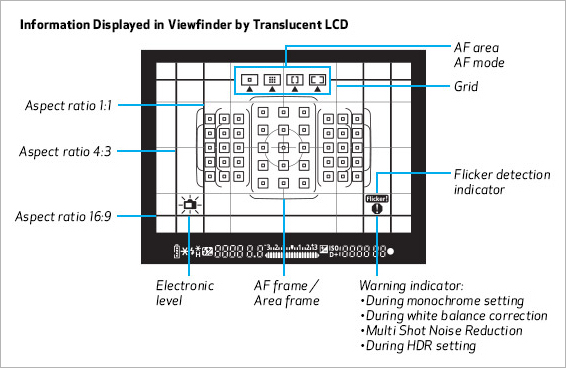 Canon EOS 80D - new "intelligent" viewfinder display
• The EOS 80D has 1080/60p Full HD video. The 70D was limited to 1080/30p Full HD video. Not a big deal for most photographers but 60fps can deliver smoother images of moving subjects. The 80D also adds a headphone jack for monitoring recorded audio. Those interested in video should note that the EOS 80D does NOT have a C-Log gamma option, focus peaking, zebra warnings or 'clean' HDMI output. Not things that would concern casual shooters, but features that serious video makers might want. The 70D doesn't have them either of course.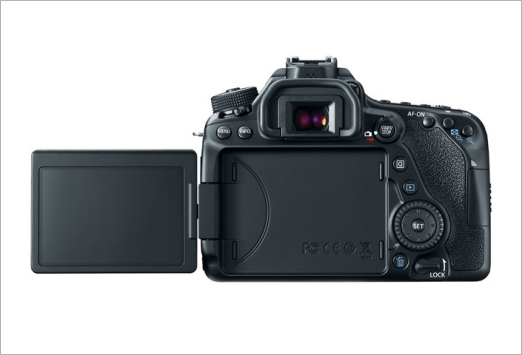 Canon EOS 80D with LED folded out
New Technology in the EOS 80D?
I don't see any new technology on the Canon EOS 80D. AF is improved with more sensor and cross sensors, but while that's new for the 70D/80D transition, it's not new technology for Canon. The sensor, though a new size for APS-C, appears to use the same architecture and fabrication technology as all the other Canon EOS sensors. Similarly, the dual pixel sensor of the 80D is "new and improved" but isn't a new technology or architecture. Video stays at 1080 HD (thought has added 60fps), but it hasn't gone to 4K (like the new EOS 1DX MkII). AF has more zones and more cross sensors, but hasn't gone from f5.6 to f8 AF.
So overall the 80D is an evolutionary update of the 70D, not a ground braking camera. That's not a criticism or a suggestion that the 80D isn't an improvement over the 70D, just an observation. If I was in the market for a mid range APS-C Canon DSLR, the EOS 80D would be my camera of choice. I currently own an EOS 70D and I'm very happy with it. I don't see any need for me to "upgrade" to an 80D. However if I was still setting with an EOS 40/50/60D or an older Rebel series body and wanted to upgrade, the EOS 80D would provide a significantly improved set of features.
Canon EOS 80D vs Canon EOS 70D at a glance
| | | |
| --- | --- | --- |
| | Canon EOS 80D | Canon EOS 70D |
| Initial release date | February 2016 | July 2013 |
| Sensor Pixel Count | 24.2 megapixels | 20.2 megapixels |
| Pixel Pitch | 3.75 microns | 4.1 microns |
| Image processor | DIGIC 6 | DIGIC 5+ |
| Maximum Image sizes | Large /RAW - 6000 x 4000 | Large /RAW - 5472 x 3648 |
| Movies | 1920x1080 at 60p/30p/24p, 1280x720 at 60p/30p | 1920x1080 at 30p/24p, 1280x720 at 60p/50p |
| Memory card | SD/SDHC/SDXC, UHS-1 and Eye-Fi support | SD/SDHC/SDXC, UHS-1 and Eye-Fi support |
| AF zones | 45 (all cross) | 19 (all cross) |
| Metering | 63-zone (18 x 12) metering with approx. 7,560-pixel RGB+IR metering sensor | 63-zone metering sensor |
| Burst shooting / Buffer capacity (Canon specs) | Max. 7 fps / 110 JPEG, 25 RAW | Max. 7 fps / 40 JPEG, 15 RAW |
| Custom functions | 26 | 23 |
| Viewfinder | Pentaprism, ~100% FOV coverage, 22mm eyepoint, approx. 0.95x magnification, -3.0 - +1.0 dioptre correction | Pentaprism, 98% FOV coverage, 22mm eyepoint, approx. 0.95x magnification, -3.0 - +1.0 dioptre correction |
| Monitor | Vari-angle 3-inch Clear View II TFT touch screen LCD, approx. 1.04 million dots | Vari-angle 3-inch TFT touch screen LCD, approx. 1.04 million dots |
| Connectivity | WiFi, NFC, USB, HDMI | WiFi, USV, HDMI |
| Headphone jack | Yes | No |
| Dimensions (WxHxD) | 139.0 x 105.2 x 78.5 mm | 139 x 104.3 x 78.5 mm |
| Weight (incl. battery) | 730 grams | 755 grams |
When and where can I get and EOS 80D and how much will it cost me?
According to Canon, the Canon EOS 80D should be available in March at a price of $1199 for the body alone, or $1799 with the new EF-S 18-135mm F3.5-5.6 IS USM that has the new "Nano USM" drive which is faster, smoother and quieter than the STM (stepper motor drive as used in the STM version of this lens) making it ideal for shooting video. The lens itself will be available for $599.99, so you save $100 by buying the body and lens as a kit.
You can order these items from Adorama right now. Shipping is free and your card will not be charged until the item actually ships. Adorama have a 30 day "no questions asked" return policy with no re-stock charges.
If you're a B&H fan, you can also order these items from , Plus there's AMAZON of course!
---