New Canon Sensor? Similar to Foveon?
In a recent Japanese patent filing which has just been published (5/13), Canon showed that they are (or were) still thinking about a sensor similar to the Foveon. For those unfamiliar with sensor technology there are two basic types of digital color sensor.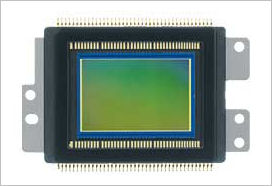 Conventional sensors (such as are used by Canon, Nikon, Sony, Pentax and most other digital camera manufacturers) consist of a regular array of pixels overlayed by a matrix of red, green and blue filters. Each pixel in the array receives only red or green or blue light and the color assigned to a pixel in the final image is determined by looking at both the pixel itself and it's nearest neighbors. The array of color filters is called the Bayer Matrix and RAW image has to be "demosaiced" to assign an RGB color value to each pixel. One disadvantage of this type of sensor is that much of the light isn't converted to a usable signal. For example the green filter effectively throws away the red and blue light, just as the red filters throw away the green and blue light and the blue filters throw away the red and green light. All that rejected light could have been used to generate a stronger (lower noise) signal if it could all have been used.
Image from Wikipedia (http://en.wikipedia.org/wiki/File:Absorption-X3.png)
Silicon (which is what the pixels are made of) absorbs blue light more strongly then green light, and green light more strongly than red light. Light has to be absorbed to generate the electrical signal used to specify the intensity level of the pixel in the image. Using this fact the Foveon sensor (used by Sigma) can be thought of in simple terms as having three layers. First the light passes though the top thin layer, which absorbs most of the blue light and generates the blue signal. The remaining light is mostly green and red and the next layer absorbs mostly the green light. The final layer is thicker and absorbs mostly the red light which has passed through the other two layers. Using this technique each pixel position records red, green and blue signals.
The problem with the layered system is that the top layer absorbs not only blue, but some red and green. Similarly the middle layer absorbs any remaining blue, plus some of the green and some of the red. The final layer absorbs red as well as any residual green and blue, but maybe not all the red. Clearly not an ideal situation. Possibly more efficient than the Bayer matrix sensor design (at least in theory), though with its own set of problems.
Canon's patent (2013-93553, filed in 2011 but just published now in 2013) - as far as can be told from the Japanese translation - appears to use a multilayer structure like the Foveon sensor, but uses a photonic crystal structure between one (or more?) of the layers. This is a region which can "trap" light of a particular wavelength via a resonance condition. The idea appears to be that these resonant photonic crystal structures effectively "trap" light of a given wavelength (color) within certain regions of the silicon pixel, giving the light a greater probability of being absorbed and maybe a greater wavelength specificity within each region? At a simpler level the same scheme could be applied to just one layer (e.g. the red) to improve the absorption of red light (which is normally least absorbed by silicon). In fact the patent appears to describe such a scheme.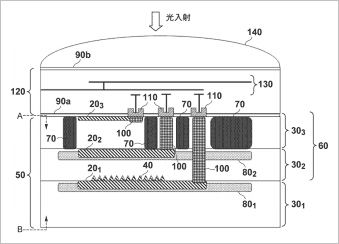 The picture from the Canon patent doesn't shed much light on what they are thinking, but I think the idea is clear. It's to use resonant photonic crystal structure (probably "40" in the figure) to better and perhaps more selectively absorb light within different layers of a pixel and thereby derive both red, green and blue information at each pixel. Of course they could also tune such structures for any wavelength and perhaps also record other colors too.
It should be understood that applying for a patent is absolutely no indication of an actual product. The research arm of all major corporations patent as much as they can think of even if there is no active development program related to the patent. At the very least it makes life more difficult for competitors! However it does show that Canon are at least still thinking about alternatives to the current generation of Bayer matrix sensors.
This isn't the first multi-layer sensor patent by Canon. There was a patent application (2011-129785) filed back in 2009 and published in 2011 which appeared to describe a back illuminated 3 layer sensor which could generate individual red, green and blue signals from one pixel.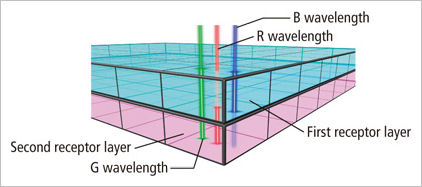 Actually Canon already use a multilayer color sensor in the 63 zone metering system found on their current generation of DSLRs. It's actually a two layer system with the top layer sensitive to blue/green light and the bottom layer sensitive to green/red light. It's also a large area sensor for light metering rather than a high resolution small pixel sensor fort imaging, but the principles are the same.