PNY Pro Elite SDHC/SDXC USH-1 Class 3 memory cards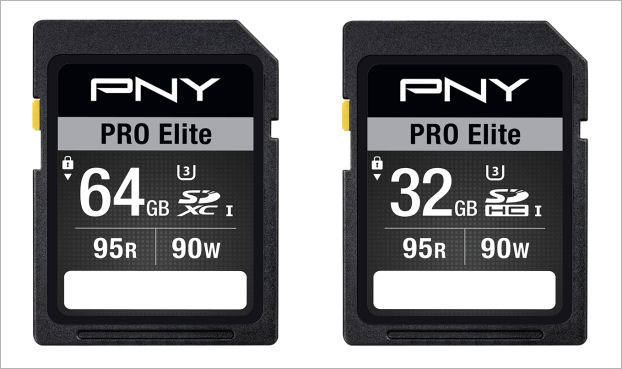 PNY recently introduced a new line of Elite Pro SDHC/SDXC memory cards with a UHS-1 speed class 3 designation (U3). The UHS-I speed class 3 designation makes then qualified for use with consumer 4K video recording devices which require a minimum sustained write speed of at least 30 MB/s. Though each 4K video frame contains over 30 MB of data, video compression (H.264/MPEG-4 AVC) reduces the streaming rate to under 30 MB/s. In fact PNY rates these new cards as having write speeds up to 90 MB/s and read speeds up to 95 MB/s. These maximum speeds would only be reached using optimum transfer protocols in optimized devices. Typically you won't see these maximum numbers - but you will see at least 30 MB/s and most likely quite a lot more.
In some simple tests using a USB 3.0 interface and reading and writing large files to and from the cards, I was seeing write speeds around 54 MB/s and read speeds of around 76 MB/s. This is over a USB 3.0 buss, not an optimized camera data buss matched to the UHS-1 data transfer protocol.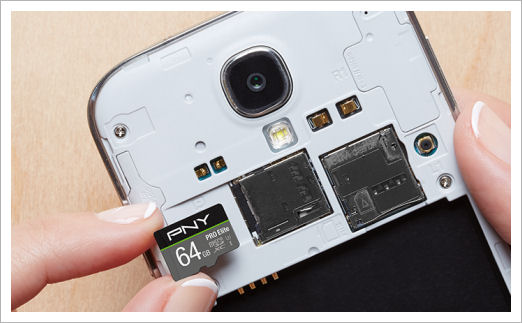 The PNY cards are also available in the micro-SD format for use in camera phones. There are now a number of camera phones (and devices like GoPro) which can record 4k video and which need micro-SD cards. The microSD cards can be used in cameras requiring full sized cards via an adapter. The adapter causes no speed loss since it contains no additional electronics and simply makes a physical connection between the contacts in the camera and the contacts on the card.
All the PNY Elite Pro memory cards carry a limited lifetime warranty.

SD cards and Speed Classes
A brief explanation of SD card designations and speed classes is probably in order here. First the various card types:
SD - These were the first type of SD (secure digital) memory cards. Maximum capacity is 2GB. Default format is FAT16
SDHC - HD = High Capacity. These cards have a maximum capacity of 32GB. Default format is FAT32
SDXC - XC = eXtended Capacity. These cards have a maximum capacity of 2TB. Format is exFAT
Devices (e.g. cameras) must support the type of card being used. Devices which support SDXC can read and write all three types of card. Older devices only designed to support SDHC cannot use SDXC cards, but can use both SDHC and SD cards. Even older devices designed for SD cards can only use SD cards.
Card speed is usually defined as the minimum sustained write speed that a memory card is capable of. It doesn't define the maximum speed or the read speed (which is usually faster than the write speed). "Sustained" is an important qualifier. If you write a lot of small files to a card the average write speed can be drastically reduced. The designated speed is when continuously writing one large file. Card speed was originally designated by a "Speed Class" rating. Speed classes were 2MB/s, 4MB/s, 6MB/s and 10MB/s (MB/s = MegaByte per second). There are the minimum write speeds. There is no "Speed Class" higher than 10 because at that point in SD card development a new option was introduced, UHS-I (Ultra High Speed). There are two speed ranges, UHS-1 class 1 (10 MB/s minimum write speed) and UHS-I class 3 (30 MB/s minimum write speed). Devices have to be UHS-I compliant to utilize the UHS feature, but on non UHS devices the cards still work, just not in UHS mode. The maximum theoretical data transfer speed of a UHS-I device is 105 MB/s
The current (12/15) fastest card specification is UHS-II. These cards have an extra row of contacts and so require a compatible device to function in the UHS-II mode. They will word in earlier devices, but only as UHS-I devices. The USB-II interface is theoretically capable of transferring data at up to 312 MB/s.
X Speeds
Memory cards sometimes have a "x speed" specification, such as 200x, 400x 600x or 1000x. This indicates card speed relative to a "1x standard" speed of 150 KB/s. So a 200x cars is equivalent to 30 MB/s and a 600x card is equivalent to 90 MB/s. These are maximum "up to" speeds, not minimum guaranteed speeds.