Sigma 30 mm f2.8 DN | A and Sigma 19 mm f2.8 DN | A Review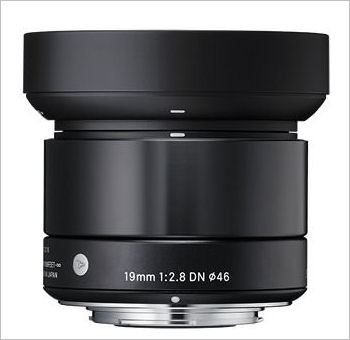 Sigma 19mm f2.8 DN for micro four-thirds, with hood
Since I mainly shoot with a Canon EOS system, I usually revire Canon EOS lenses. However I do also have an Olympus PEN EPL-1 micro four-thirds system, so I took at look at a couple of new Sigma lenses in the micro four-thirds mount.
The Sigma 30mm f2.8 DN and Sigma 19mm f2.8 DN are recent additions to Sigma's line of micro four-thirds mount lenses. The same lenses are also available in the Sony NEX mount, so they clearly can cover a full APS-C sensor (and should have no problems covering the smaller four-thirds sensor).

Both lenses are part of new "Art" series lenses and replace the earlier 30/2.8 EX DN and 19/2.8 EX DN. Though they have exactly the same optics, the new lenses have a different exterior design and go through Sigma's new MTF testing procedure which tests each lens on a "46 megapixel Foveon sensor" (Sigma's words).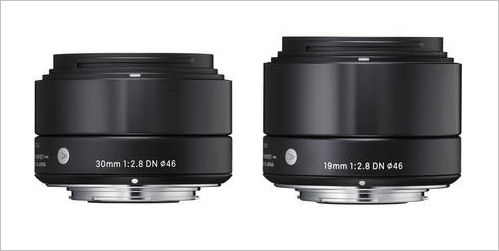 Left: Sigma 30/2.8 DN for MFT Right: Sigma 19/2.8 DB for MFT
The Sigma 30mm f2.8 DN and Sigma 19mm f2.8 DN aren't particularly small by micro four-thirds lens standards (they are not "pancake" lenses and the 19mm lens is actually larger than the 30mm. However both are quite small and light by APS-C and Full Frame DSLR standards
The use of a linear focusing motor allows quiet focusing, especially useful when shooting video. One side effect of the linear motor design appears to be that the focusing elements are free to move when there is no power applied to the lens, so if you shake them you can hear those elements moving back and forth. Don't worry, nothing is loose inside the lens. That's the way they are designed.
No part of either lens extends or rotates during focusing due to the internal focus design. Closest focus is 11.8" for the 30mm and 7.9" for the 19mm, which gives a maximum magnification of 0.12x and 0.135x respectively.
Both lenses take 46mm filters and both come supplied with a small black zippered carrying pouch.
Sigma 30 mm f2.8 DN | A and Sigma 19 mm f2.8 DN | A Specifications
| | | |
| --- | --- | --- |
| | Sigma 30 mm f2.8 DN | A | Sigma 19 mm f2.8 DN | A |
| Camera Mount Type | Micro Four Thirds | Micro Four Thirds |
| Focal Length | 30 mm | 19 mm |
| Aperture | Maximum: f/2.8, Minimum: f/22 | Maximum: f/2.8, Minimum: f/22 |
| Angle of View | 39.6° | 59.3° |
| Minimum Focus Distance | 11.8" (29.97 cm) | 7.9" (20.07 cm) |
| Maximum Magnification | 0.12x | 0.135x |
| Groups/Elements | 5/7 | 6/8 |
| Diaphragm Blades | 7 | 7 |
| Filter Thread | Front: 46 mm | Front: 46 mm |
| Dimensions (DxL) | Approx. 2.39 x 1.59" (60.8 x 40.5 mm) | Approx. 2.39 x 1.80" (60.8 x 45.7 mm) |
Sigma 30/2.8 DN and 19/2.8 DN Operation
The lenses have no external switches. On the micro four-thirds system switching from AF to MF is done via the camera body and stabilization is usually taken care of in the camera body too, via a sensor shift mechanism. The only external control is the focusing ring which acts as a "focus by wire" controller, sending a signal to the camera which then sends a signal back to the linear AF motor in the lens.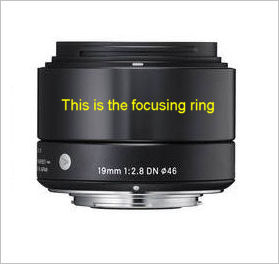 The manual focus ring is unusual in that it doesn't have a textured rubber surface, rather it's a ring of shiny black (or silver) metal. It rotates smoothly as long as you don't grip it too tightly, but if you do it sticks and binds. You learn quite quickly just how tightly you can grip it before this happens, so it's not a huge problem once you get used to using the lens. However I can't help feeling that a thicker ring and maybe a rubberized coating to help grip could have eliminated the issue.
Both the 30/2.8 DN and 19/2.8 DN lenses are supplied with a lens hood. However it's the same lens hood. In fact it's the same lens hood that's supplied with the NEX mount versions designed for an APS-C sensor. That means that the hoods are not optimized for the fields of view of the two lenses when they are mounted on a four-thirds sensor camera. Any hood is a lot better than no hood of course and the supplied hoods seem to do a pretty reasonable job. I assume it's more cost effective to just use one hood than to design, manufacture and stock four slightly different optimized hoods.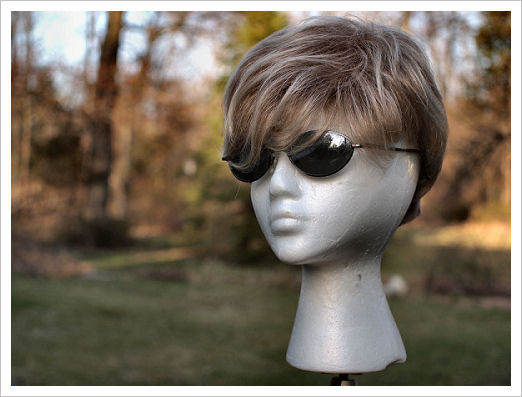 Sigma 30/2.8 DN at f2.8
While Sigma describes the 30/2.8 DN and 19/2.8 DN as both "fast" and "large aperture" in their advertising, in truth f2.8 isn't particularly fast. On the micro-four thirds mount these lenses give a field of view approximately equivalent to 60mm and 38mm lenses on a full frame DSLR. However due to the smaller sensor they produce an image with more depth of field. In fact they have the depth of field of f5.6 lenses on full frame 35mm, so don't expect the tremendously blurred backgrounds that you can get with faster lens on full frame (e.g. 35/1.4 or 50/1.4 lenses). They do have a rounded 7 blade aperture to try to improve "bokeh", though I'm not sure how much difference that really makes on relatively slow lenses.
The maximum magnification of the Sigma 30/2.8 DN and Sigma 19/2.8 DN are 0.123x and 0.135x respectively. These don't sound very high by full frame DSLR lens standards, but the smaller sensor of the four-thirds format means that at any given magnification a lens covers only 25% of the area that a similar magnification lens on full frame would. At maximum magnification, the field of view of the 30/2.8 DN is around 4.8 x 3.6" and for the slightly higher magnification 19/2.8 DN it's about 3.9 x 2.9".
Optical Quality
Vignetting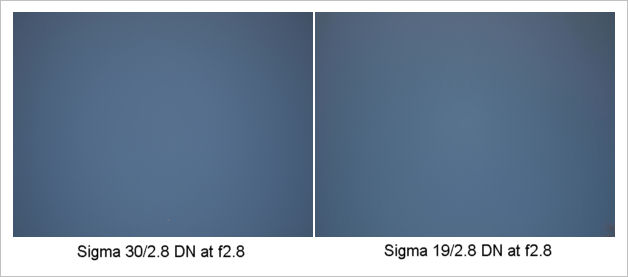 Vignetting is pretty well controlled, which isn't surprising since these lenses are also available in the Sony NEX mount for APS-C sensor MILCs, so on a four-thirds sensor camera you don't see the outer regions of the lens' image circle. I measured around a 1 stop loss in the corners of the 30mm and about 1.3 stops in the corners of the 19mm
Distortion
Distortion is pretty well controlled, especially in the 30/2.8 DN where I measured less than 0.5% barrel distortion. It was a little higher with the 19mm, around 1%. In neither case is distortion likely to be a problem in real world images, but on the rare occasions that it might be noticeable it's fairly easy to correct digitally.
Chromatic Aberration
At first I though that chromatic aberration was very low. Looking at JPEGs straight out of the camera very slight color fringing could be observed on high contrast features near the edges of the image. However looking at the RAW (.ORF) files it was apparent that the Olympus PEN EPL-1 that I was using was applying corrections to the image. This is good because it means these lenses are fully compatible, but it does mask some aberrations. Shooting RAW (.ORF) and manually correcting the CA in RawTherapee pretty much eliminated any chromatic aberration. The resulting images were better than the JPEGs directly from the camera.
Sharpness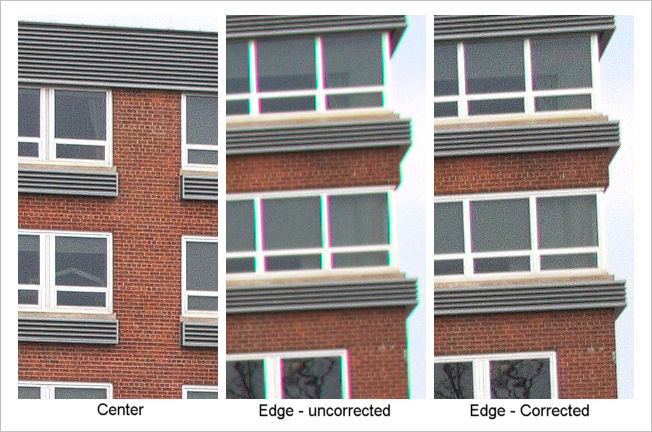 Sigma 19/2.8 DN at f6.3 on Olympus EPL-1 .ORF (RAW) capture
Center shows uncorrected .ORF file
Both lenses are sharp wide open in the center of the frame and pretty good out at the edges and corners. Stopping down to f4 or f5.6 really doesn't give you any more center sharpness, though the edges and corners do improve a little. These are both lenses that I wouldn't hesitate to shoot wide open, though if I was shooting landscapes and wanted maximum corner to corner sharpness, I'd probably stop down to f5.6 or f8 and I'd certain shoot RAW (.ORF) files.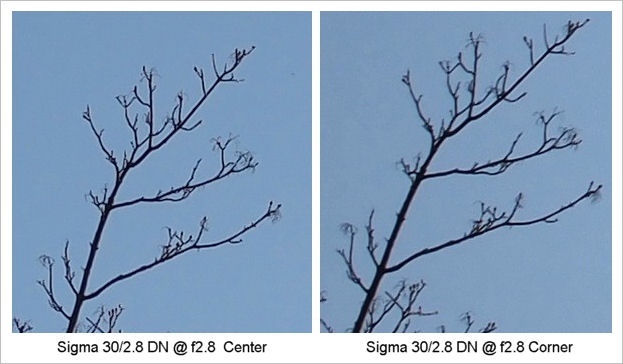 Video
The linear AF motor in these lenses is certainly quieter than my only other micro four-thirds lens, the Olympus 14-42 kit zoom. It's not totally silent since the audio track picks up very quiet "clicks" or "pops" when the AF motor adjusts the focus when tracking a subject, but they are not distracting. The 30/2.8 and 19/2.8 seemed to track focus better than my 14-42 zoom, but since the E-PL1 doesn't really have state-of-the-art focus tracking, I really can't comment on how much better these lenses are.
Conclusions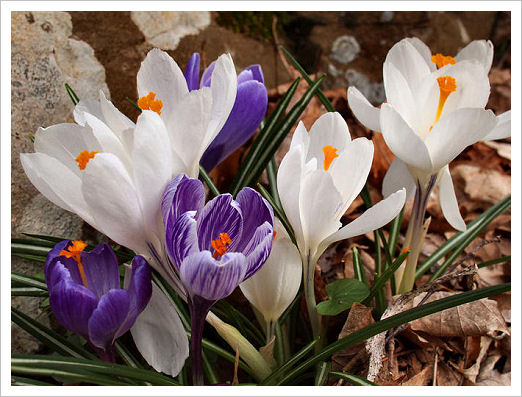 The Sigma 30/2.8 DN and 19/2.8 DN are sharp, small, light and inexpensive primes for the micro four-thirds system. They can both be shot wide open with no concerns sharpness, though the edges and corners to sharpen up somewhat on stopping down. Best results will probably be obtained shooting RAW (.OTF) rather than JPEGs, though that's somewhat dependent on the JPEG engine in the camera on which they are mounted.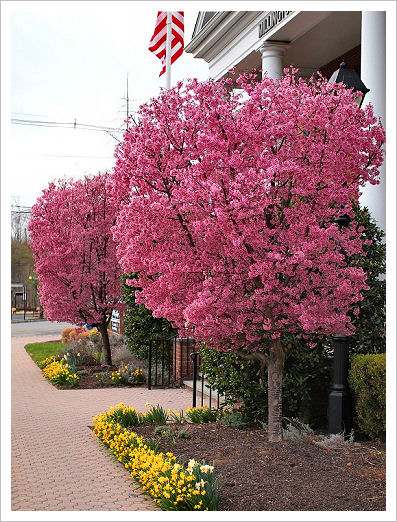 Sigma 30mm f2.8 DN at f2.8 on Olympus EPL-1
Overall these are both very good lenses and a significant step-up from the usual slow Kit zoom for a reasonable price. If you can afford to to spend more, something like the Panasonic LUMIX G 20mm f/1.7 Aspherical Pancake Lens looks very interesting. It's a thin pancake design and it's 1.3 stops faster than the Sigma 19/2.8 DN. However it's priced around $440 vs. the $199 for the Sigma.
BTW if you are looking for a Micro four-Thirds body, right now (05/13) Amazon have the Panasonic Lumix DMC-GX1 16 MP Micro 4/3 for $250. List price is/was $700.