Canon EF 200-400/4L IS USM Extender Review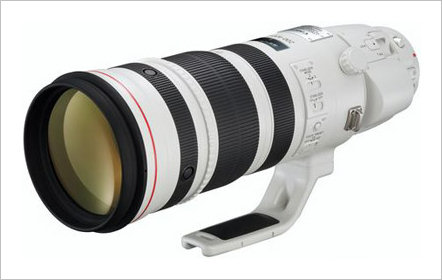 The Canon EF 200-400/4L IS USM Extender is unique. It's the only current production DSLR lens that I know of that has a built-in 1.4x extender. This changes the normal 200-400mm range at f4 to 280-560mm at f5.6. Having such a built-in extender yields a number of advantages over using an "add-on" extender:
Higher image quality. Normal extenders are made to work with a variety of lenses. For example, the same extender is used with the Canon 70-200/2.8L IS USM as with the 400/4 IS DO and the 600/4L IS USM (as well as the various other 300, 400, and 500mm lenses). There must inevitably be some degree of optical compromise with having to match so many different lenses. With the extender built into the 200-400/4L IS USM Extender, the optics only have to match those of the original lens and so can be optimized for that specific application.
It's faster and more convenient. It takes just a fraction of a second to flip the lever from the 1x position (no extender) to the 1.4x position. Compare this with the time to remove the camera body from a lens, add on an extender, and remount the camera body. For situations where you are capturing action (e.g. Sports and Wildlife photography), this can be the difference between getting a shot and missing it. Essentially, it makes the lens a 200-560mm zoom.
It's safer. Not only does it eliminate the risk of dropping cameras or lenses while adding an extender, there's also no risk of dust, dirt, or rain getting into the camera which can happen when removing and replacing lenses in adverse environments.
You can't lose it (or leave it at home). The extender is always with you, so you can't lose it or the extender caps! It's one less thing to think about when operating in a busy environment.
There is of course the question of why make a 200-400mm f4 extender lens rather than something faster or with more zoom range? Why not make a 200-500mm or 200-600mm or even 100-400mm? Why f4, not f2.8? Well, if you take a look at the specifications of the 200-400/4L IS USM Extender, you'll see that it weighs 3.6kg (almost 8lbs). It's 5" in diameter and 14.4" long. This isn't a small lens, nor is it a light lens. In addition, it's not an inexpensive lens either, with a current retail price around $11,800.
Anything faster and longer would be heavier and more expensive. Sigma has a 200-500/2.8 that weighs almost 35lbs and costs $26,000. I'd imagine a Canon "L" IS version of that might be closer to $35,000. You could make a 100-400 lens, in fact Canon do (f4-f5.6), but if you made a 100-400/4 it would presumably be even larger and even more expensive than the 200-400/4
Canon seems to have made the longest and fastest zoom that they can without it being ludicrously large and expensive. It's obviously aimed at professional and wealthy amateur Sports and Wildlife photographers, but even they would balk at paying maybe significantly more for a heavier lens. The 200-400/4L is sufficiently small and light that it can be handheld for short periods of time, and the zoom range of 200-560mm covers the range such photographers might be expected to use most.
The 200-400/4L IS USM is comparable in size and weight to the 500/4L IS USM. It's just 3/4" shorter and 8oz lighter (but it costs $1300 more!).
Canon EF 200-400/4L IS USM Extender Specifications
Focal Length & Maximum Aperture
Built-in extender at 1x: 200-400mm, 1:4.0
Built-in extender at 1.4x: 280-560mm, 1:5.6
Lens Construction
Built-in extender at 1x:
25 elements in 20 groups (incl. 1 rear filter)
Built-in extender at 1.4x:
33 elements in 24 groups (incl. 1 rear filter)
Diagonal Angle of View
Built-in extender at 1x: 12°-6°10'
Built-in extender at 1.4x: 8°50'-4°25'
Focus Adjustment
Inner focusing system
Closest Focusing Distance
6.6 ft / 2m
Filter Size
52mm drop-in
Max. Diameter x Length, Weight
5.0 x 14.4 inches, 127.7oz / 128 x 366mm, 3620g
Canon EF 200-400/4L IS USM Extender Description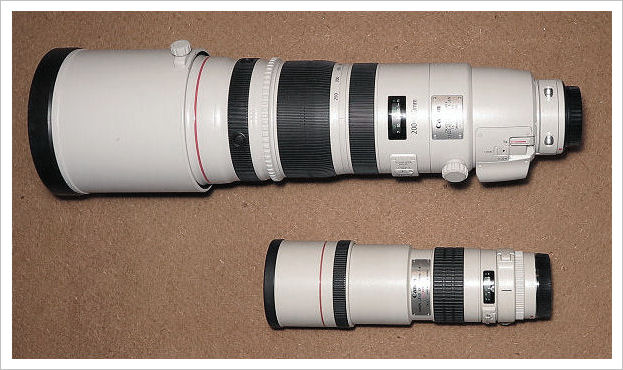 Above: EF 200-400/4L IS USM Extender; Below: EF 300/4L USM
The EF 200-400/4L IS USM Extender is by no means a small or light lens. You might think a 200-400/4 would be just a bit larger than a 300/4 lens, but you'd be wrong as you can see from the image above. In fact it's just fractionally smaller and lighter than Canon's EF 500/4L II IS USM. While you can use it hand-held without a tripod, it weighs almost 8lbs so it's not really a lens you'd want to handhold for long unless you had to. While I have shot with it handheld for short periods of time, I'm sure that after a while I'd wish you had a tripod with me (or at least a monopod).
The close focus distance of 2m is quite good for a long telephoto, though not as short as some telephoto primes in the same focal length range. I measured maximum magnification (560mm at closest focus) to be about 0.22x (just over 1/5th life size)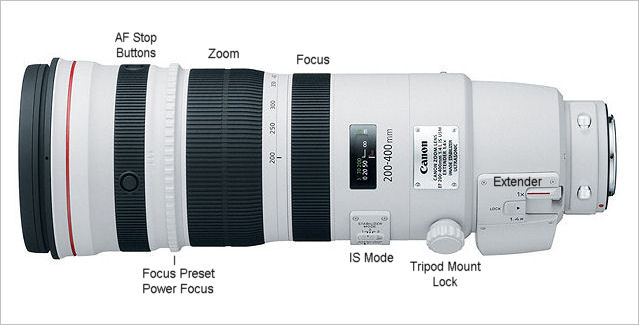 At the front of the lens is a black rubber ring with 4 buttons. This ring has 4 AF stop buttons that can be used to pause and lock AF. This can be useful, for example, when something comes between the lens and the subject while AF tracking. Holding one of the buttons down will prevent the lens from refocusing on the closer object as it passes in front of the subject.
Just behind the stop button ring is a white knurled ring that rotates though a short arc. This ring has dual functions. First it can be used to go quickly to a preset focus position. Second it controls the power focus option for video. In power focus mode, this ring can be used to slowly and smoothly shift focus.
Behind this ring is a wide black rubber zoom ring that controls the focal length. Finally, there is a narrower rubberized ring used for manual focus.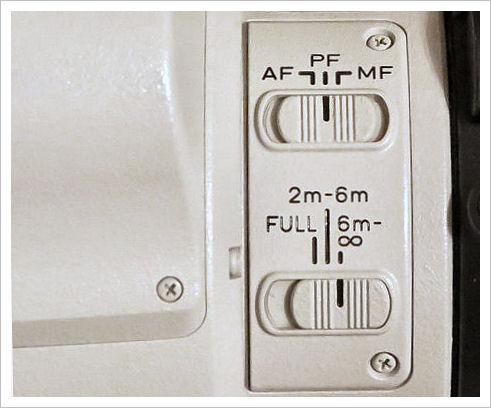 The Canon EF 200-400/4L IS USM Extender has three focus modes: manual focus, power focus, and autofocus. Power focus is typically used in video applications and it enables slow, smooth electronic focusing to be achieved via manual focus control as explained above.
There are three focus ranges. The 2m to infinity mode is used when you don't know where your subject will be. The 2m to 6m mode is for use when know your subject will be close and the 6m to infinity mode is used when you know your subject won't be close. The reason for limiting the range is to minimize focus acquisition time since it limits the range the lens has to search though to acquire focus.
I measured focus time from close focus to infinity (or vice versa) to be about 0.5 seconds at 200mm and 0.56 seconds at 400mm. As would be expected, switching in the 1.4x extender significantly slowed focus to around 1.2 seconds from close focus to infinity. Note that these are worst case times. Rarely would the lens be searching through its entire focus range. With the range limiter set for 6m to infinity, the focus time at 400mm with the extender switched in dropped from 1.2 seconds to 0.7 seconds, and without the extender, focus time dropped to 0.4 seconds. These, again, are worst case values. In typical use the lens never really searches. The Canon AF system works by measuring the amount of defocus, then driving the AF motor to the correct position for focus. It does not typically search through the focus range or have to drive the lens from one end of the focus range to the other.
Focus was very accurate. In fact with the lens I had and my EOS 7D seemed to be spot on with no microadjustment needed.
I made a focal length measurements at a distance of 50m based on comparing the the image scale I got with my previously calibrated 500/4.5L USM lens (500.15mm focal length) to the image scale of shots taken with the 200-400/4L zoom. At a setting of 200mm, I measured a focal length of 203mm. At 400mm, I measured a focal length of 382mm, and at 400mm with the 1.4 extender inline, I measured 537mm (a multiplier factor of 1.406x). These numbers are within the +/-5% that's considered normal for focal length tolerance.
A distance of 50m should be a long enough that any difference at infinity focus should be very small. Most (if not just about all) zooms exhibit "focus breathing" when close focused, i.e. the effective focal length becomes shorter at short focus distances. I would expect the 200-400mm to do this also. A quick "back of the envelope" calculation based on a specified magnification of 0.22x with the lens at 560mm and focused at 2m, gives an estimate of around 325mm for the effective focal length under these conditions.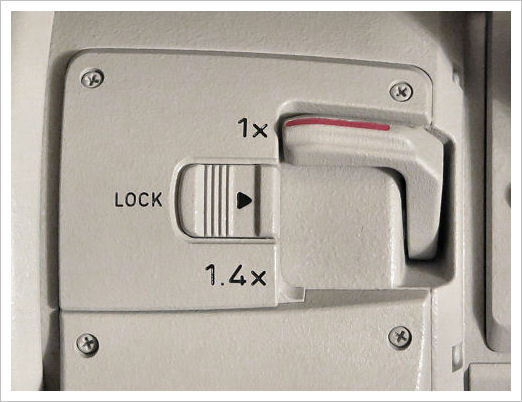 The built-in extender is deployed via a simple lever on the side of the lens. There's a lock that can either lock it in the out position (1x) or the in position (1.4x). It takes just a fraction of a second the switch the extender in or out of the optical path.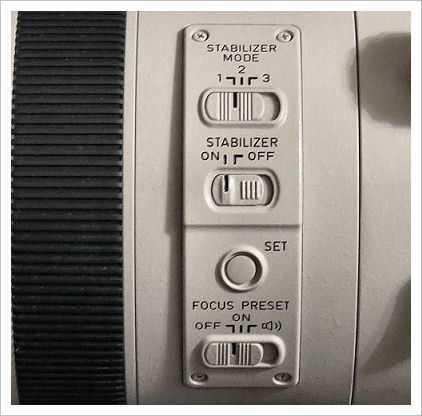 The image stabilization function is controlled via a slide switch on the side of the lens. There are three selectable modes. Mode 1 is the normal IS mode for when the lens is stationary. Mode 2 is used when panning and it disengages stabilization in the direction in which the lens is being panned. Mode 3 is similar to mode 2 but IS only activates when the shutter is fully depressed to allow for more accurate framing of subjects when panning at high speed.
Below the IS controls is the focus preset control. It allows a focus position to be recorded with the push of a button and returned to with the slight rotation of the focus preset ring (see above), with or without a confirmation "beep."
The EF 200-400/4L IS USM Extender takes rear mounted "drop-in" 52mm filters. On a camera like the EOS 7D, with a built-in flash, it's necessary to remove the camera from the lens in order to remove the filter. With bodies that don't have a built in flash (such as the original EOS 5D) the filter can be removed without detaching the camera from the lens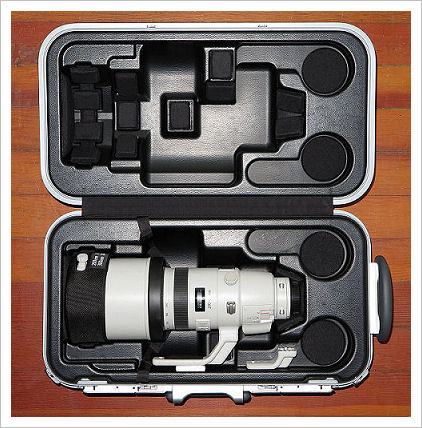 A very sturdy plastic carrying case is supplied for the EF 200-400/4L IS USM, along with carrying straps for the lens and an alternate tripod foot. The regular tripod foot has mounting holes for both 1/4" and 3/8" threads. A smaller foot is also supplied which has a mounting hole for 1/4" threads. Also supplied as standard equipment are a reversible hood and a Velcro fastening "cap"
Image Quality
Though I did shoot resolution test charts, I'm not going to go into the details of the results here. Suffice it to say that the EF 200-400/4L is sharp enough wide open (both with and without the extender) that any working professional could market the images without any concerns about sharpness. It's a very sharp lens. The question of whether or not prime lenses like the 300/2.8L II IS USM or the 400/2.8 II IS USM are marginally sharper under ideal conditions is another issue. I suspect that on a optical bench that might well be the case, but the difference is unlikely to be significant when the lenses are actually used in the field. I did compare resolution test results at 560/5.6 with those from an EF 500/4.5L USM, and I'd judge them to be pretty much equally sharp. The 560/5.6 images have slightly lower levels of chromatic aberration at the edges of the frame. A more recent lens like the EF 500/4L IS USM MkII would probably be a touch sharper.
Most of the images shown here were taken with an EOS 7D APS-C camera rather than a full frame camera because the 7D has a higher pixel density than any Canon full frame DSLR and so will reveal any image defects with higher sensitivity. Full frame shots were also obtained and image quality held up well all the way to the edges.
Here's a shot taken using an EOS 7D at a zoom setting of 400mm and with the 1.4x extender in line, making a 560mm lens at f5.6):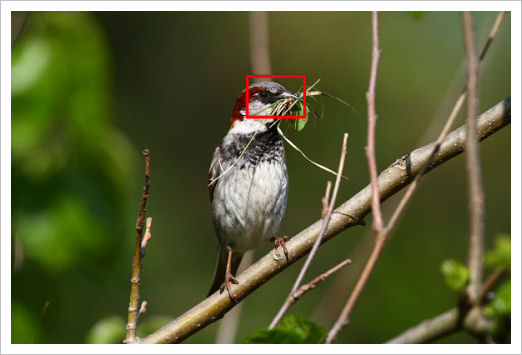 The area outlined in red is shown at 100% in the crop below: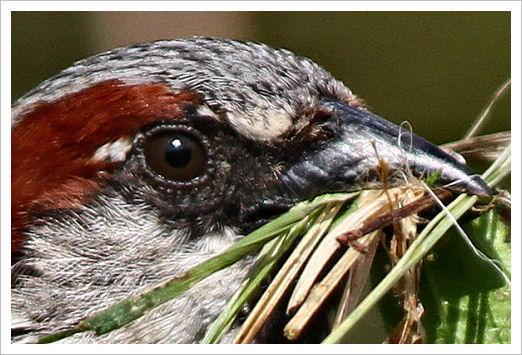 This is a sharp image by any standard and particularly impressive for a lens with an extender added.
Just to show that this isn't a lucky accident (!) Here's another example taken at 560mm wide open at f5.6. Again it's a 100% crop from the full image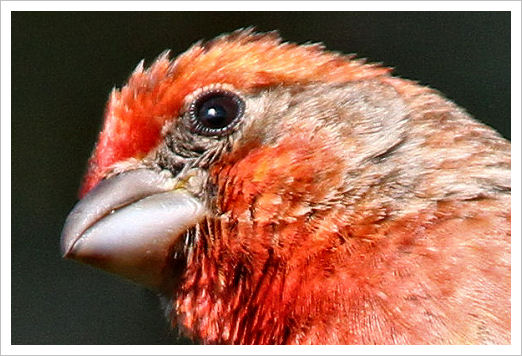 You really couldn't expect much better results than that. I won't show images at shorter focal lengths or with the extender out of the optical path because they are just as good, if not even better!
Does the The Canon EF 200-400/4L IS USM Extender have any faults? Yes it does but they are pretty minor.
Chromatic aberration is very well controlled but at the corners of the image on high contrast edges, you can detect very slight color fringing. However it's minimal in intensity and extent and consistent throughout the zoom range (including with the the extender in line). You'd have to be looking closely at the corners of large prints to even see it. I'd estimate the linear extent of the fringing at 560mm in the extreme corners of an APS-C frame at 2-3 pixels.
Distortion is minimal, as you'd expect from a telephoto lens of this type. There's the slightest hint of barrel distortion at 200mm and the slightest hint of pincushion distortion at 400mm, but you'd have to be shooting a rectangular grid and looking very hard to even see it - it's absolutely unnoticeable in normal images, even images of rectangular objects.
Vignetting wide open ranges from just under a stop in the corners of a full frame image at 200mm to a little over a stop at 400mm. At f5.6, it's under 1/2 stop at all focal lengths, which is pretty much insignificant.
So much for the faults...
Image stabilization is very effective. Canon claims up to 4 stops at all focal lengths and that's about right according to my testing. I typically saw 3 to 3.5 stops and sometimes 4 stops, depending on conditions and how long I'd been trying to handhold an 8 lb lens! Note that the 200-400 has a new IS mode which only engages IS when the shutter button is fully depressed. Canon states that this makes panning shots of moving subjects easier because you don't see the effects of the IS "fighting" the panning movement but the image is still stabilized. I don't know if this adds anything to shutter lag time since Canon made no comment on that.
More Image Examples
Here's a series of images shot wide open at 200mm, 400mm and 560mm using an EOS 7D DSLR.
The first shot is at 200mm and f4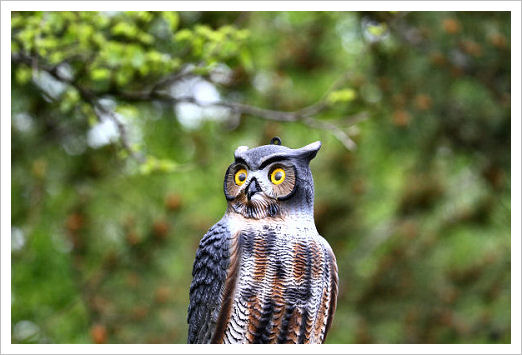 Sharpness is excellent. The background is well blurred, but seems a little "harsh". Bokeh (the subjective quality of the out of focus regions) is somewhat hard to define and test. It can depend on focus distance and background distance as well as the nature of the background. I wouldn't describe the background here as particularly smooth, but again Bokeh is a quirky phenomenon at times.
The second shot is zoomed out to 400mm, again at f4.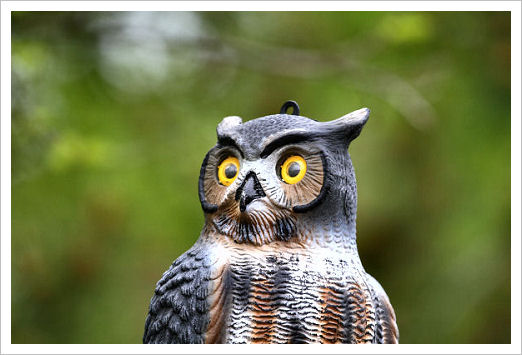 Again we see excellent sharpness and the background has smoothed out significantly (plus we see less of it). Shooting from the same position at a longer focal length (and the same aperture) will always blur out the background more.
Finally a shot with the lens at 400mm and f4 as above, but with the 1.4x extender in use.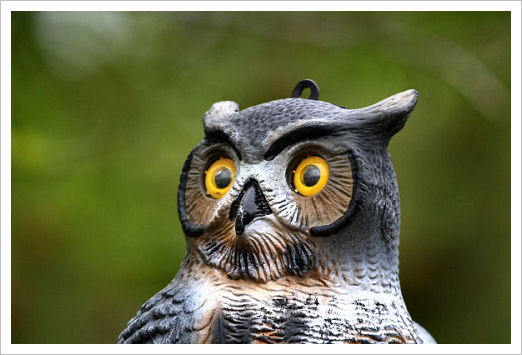 I see no degradation in image quality, just an increase in image scale. The background seems even smoother and less distracting, giving better emphasis to the main subject.
Now here's a series of shots of the moon taken with the Canon EF 200-400/4L IS USM Extender wide open at full zoom (400mm) and with the extender inline (560mm f5.6).
Above is the whole frame to give you some idea of the magnification at 560mm using an APS-C sensor.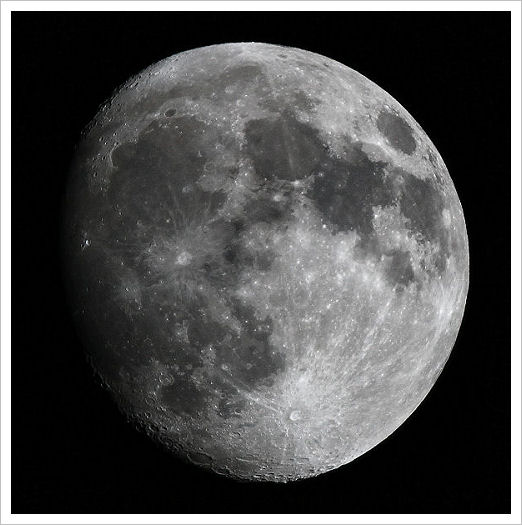 In this crop just the moon is shown. Note the total absence of any false color.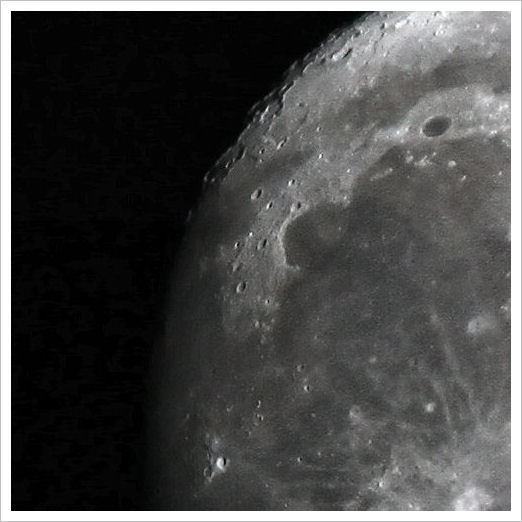 Finally here's a 100% crop of the Sinus Iridium area of the moon (upper left in the images above). Sharpness is excellent, as good as I've seen from a telephoto lens.
Adding more Extenders
The Canon EF 200-400/4L IS USM Extender already has an excellent built-in 1.4x extender, however you can add a second extender such as Canon's EF1.4x III and 2x III. Obviously there's point in adding the 1.4x III to the lens with the built in extender out of the optical path to go from 400mm to 560mm since the built-in extender does that job. However with the built-in extender in the optical chain giving you 560/5.6, you can then add an external 1.4x to go to 784mm at f8. With Canon's high-end full frame DSLRs you still get AF using the center AF zone. You could also add the 2x III to the lens without the built-in extender in the optical path to give you 800mm at f8 again, and again you will have AF via the center AF zone with the 1D X and 5D MkIII. With the built-in extender activated you can also add the 2x to get you to 1120mm at f11, but that requires manual focus.
Extenders do slow down the focusing speed of the lens somewhat, so for action shots requiring focus tracking that's a concern. For static subjects it's not usually an issue.
Conclusions
The is a unique and highly useful lens. While its optical quality is excellent, it's really the versatility of the lens that makes it so useful. All Canon "L" series telephoto lenses are fast focusing and optically excellent, but on top of that, the 200-400/4L Extender is a lens that excels in its ability to cover a wide range of focal lengths from 200mm to 560mm in a single package. For use in rapidly changing situations, such as in sports, wildlife, and news photography, that's something that can mean the difference between getting a great shot and missing it entirely. Under such conditions it's often impossible to switch lenses or add an extender without missing critical action. The ability to add the extender without opening the camera up to dust and moisture is also important when working in less than ideal conditions.
While there may be circumstances in which the extra speed of a 300/2.8 lens or the extra reach of an 800/5.6 lens might be required, but for most photographers those situations are much less common than the need to optimally frame a shot or follow action with subjects changing in size as they move towards or away from the camera position.
The only negative comments I can make about the EF 200-400/4L IS USM Extender are that it's very expensive and it's neither small nor light, though there are certainly more expensive, heavier, and longer lenses in Canon's lineup (for example, the 600/4L II IS USM). However, if I were a professional photographer making my living from my images and I was on safari in Africa with just one big lens, the 200-400/4L IS USM is the lens I'd want with me! On the other hand, speaking personally as an amateur with a finite budget, I'd probably look for a less expensive alternative.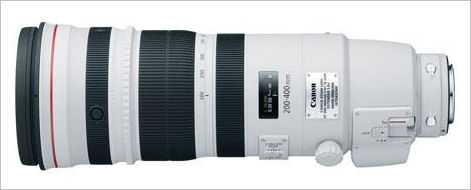 • Check current price and availability of the
Alternatives
Well, for $11,700 you could buy a , a , a and a ) and still have $1700 in your pocket! Of course with 2 lenses and two extenders you've a lot more gear to haul around and you don't have as much telephoto zoom capability, but you do have a faster 300mm lens and you do have 70-200mm (at f2.8) covered too. If you substituted the for the 300/2.8, you'd save another $4900, making the package just $5100, and if you substituted the for the 70-200/2.8 zoom, you'd end up with a total cost of only $3400. That's $8300 less than the 200-400/4L IS USM Extender, but of course you now have 4 lenses to juggle and no ability to zoom. You'd also be a stop faster at 200mm, the same speed at 300mm and a stop slower at 420mm (300+1.4x).
If you want the "one lens" solution then there's the . It offers a wider focal length range, is much cheaper (around $1070) and much lighter, but it's 2/3 stop slower and doesn't have the same level of sophistication and optical performance as the Canon 200-400/4L IS USM Extender. However, for a typical amateur photographer, it is undoubtedly a much more cost-effective solution. See my review here - Tamron 150-600/5-6.3 VC Review
Sigma have two new lenses, both designated as a Sigma 150-600mm f/5-6.3 DG OS HSM. The two versions of this lens are the "C" version (Contemporary) and an "S" version (Sports). The Sports version, , should have better performance, with extra elements (24 vs. 20), and is weather sealed. The cost of the "S" version is around $2000 and at the time of writing (November 2014), the lens has not yet arrived in stores. There's no price or availability information yet on the "C" version, , though presumably it will be less expensive than the "S" model.
There's also the for around $3600. Less telephoto reach, no built-in extender, but faster aperture and lower cost and weight. With a 1.4x attached, it becomes a 168-420/4 and with a 2x, it becomes a 240-600/5.6, which will still AF on all EOS DSLRs. This gives you a wider zoom range then the 200-400/4L, a faster (f2.8) lens from 120mm to 300mm and about the same speed at about the same focal length at 400mm (420mm with 1.4x) . Less convenient though and probably not quite as sharp once you add an extender (especially if you add a 2x). See my review here - Sigma 120-300/2.8 OS Review
And of course there's always the , which, at around $2200 is about 1/5 of the cost of the 200-400/4L IS USM Extender, not to mention it's much smaller and lighter. But it is slower and adding an extender takes it down to f8 where most Canon DSLRs won't autofocus.