Canon EF 24/2.8L IS USM review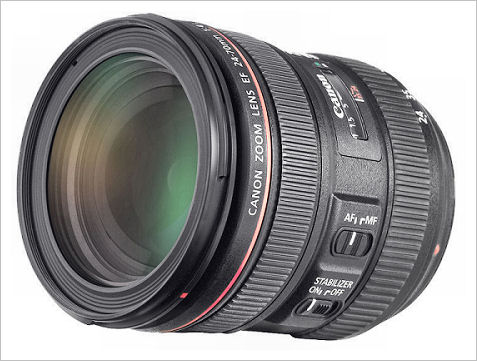 The Canon EF 24-70mm f2.8 IS USM is a smaller, lighter, lower cost alternative to the 24-70/2.8L II USM with the added benefit of image stabilization. Canon have a number of f4L lens alternatives to their faster f2.8L lenses, including the 17-40/4L and the 70-200/4L models. The EF 24-70/4L IS USM is the latest addition to this f4 lineup.
The EF 24-70/4L IS USM has a unique place in Canon's current lens lineup as the only zoom with a dedicated macro mode and a hybrid IS system. Hybrid IS, as also used on the EF 100/2.8L IS USM Macro, is a special IS mode deigned to provide image stabilization at macro magnification. Normal IS is ineffective at macro magnification because it can't stabilize for vertical and horizontal shifts (linear translations) and these become very important in the macro range.
EF 24-70/4L IS USM Macro Specifications
| | |
| --- | --- |
| Elements/Groups | 12 groups /15 elements (2 aspheric) |
| Angle of view (full frame) | 84° - 34° |
| Closest Focusing Distance (normal mode) | 0.38m / 1.25 ft. |
| Closest Focusing Distance (macro mode) | 0.2m/ 8.9 in |
| Maximum Magnification | 0.7x (in macro mode) |
| Diaphragm | 9 blade (circular) |
| Filter Size | 77mm |
| Focus | Internal |
| Dimensions (Diameter x Length) | 3.3 x 3.7 in. / 83.4 x 93mm |
| Weight | 21 oz. / 600g |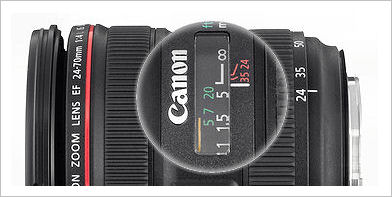 The EF 24-70/4L IS USM Macro is a typical of Canon "L" series lenses. It feels solidly built and both focusing and zooming actions are smooth. The distance is scale marked from 0.38m to infinity with IR focusing marks for 24mm and 35mm.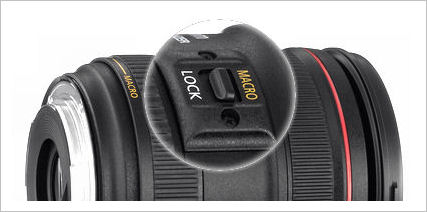 Focal lengths markings are found for 24mm, 35mm, 50mm and 70mm. After the 70mm mark is a macro range which is engaged by pushing a "Macro/Lock" switch towards "Macro" and rotating the zoom ring past the 70mm mark. Under these conditions the lens is now in the macro range and maximum magnification is 0.7x. The lens is returned to the normal focusing range by sliding the "Macro/Lock" switch towards "Macro" and rotating the zoom ring back past 70mm into the normal zoom range. The "Lock" position of the switch prevents the lens from extending and can be engaged when the zoom is set to 24mm.
There are two other external controls on the lens. One is the "AF/MF" switch for auto or manual focus and the second is the the IS on/off switch. The EF 24-70/4L IS USM has full time manual focusing. The Image Stabilization has two modes, on and off. with no additional settings for panning. There is no focus range limiting switch.
The EF 24-70/4L has internal focusing, so the lens doesn't change length and the front element doesn't rotate during focusing. Zooming isn't internal - the lens extends by about 3cm (1.2") when zoomed from 24mm to 70mm. At 70mm the overall length is around 123mm (4.85"). The lens extends slightly in the macro range, but that only adds another 3mm (0.1") to the overall length.
Focusing distances are specified as the distance from the sensor, so Canon's specification of the closest focus distance of 0.2m (20cm) in macro mode, means the front of the lens 20cm from the sensor at maximum magnification. This means that the working distance (distance from the subject to the front of the lens) is much smaller, in fact at 0.7x the working distance is only about 3cm (1.2"). That can make lighting the subject tricky and such a close approach can make insects nervous! As a comparison, the working distance of the Canon EF 100mm f2.8 macro lens is about 6" (150mm) at 1x.
The EF 24-70/4L IS USM is upplied with a lens hood, but no case. The warranty is the standard Canon 1 year warranty. Canon states that the lens is weathersealed against dust and moisture.
Optical Performance
Optical testing of the EF 24-70/4L was done using an EOS 6D (full frame) and an EOS 7D (APS-C sensor). Unless specified otherwise all comments refer to tests done on the full frame body (EOS 6D) and all sample images are full frame, shot using the EOS 6D.
Vignetting
Vignetting at 24mm is quite noticeable. At full aperture (f4) the corners of the full frame image measure about 2 stops darker than the center. Stopping down helps of course, but even stopping down to f11 still leaves the corners almost a stop darker than the center. Vignetting can be corrected in-camera for JPEG images with compatible cameras (e.g. EOS 6D). Alternatively, vignetting can be corrected when shooting RAW files using the provided Digital Photo Pro (DPP) Canon software.
As the lens is zoomed out from 24mm the vignetting becomes less. Between 35 and 70mm vignetting in the corners is around 1 stop at f4 and 0.5 stops at f5.6. As would be expected, vignetting is much less of an issue when the EF 24-70/4L IS USM is mounted on a crop sensor body.
Distortion
Distortion is greatest at the 24mm setting where it measures at around -2.5% (barrel distortion). Distortion decreases in the 35-50mm range, where it's pretty minimal and then switches sign and increases in magnitude at 70mm where it measures around +0.7% (pincushion distortion).Distortion can be automatically (or manually) corrected when RAW files are processed in Canon's DPP software.
Chromatic Aberration
Chromatic aberration is well controlled and remains at a low level as the lens is zoomed from 24mm to 70mm. Viewing images at 100% it's only just visible, even in the corners of the image, so it's very unlikely to be an issue. Any slight traces of color fringing can be corrected for in-camera JPEGs by EOS bodies supporting that function, or it can be automatically or manually corrected when RAW files are processed in Canon's DPP software.
Sharpness
Sharpness is uniformly high across the whole focal length range. The image center is slightly sharper than the edges and corners, but even wide open the corners still rate as very good. Stopping down from f4 to 5.6 and f8 gives a slight increase in sharpness in the center and at the edges, but the improvement is small. Stopping down to f11 and smaller apertures results in decreased sharpness because of diffraction related softening.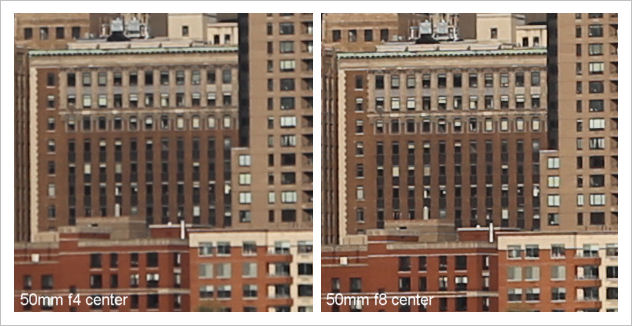 The image above shows 100% crops from the center of the image at 50mm at f4 and f8. You can see the image resolution is better at f8, but even at f4 it's good. Remember these are 100% crops and represent a small section of a very large image.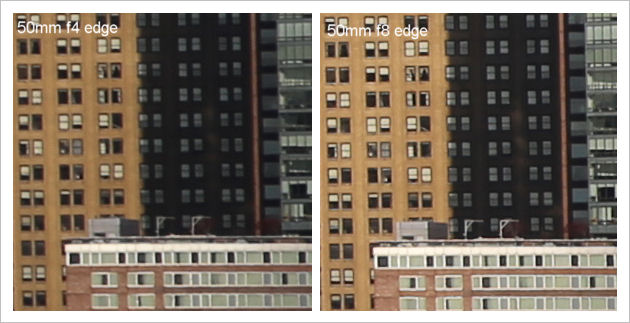 The image above shows 100% crops from the edge of the image at 50mm at f4 and f8. These crops show two things. First that the edges are pretty much as sharp as the center. Second, the edges also show a small increase in sharpness when the lens is stopped down, but are still good even at f4.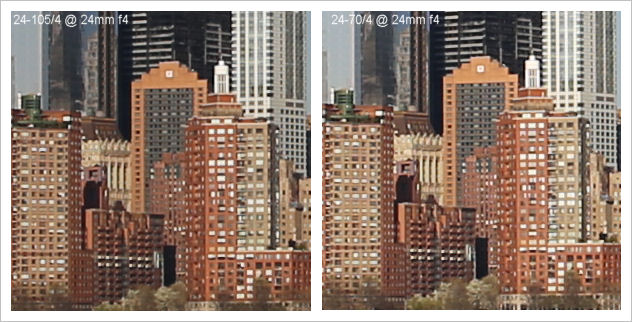 When compared with images taken using the EF 24-105/4L IS USM the images from the EF 24-70/4L IS USM were slightly sharper. However the difference was pretty small and only really showed up when looking at 100% crops. I doubt it would be visible in small or medium sized prints. The image above shows 100% crops from the center of the image shot at 24mm and f4 with the two lenses.
Macro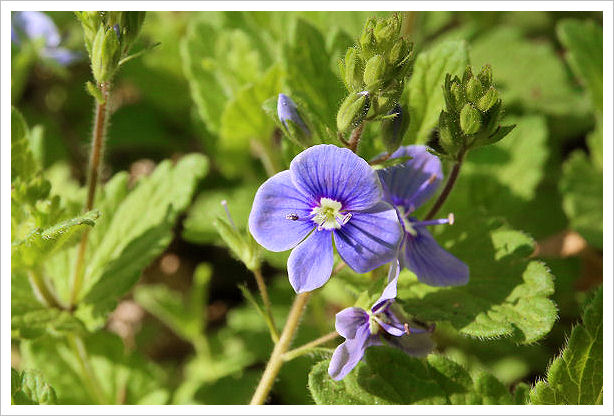 The EF 24-70/4L IS USM is the only general purpose zoom lens in the Canon lineup with a dedicated macro mode. It's also the only zoom with hybrid IS which is specifically designed to minimize blur due to camera movement when shooting at high magnification.
Normally the lens is a regular 24-70mm zoom with a close focus distance of 0.38m and maximum magnification is obtained at 70mm (just over 0.2x). To get into the macro mode a slide switch must be pushed towards "macro" which allows the zoom ring to be turned past the 70mm setting and enter the macro mode. I presume there is some internal rearrangement of the optics at this point. In macro mode infinity focus is lost, but a magnification of 0.7x can be achieved at closest focus. The working distance (distance from subject to lens) is around 3cm (1.2") at maximum magnification.
The hybrid IS system is the same as that used on the EF 100/2.8L IS USM macro lens. It compensates for the usual angular movements of the lens ("pitch" and "yaw"), but can also compensate for horizontal and vertical shifts. While straight horizontal and vertical shifts don't move the image much in normal non-macro situations, they become very important at high magnification. Normal IS really doesn't do a whole lot for macro lenses operating near 1:1, while Hybrid IS can give an effective 2 stop stabilization.
Macro performance is pretty good, with quite sharp images across the frame, low distortion and low chromatic aberration. When looked at closely the images don't match the sharpness of those from a dedicated macro lens like the EF 100/2.8L IS USM Macro, but are better than those normally obtained from "close focusing" zooms. A second advantage of a dedicated prime macro like the EF 100/2.8L IS is an increased working distance (around 6" at 1x macro magnification).
One issue I did notice is that there appears to be a small focus shift (away from the lens) when the lens is focused at full aperture (which is normally the case) and then stops down for shooting. It's probably most noticeable at a shooting aperture of f8. At f4 the focusing and shooting apertures are the same, so focus is good. At a shooting aperture of f5.6 the shift is smaller. At f11 and f16 the increased depth of field tends to mask any small focus shift.
If you use Live View, manual focus and the DOF preview button you can focus at f8 and shoot at f8, and this gives the sharpest images.
While this behavior certainly isn't desirable, in practice when shooting 3D subjects it's not very noticeable, even shooting at f8. Where it might be a problem is when shooting macro images of flat objects (e.g. postage stamps, coins etc.). The following image was focused at f4 and shot at f8.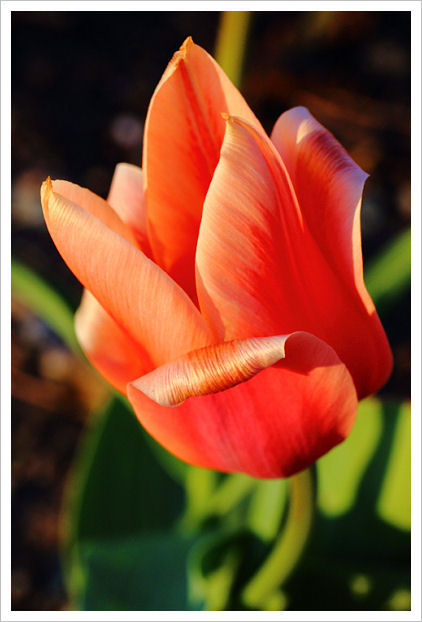 Conclusions
The Canon EF 24-70/4L is a good lens. It's pretty sharp wide open and that sharpness extends across the whole (full) frame at all focal length settings. Sharpness is increase slightly when the lens is stopped down to f5.6 or f8, but stopping down isn't required to get excellent images. The hybrid image stabilization is highly effective, even at macro magnification and the lens is smaller, lighter and around $700 less expensive than the EF 24-70/2.8L II IS USM. The macro function (0.7x) is a unique feature of this lens and for many may mean that they don't need to carry an additional lens for macro work.
Alternatives

Anyone interested in the would also probably be considering the . This is Canon's premium mid range zoom and commands a premium price - but delivers premium performance and it's a stop faster then the f4 version. However it lacks a macro mode and it also lacks image stabilization. If you need the speed and the ultimate in sharpness, it's the lens to get. If you don't, the f4 version might be a better buy for a lot of photographers since the very good IS system of the f4 lens might yield sharper images in low light when the lens has to be handheld and the subject isn't moving.

Another lens that competes with the EF 24-70/4L IS USM is the . Both are f4 across the whole focal length range but the 24-105 has a wider zoom range and is around $350 cheaper. On the downside, it doesn't have a macro mode (max magnification is 0.23x vs. 0.7x), it lacks hybrid IS and the IS that it does have is rated by Canon a "up to 3 stops", while the new 24-70/4L's IS system is rated as "up to 4 stops". The EF 24-105/4L also shows even more distortion and vignetting at 24mm than the 24-70/4L does (though these can be corrected in DPP). For some the increased focal length range and significantly lower cost may make it a more desirable lens, especially when offered as a "kit" lens with a full frame body with a price discount.
Finally, if you don't mind going 3rd party, there's the , priced a few hundred dollars more than the Canon EF 24-70/4L IS USM. It's a stop faster, but it doesn't have a macro mode or hybrid IS. If you need f2.8 though, it's considerably cheaper than the Canon 24-70/2.8L II USM (which has no image stabilization at all). Currently (12/14) there's a $100 mail in rebate on the Tamron 24-70/2.8 VC USD.