Sigma 150-600/5-6.3 DG OS HSL "S" (Sports) review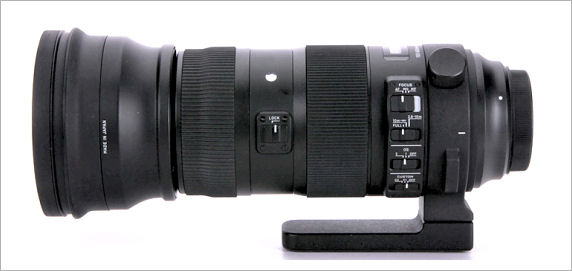 The Sigma 150-600/5-6.3 DG OS HSM S (Sports) is the "big brother" of the Sigma 150-600/5-6.3 DG OS HSM C (Contemporary) which I recently reviewed (see Sigma 150-600/5-6.3 DG OS HSM C review. Since these lenses are pretty similar, it's a good idea to look at that review too.
Sigma 150-600/5-6.3 DG OS HSM S (Sports) Specifications
| | |
| --- | --- |
| Lens Construction | 24 Elements in 16 Groups |
| Minimum Aperture | f22 |
| Number of Diaphragm Blades | 9 |
| Minimum Focusing Distance | 260cm / 102.4 in |
| Filter Size (mm) | 105mm |
| Maximum Magnifications | 1:5 |
| Dimensions (Diameter x Length) | 121x290.2mm / 4.8x11.4in |
| Weight | 2860g / 100.9oz. |
| Mounts | Sigma, Nikon, Canon |
The major physical differences between the two lenses are that the Sports version is built using metal in place of plastic for components such as the lens bagel and lens hood. This makes the Sports lens about 2 lbs heavier and slightly large.
Sigma 150-600/5-6.3 DG OS HSM S (Sports) Optics
Optically the Sports lens uses two large FLD elements at the front of the lens, while the Contemporary version uses SLD elements. FLD glass has characteristics closer to Fluorite and better suppresses chromatic aberration. The Sports lens also has two more elements (24 vs 22). The optical design of the Sports and Contemporary lines are similar, but certainly not the same.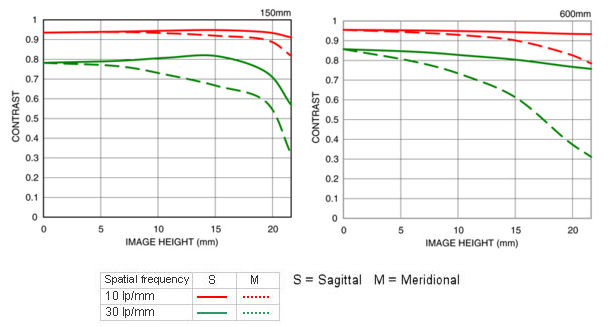 So what does this tell us? Well, the you can think of the red lines as showing contrast and the green lines showing resolution. That's not strictly true, but it's good enough for this purpose (for more on MTF see http://www.bobatkins.com/photography/technical/mtf/mtf1.html). The plots show pretty good and uniform contrast across the frame. At 600mm wide open (all these plots are with the lens wide open), the lens is pretty well diffraction limited in the center of the field (diffraction limited at f6.3 is an MTF of around 0.86). The splitting of the solid and dotted lines shows astigmatism (which lowers overall resolution). The level of astigmatism shown here isn't excessive. If you look at MTF plots for a $12,000 Canon 600/4L IS II you'll see a similar splitting (note, The Canon plots appear NOT to include diffraction, so be careful when comparing them).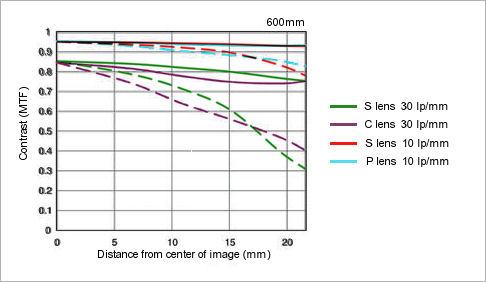 If you compare the MTF plots of the Sports and Contemporary lenses you'll see that they are very similar, especially at 150mm. Probably the major difference is shown at 600mm for the higher frequency (30 lp/mm?) plot. Center and full frame corner sharpness is still very similar for both lenses, but the Sports lens does show a higher MTF in mrd region of the frame between the center and corners, so on the basis of these plots, you might expect better edge and corner sharpness, especially when shooting with an APS-C sensor camera. Theory and practice often differ though.
Sigma 150-600/5-6.3 DG OS HSM S (Sports) Optics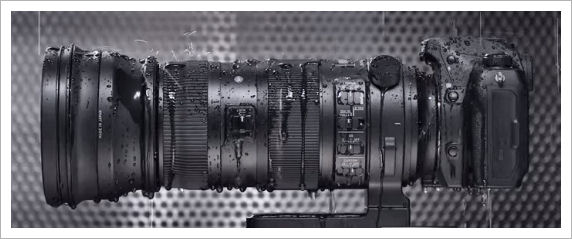 The Sigma 150-600/5-6.3 DG OS HSM S is sealed against dust and moisture
The Sigma 150-600/5-6.3 DG OS HSM S feels like, and is, a solidly constructed lens. It's fully weather sealed with sealing on all the control switches, rotatiing controls and front and rear elements. The controls are smooth operating and precise. For example, the manual focusing ring has a very smooth and frictionless action with no backlash. The control of focal length can be accomplished either by rotating the zoom ring or the lens can be zoomed using a "push-pull" action. The "push-pull" pull action is again very smooth. One downside of this is that it does mean that there is some zoom creep when the lens is pointed up or down my more than about 45 degrees. However, Sigma have provided zoom lock ability at any of the marked focal lengths: 150, 180, 200, 250, 300, 400, 500 and 600mm. The lock at 150mm is a solid lock and at this setting the lock must be deactivated in order to zoom the lens, This is to prevent any zoom motion when the lens is being transported. At the other focal lengths the lock "soft" and the lens can be zoomed by a firm rotation of the zoom ring. It's more of a "click stop" than a solid lock. This allows the zoom to be locked, but quickly zoomed to another setting without having to first disable the lock.
The rotating tripod collar provides excellent support for the lens. Rotation action is smooth and there are click stops as 90 degree rotation intervals which can aid rapid switching from horizontal to vertical orientation. The tripod collar is not removable, but the tripod foot can be removed if desired. A larger feet with a built-in Arca-Swiss compatible quick release plate is available.

The Sigma 150-600/5-6.3 DG OS HSM S has a solid metal lens hood
The lens hood is a solid metal cylinder rather than the thin plastic hood of the Contemporary lens. It attached to the lens with a thumb screw, in the same manner as lens hoods for the Canon prime telephoto lenses do. Also like the Canon telephoto primes, the lens hood is a sleeve which slides over the lens good rather than a cap which clicks into the filter threads of the lens.This allows the hood to be attached and removed while the lens hood is in place.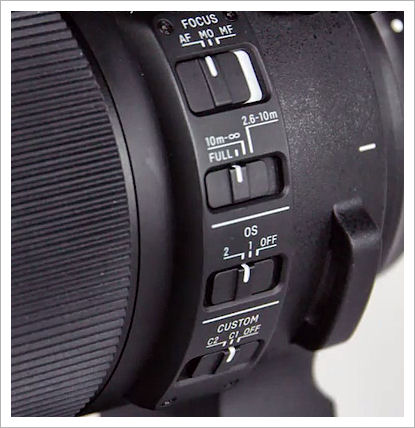 Control switches on the Sigma 150-600/5-6.3 DG OS HSM S
Both the Sports and Contemporary versions of the Sigma 150-600/5-6.3 DG OS HSM share the same set of control switches.
There are three focusing modes - Manual, AF (with full time manual focus option available) and an unusual third mode - "manual override" - in which manual focus takes precedence over AF at all times, even during the AF process and during high speed continuous shooting.
The Sigma 150-600/5-6.3 DG OS HSM S (Sports)) has three focus ranges. For general work there is a 2.6m to Infinity (the full AF range) setting. However, if you know approximately where your subject is likely to be you can speed up AF search by restrichting the range to 2.6m to 10m for subjects that will be close, or 10M to Infinity for subjects you know will be more than 10m away.
The lens has three stabilization (OS) modes - Off, Normal (stabilized on two axes) and Panning (stabilizes on one axis). Accelerometers tell the lens which axis to stabilize when in the panning mode depending on the orientation of the camera. Panning stabilization is effective only for horizontal panning, but the camera can be in either "portrait" or "landscape" orientation. The viewfinder image is quite "fluid" even when stabilization is active, but the system words well, giving ~2 stops of stabilization at 600mm and at least 3 stops at 150mm for me. Depending on how steady your hands are you may get slightly different numbers.
The final set of control options, marked "Custom" in the image above, have "off", "C1" and "C2" settings. These are used in conjunction with Sigma's USB dock. Using the dock and software running on a PC or MAC, a user can update the lens firmware, modify the lens focus speed, stabilization characteristics and can set a user defined focus range. These users defined settings are stored in the lens and accessed by the C1 and C2 custom functions. Additionally the USB Dock system can correct the lens for front or back focus if you find any (I didn't see any in my testing).
Sigma 150-600/5-6.3 DG OS HSM S (Sports) Performance
Lenses should be within 5% of their marked focal length. I measured the focal length of the Sigma 150-600/5-6.3 DG OS HSM S (Sports) at its maximum setting - nominally 600mm - and at infinity focus. My measurement indicated ~591mm, a perfectly reasonable number. The focal length of almost all zoom lenses decreases as focus distance decreases. At the minimum focus distance of 2.6m I'd estimate the effective focal length with the zoom at 600mm is closer to 350-400mm based on the magnification of 0.2x. Again this is reasonable and normal and is of little consequence. All it means is that you don't get quite as much magnification as you might expect form a 600mm lens at very close focus distances. The fact that you get 0.2x at 2.6m is really all you need to know.
Focusing from infinity to 2.6m (the full focus range) too around 0.925s at 600mm and 0.5s at 150mm. If you know your subject distance (2.6-10m or 10m to infinity), search time across the smaller range is significantly reduced. In normal operation, where focus change is usually much smaller on any shot to shot basis, focusing seemed quite fact and was accurate, with no indication of front or back focusing observed.
The Sigma 150-600/5-6.3 DG OS HSM S (Sports) is a variable aperture lens, f5.0 at 150mm and f6.3 at 600mm. Between those settings I found the aperture changed as indicated below:
150-184mm - f5.0
185-320mm - f5.6
321-600mm - f6.3
My testing of image stabilization suggested that stabilization (Mode 1)was around 2 stops at 600mm, increasing in effectiveness to around 3 stops at 150mm. These numbers are based on my observation that I saw a high probability of sharp images at a shutter speed of 1/125s at 600mm and at 200mm most of the shots were sharp at shutter speeds down to 1/30s. These are approximate numbers of course and depend to some extent on how steadily I can hold the lens. Your numbers may be different. It's hard to test mode 2 (panning) and provide any numbers, but it did seem to be effective.
Image testing was done using both full frame and APS-C cameras, using a variety of real world subjects and resolution test targets shot under controlled conditions using a heavy duty tripod for support and with optical stabilization turned off. Mirror lockup and a remote release were used for the resolution target tests. I'm not going to fill this page with boring shots of resolution targets, most of which look about the same, but I will present my conclusions.
Overall image quality was good across the focal length range, even with the lens wide open. I'd say the best results were in the 300-400mm range, with maybe a slight drip in sharpness at the shorter and longer focal lengths, but the difference was small and unlikely to be noticed when not shooting resolution test targets. Sharpness peaked at around f8, but again the deference between wide open and f8 was quite small and I would have no problems shooting this lens wide open if the situation called for it.
Chromatic aberration was well controlled and where it was visible it was at a lower level than that seen in the Contemporary lens. Again best performance was seen around 400mm where there was little evidence of any CA.
Distortion was minimal and unlikely to be of any significance for subjects normally shot with a telephoto lens.
There was some vignetting, especially with the lens wide open. It was most visible at the short end of the focal length range but generally wasn't troublesome. Vignetting (like CA and distortion) is fairly easy to digitally correct should the need arise, so I don't regard slight amounts of any of these aberrations to be a significant problem when shooting digitally. I guess if there is anyone out there who still shoots slides then it could be more of an issue!
Overall I'd say that the Sports lens slightly better image quality then the Contemporary lens, though you'd probably have to be using the best techniques and looking at the images at high magnification to see the difference. Shooting RAW and correcting the images digitally you'd have a very hard time telling shots from these two lenses apart.
Here are a series of images which illustrate some of the points made above. They were shot on a full frame EOS 6D camera.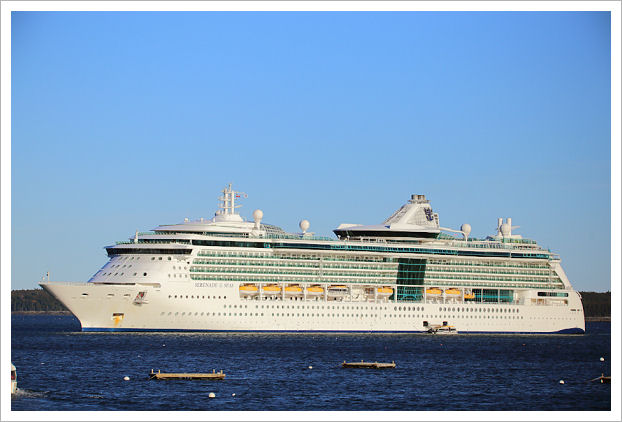 The above shot was taken at 150mm and f5.6. You can see some sky darkening in the upper corners due to vignetting. This is about as bad as it gets for this lens and it's really not that bad. It could easily be corrected in an image editor such as photoshop.
The above shot was taken at 600mm from the same position as the 150mm shot, so this gives you some idea of the range of the lens. Below is a 100% crop from the center of this image.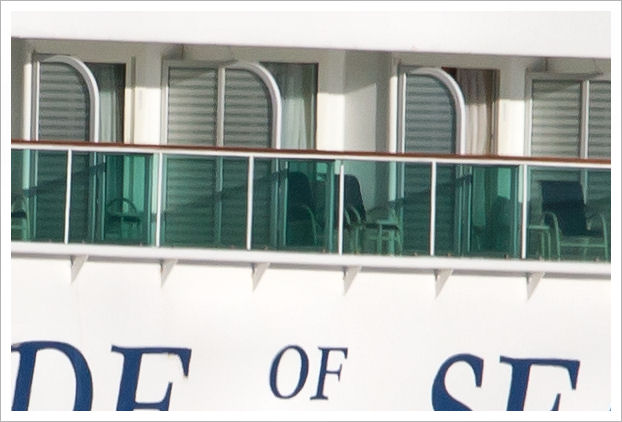 In the next image a small section from the extreme left edge of the full image is shown at 100%.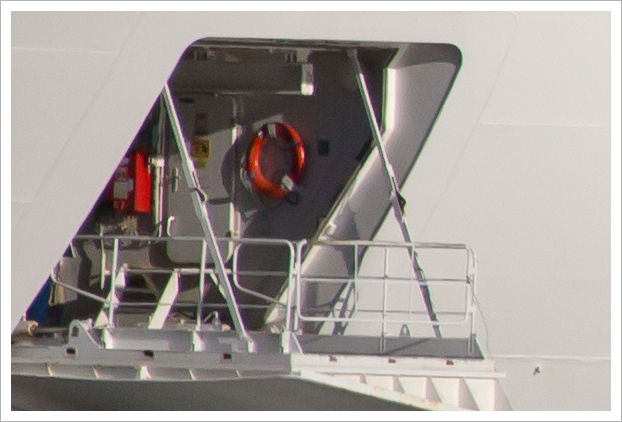 This shot at 100% gives you some idea of the edge sharpness of the less (600mm f8) and also the amount of chromatic aberration present. There is clearly some color fringing present but it can be corrected digitally as shown in the shot below after suitable processing.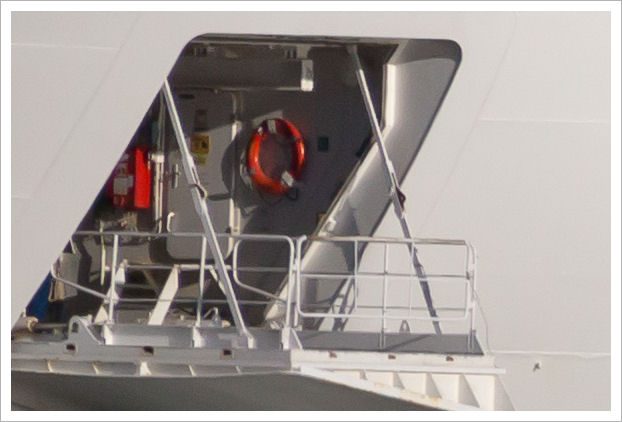 Using TCs with the Sigma 150-600/5-6.3 DG OS HSM S (Sports)
You'd only really consider using a TC with this lens at 600mm and the aperture at 600mm is f6.3. That makes the effective aperture f9 with a 1.4x (840/9) and f13 with a 2x (1200/13). Given these numbers you would not expect normal (Phase detection) AF to operate on any camera. I only tested TC operation of cameras that have an f5.6 AF cutoff (EOS 6D, EOS 7D, EOS 70D). The base lens still autofocuses OK because of some electronic trickery that makes the camera think it's f5.6 for AF purposes, but recognizes that it's f6.3 for exposure and EXIF recording.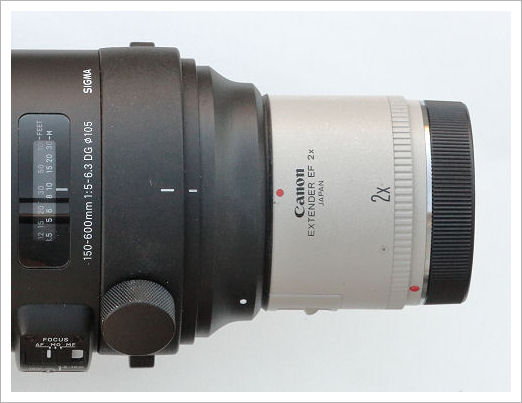 Canon TCs can be mounted on the Sigma 150-600/5-6.3 DG OS HSM S without any issues
By chance or by design, the Sigma 150-600/5-6.3 DG OS HSM S (Sports) allows Canon TCs to be mounted. The space within the lens mount is large enough to accept the protruding front element of the Canon TCs. I don't know if the same applies to the Nikon version of the lens and Nikon TCs since I did not have access to Nikon bodies of the Nikon mount version of the lens. Canon TCs result in the true aperture of the system being conveyed to the camera body, so with either a 1.4 or 2x TC mounted, AF will be disabled on all Canon camera bodies. However, in Live View mode, using contrast detection, autofocus is possible. Accuracy generally seemed good but I would advise testing the AF against manual focus (with 10x screen magnification) to ensure that the lens, TC and camera body in use were in fact giving the best possible results.
With some 3rd party TCs, the true aperture of the combination is not relayed to the camera body and the camera sees the aperture of the lens itself. I used a Tamron 1.4x C-AF MC4 TC and when attached to the Sigma 150-600/5-6.3 DG OS HSM S set to 600mm and wide open it reports shows an aperture of f6.3 on the camera (but remember that it somehow tells the AF system that it's f5.6!). I really didn't expect to get any phase detection AF with the TC, but I did. Much to my surprise, All three of the test cameras (EOS 6D, 70D and 7D) would autofocus this lens at an effective aperture of f9. I don't know how they did it but they did. This was not the case with the Contemporary version of the 150-600. In that case there was an attempt at AF, but there was never any focus lock. With the Sports version, there was.
There is a question of where there's any point in trying to use a TC on a slow slow telephoto lens. Is the resulting image quality any better than just enlarging the image form the lens without the TC? The answer in this case is yes, there is a point in using a TC. Shooting RAW and correcting for CA in PhotoShop, the images shot at 840mm with a 1.4x TC showed more detail than images shot without the TC and enlarged. Stopping down 1/3 or 2/3 of a stop helps, so you're shooting at f10 or f11, but if there's enough light for that, using a 1.4xTC is effective. The case isn't quite so clear for 2x TCs because you'll be at maybe f16, which is not only slow, but a small enough aperture for diffraction to start to soften the image. Thought using a 2x TC can actually reveal more detail in the subject, I don't think I could recommend using a 2x TC with this lens. That's an area that's really best left to the camera manufacturers fast 600/4 prime lenses and associated TCs.
Sigma 150-600/5-6.3 DG OS HSM S (Sports) Conclusions

Sigma 150-600/5-6.3 DG OS HSM S (Sports) , with lens hood, extended to 600mm
The is a very nice, well built, telephoto zoom lens at a price that's not totally out of read for many amateur (and professional) photographets. When Telephoto lenses from Nikon and Canon can cost from $7000 (Nikon 200-400/4) to over $12000 (Nikon 600/4), a 150-600mm lens selling for well under $200 seems like quite a bargain - and it is. Of course it will be 1 1/3 stops slower and may not be quite as sharp or sure focusing as the Nikon and Canon lenses - and it may not work as well with Teleconverters, at least it's a lot more affordable. It doesn't matter how good a lens is if you can't afford one!
Not that the Sigma 150-600/5-6.3 DG OS HSM S (Sport) isn't a good lens. It's pretty sharp and though f6.3 isn't fast, the improved perfomance of many current DSLRs at higher ISO settings make an f6.3 lens very usable indeed, even in relatively low light. Maybe you can shoot your Canon prime wide open at ISO 200 to get the shutter speed you need, but you can shoot the Sigma lens at the same shutter speed by going to ISO 500.
But what about the at around 1/2 the price of the Sports version? Well, there really isn't a lot of optical difference. The Sports lens may have slightly lower chromatic aberration, but CA isn't bad on the Contemporary lens and it is easily corrected digitally. Despite the differences in the MTF curves I described at the top of this article, in real world shots I didn't see much of a significant difference in image quality. Not because the Sports lens is bad, more because the Contemporary lens is good!
The Sports lens easily beats the Contemporary lens in terms of build quality and suitability for rough outdoor use under all weather conditions. The manual focus mechanism on the Sports lens is also a lot smoother than that on the contemporary lens and it seems to handle TCs better. Whether these features are worth an extra $800 or so depends on the needs and wants of the individual user. On a budget and if you want a lighter lens, by all means go for the Sigma 150-600/5-6.3 DG OS HSM C. If you're not on a tight budget and don't mind the extra 2lbs weight, the Sigma 150-600/5-6.3 DG OS HSM S is a good lens that should stand up better to hard outdoor use.
Current Deals (12/15)
Right new there is a $200 instant rebate on the lens, which lowers the price from $1999 to $1799. In addition Adorama are throwing in a free USB Dock ($59) and they are giving a 10% store credit ($179.90) which can be used for future purchases at Adorama. If you add all these together it's a discount of $438.90. These discounts and offers may expire at any time, so if they are gone by the time you read this, you missed them!