Tamron 15-30/2.8 Di VC USD Review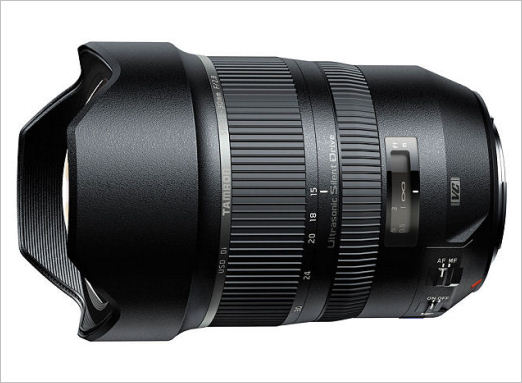 The Tamron 15-30/2.8 Di VC USD is the first fast wideangle zoom lens for full frame DSLRs with built in optical stabilization. While some people have questioned whether stabilization is really necessary for wideangle lenses (which can normally be handheld at slow speeds anyway), there's no doubt in my mind that it's a valuable addition to a lens - even a wideangle zoom. The 15-30mm zoom range is almost as wide as full frame f2.8 lenses go. Nikon have a 14-24/2.8 zoom but Canon's wider zoom, the EF 11-24/4L USM has a maximum aperture of f4. However if you want a really wide zoom on full frame, the EF 11-24/4L USM is the only way to go.
The Tamron 15-30/2.8 Di VC USD is neither small nor light. It's a pretty substantial lens as the comparison with the similar Canon 16-35/2.8L IS II USM shows (see below). The overall length of the lens does not change on zooming. It's a "Di" lens, which indicates full frame coverage, though of course it can be mounted on and APS-C sensor body like the EOS 70D where it has the same angle of coverage as a 24-48mm zoom would have on full frame. The "USD" indicates that the lens has an ultrasonic focusing motor and it also has full time manual focus overrride.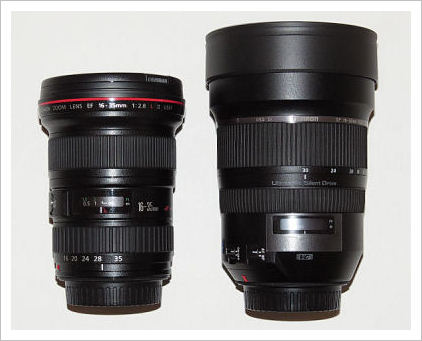 The Tamron 15-30/2.8 Di VC USD has a permanently attached lens hood which makes it larger then the Canon lens, but even with a lens hood mounted on the Canon, the Tamron is still significantly larger. The Tamron 15-30/2.8 Di VC USD weighs 1.1kg (38.8oz), while the 16-35/2.8L IS II USM weights about 22.5oz, about 1lb less. Similar lenses from Nikon, the Nikon 14-24mm f/2.8G ED AF-S and Nikon 17-35mm f/2.8D ED-IF AF-S weigh 35.2oz and 26.25oz respectively.
Tamron 15-30/2.8 Di VC USD Specifications
Groups/Elements
13/18
Angle of View

110°32' – 71°35' (for full frame format)
85°52' – 49°54' (for

APS

-C format)
Diaphragm Blade Number
9 (circular diaphragm)
Minimum Aperture
F/22
Minimum Focus Distance
11 in.(0.28m)
Macro Magnification Ratio
1:5
Filter Diameter
N/A
Weight
1,100 g (38.8 oz)
Length
5.7 in (145mm) for Canon
5.6 in (142.5mm) for Nikon
Standard Accessories
Lens caps (push-on front, rear)
Hood
Integrated flower-shaped hood
Mount
Canon, Nikon, Sony A mount (no VC)
The lens hood of the Tamron 15-30/2.8 Di VC USD deserves some attention. It's actually two hoods, one sliding within the other as the lens is zoomed. The fixed hood and moving front element enables the hood to be longer at the longer focal length settings and so provide better shading of the large protruding convex front element of the lens. However this protruding element and fixed lens hood do result in the inability to mount a filter on the Tamron 15-30/2.8 Di VC USD.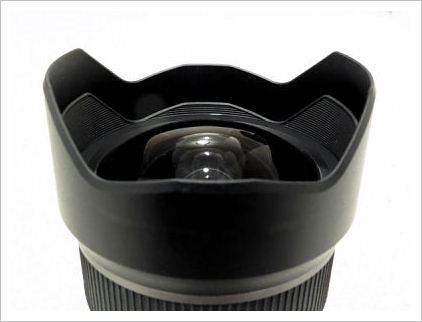 This could be an issue for some photographers. It means you can' t use a polarizer, though polarizers on wideangle lenses can be tricky to use when there's sky in the shot since they will reveal the unevenness of the polarization of the sky which results in the polarized sky varying in brightness. Split density neutral filters are similarly out of the pictures, though many landscape photographers working with digital cameras make combine images of different exposures to bring out details in both the sky and the land. Similarly, neutral density filters can't be used for long exposures in bright light - which means no "soft sea" images or soft flowing water during the hours of direct sunlight. I'd note that both the similar Nikon 14-24mm f/2.8G ED AF-S and the Canon EF 11-24/4L IS USM are similarly limited in that they don't allow filters to be mounted either.
The lens has a stated diameter of 98.4mm and the push on Lee filters holders say they can be used with lenses having a 100mm diameter, so it's possible such a system could be used to hold filters if clamped to the lens hood. Whether there would be vignetting at the wide end of the focal length range I don't know, but I suspect there would be. Light would also leak in from the sides since the lens hood is a "petal" design and the holder would have to be mounted on the end of the hood. I have not tried this and such a system would have limitations and requires some engineering (and possibly duct tape!). Similarly the Cokin X-Pro or maybe even the significantly larger (130mm) Z-Pro filter system could probably be adapted. I know some photographers have used the X-pro holders with the Nikon 14-24/2.8 lens, clamping onto the hood.
Image Sharpness
The Tamron 15-30/2.8 Di VC USD is a sharp lens. I briefly had a chance to shoot with it using a pre-production 50MP EOS 5Ds and some samples from the images are shown below. I'm obliged to say again that these images are not from a production EOS 5Ds and are posted here only in connection with testing the Tamron 15-30/2.8 Di VC USD. See my more complete EOS 5Ds review for further details on the EOS 5Ds. That being said, the 5Ds has very high resolution and so may show up differences that would be less obvious on cameras with a lower pixel count. The first set of 100% crops show the same scene shot with the Tamron 15-30/2.8 Di VC USD and the Canon EF16-35/2.8L II USM. The Tamron was a new lens, the Canon a used lens on loan from Canon. Surprisingly I found the Tamron lens generally sharper than the Canon "L" lens. Of course I only had one sample of each but wide open at both 15mm and 30mm the Tamron was a touch sharper both in the center (as shown below) and at the edges

Stopping the Tamron 15-30/2.8 Di VC USD down from f2.8 to f5.6 made little difference to center sharpness. The example below was shot at a focal length of 27mm. The image does get very slightly sharper, but this isn't a lens you need down to reach it's full potential, at least in the central region of the frame.

However, at the edges of the frame (full frame) there is an improvement on stopping down as shown in the crops below:

You can also see from this last set of images that chromatic aberration is pretty well controlled. You can see very slight color fringing with magenta on the outside edge and green on the inside edge of the white rectangle. This could easily be eliminated post-exposure in software.
The lens performed similarly throughout the focal length range, with center sharpness being excellent wide open and not really improving when the lens was stopped down and edge sharpness being pretty good wide open, but improving when stopping down a couple of stops.
Focusing
I had no focus issues while testing this lens. For the sharpness tests I did use manual focus with 10x zoom just to be 100% certain that focus was as close to perfect as possible, but I got similar results using AF too. As with all lenses (and cameras) AF may occasionally not be quite perfect but I did not see any images that looked like focus had been missed. AF is fast and quiet, as you would expect from an ultrasonic motor. The lens can be switched to a manual focus mode, but manual focus is available at all times, even when using AF.
Stabilization
The Tamron 15-30/2.8 Di VC USD has image stabilization (VC, vibration control) built in, something that none of its competitors can match. The stabilization works. For me, it's good for at least 2 stops at 15mm and at least 3 stops at 30mm, meaning I can reliably handhold the lens for exposures of at least 1/4s at 15mm and expect sharp images. In fact at 1/2s most of the images were still sharp and even at 1 second I could get maybe 1 out of 5 sharp images. The stabilization at 30mm allowed me to use a shutter speed of 1/4s and get sharp images almost all the time and even at 1/2s the majority of shots were still sharp. Without IS turned on I needed to shoot 2 stops faster at 15mm and 3 stops faster at 30mm. Is can be turned off for long exposures when the camera is mounted on a tripod.
Note that the Sony mount version of this lens does not have stabilization built in since Sony use a sensor shift stabilization mechanism in the camera body.
Vignetting
Like all fast lenses, the Tamron 15-30/2.8 Di VC USD does show some vignetting when shot wide open though the level of vignetting is quite modest for a lens of this type. Here's a series of full frame shots showing how vignetting changes with focal length and aperture:

As you can see, while there's significant corner darkening at f2.8, stopping down by just one stop to f4 makes things significantly better. Actually the vignetting at f2.8 isn't that bad in comparison to that seen in some other similar lenses. On many shots it won't be very noticeable. The two images below compare real world shots of a subject that will show up any corner darkening (in the sky at the upper left and right).:

Bokeh and Depth of Field
Bokeh describes the smoothness of the out of focus regions in an image. However with a wideangle lens like this, even wide open you can't throw the background out of focus much. The two images below show what things look like when the lens is close focused and wide open. At longer focus distances the background will be even less blurred. First a shot at 30mm: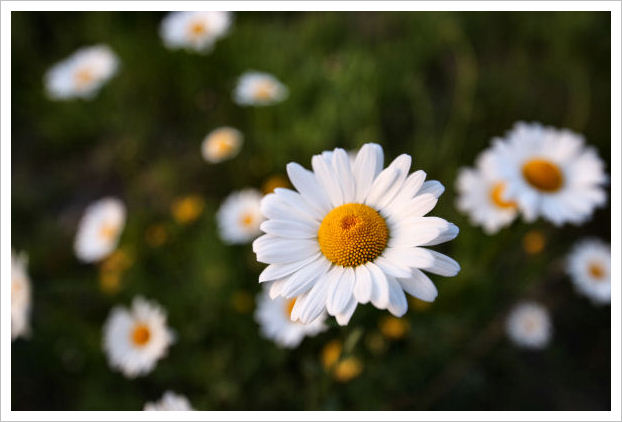 Tamron 15-30/2.8 Di VC USD at 30mm, f2.8. Canon EOS 6D
As you can see, the background doesn't get fully blurred out. Note that this shot is wide open at 2.8 and you can see that the vignetting effect isn't really very noticeable. Now here's a second a shot at 15mm: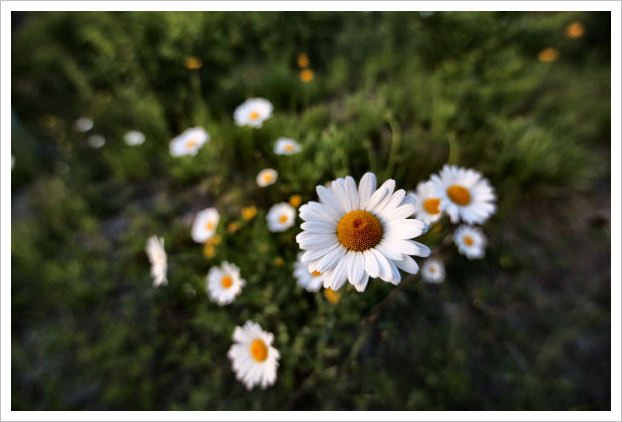 Tamron 15-30/2.8 Di VC USD at 15mm, f2.8. Canon EOS 6D
The background is even less blurred than at 30mm due to the 15mm focal length. again it's shot with the lens wide open, so you can judge the effect of vignetting as well as the smoothness of the blur.
Whether these images show "good Bokeh" or not is up to you to judge. They look OK to me and bokeh isn't something I'm very concerned over in a wideangle lens. If I was looking at something like a portrait lens like a 85mmm f1.2, where I was concerned with isolating the subject from the background, then it would take on greater importance.
Distortion
There's mild distortion at the ends of the focal length range. Around 1.5% barrel distortion at 15mm and around 1.5% pincushion distortion at 30mm. Around 21mm there's no visible distortion at all. These are relatively small numbers and distortion at this level is easily corrected post-exposure either in RAW conversion or in an image editor. While Canon cameras can correct for distortion in Canon lenses in the camera or in the DPP RAW converter and editor, they can't do this for 3rd party lenses such as those from Tamron, Sigma etc.
Astrophotography
Fast wideangle lenses are used by astrophotographers for wide field images of the night sky. In this application, sharpness out to the corners of the image is important. Stars should look like pinpoints, not smeared out blurs. The Tamron 15-30/2.8 Di VC USD does pretty well in this regard. While the corners of the image aren't as sharp as the center, sharpness is still pretty good and stars look like stars, even towards the edges and corners of the image.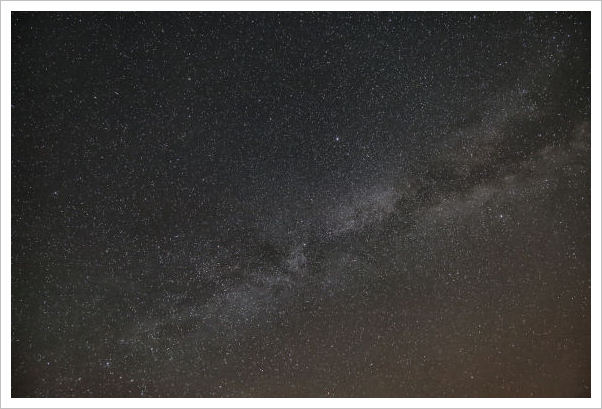 Tamron 15-30/2.8 Di VC USD at 15mm, f2.8. Canon EOS 6D. 20s exposure at ISO 4000
A fast lens is not only useful for recording faint stars, but makes imaging the Aurora much easier. The Aurora can flicker and move, so a fast lens allows a shorter exposure time to better capture the transient auroral patterns.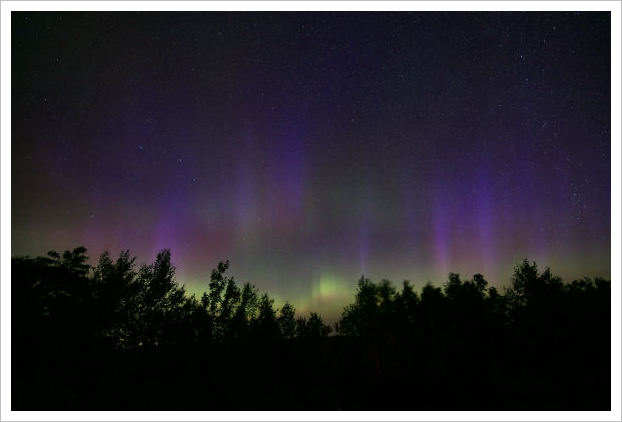 Tamron 15-30/2.8 Di VC USD at 15mm, f2.8. Canon EOS 6D. 8 seconds exposure at ISO 3200
Tamron 15-30/2.8 Di VC USD Conclusions
The Tamron 15-30/2.8 Di VC USD has a lot going for it. It's less several hundred dollars expensive than similar (unstabilized) lenses from Nikon and Canon, it has effective image stabilization and the sharpness is very good - as good as or better then the one (used) sample of the Canon EF16-35/2.8 II USM I compared it to. All in all a very good lens and one which should be considered by anyone looking for a fast wideangle zoom. In addition to image quality and features, it comes with a 6 year warranty (as long as it's purchased through an authorized Tamron dealer). Canon lenses are still limited to a 1 year warranty. Nikon lenses are also 1 year but they give you a 4 year extended service coverage if you register the lens.
One thing the Tamron 15-30/2.8 Di VC USD lacks, in common with the Nikon 14-24mm f/2.8G ED AF-S (and Canon 11-24/4L IS USM), is the ability to mount filters. Depending on the type of photography you do and the frequency with which you normally use filters, this may or may not be of concern. For my use, the limitation (or at least difficulty and inconvenience) of using filters on such a lens would not be a deal breaker, but if your passion was long exposures during daylight hours using ND filters, then it could be. Other than that though, I'd have no reservations about recommending the Tamron 15-30/2.8 Di VC USD to anyone wanting a wide angle zoom.
Where to Buy
The for Canon EOS is currently in stock available from Adorama for $1199 (free shipping) plus you get a 4% reward ($47.96) which can be used on future purchases.
Fast Wideangle Zoom Alternatives
- wider, but $3000 and slower, no stabilization, no filters
- not as wide, $1600, no stabilization
- not as wide, $1950, no stabilization
- wider, but $2000, no stabilization, no filters
More Image Samples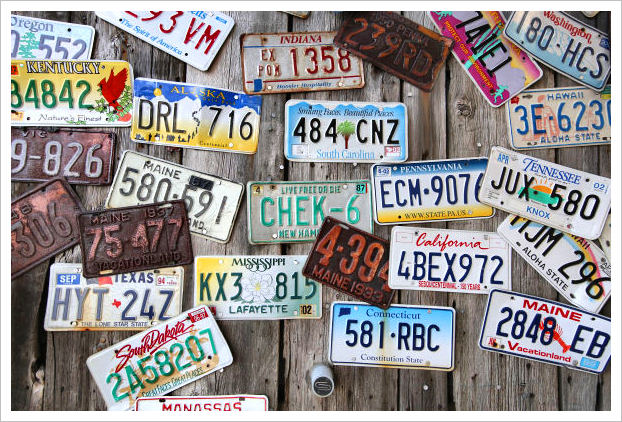 Tamron 15-30/2.8 Di VC USD at 24mm, f4. Canon EOS 6D. 1/80s at ISO 100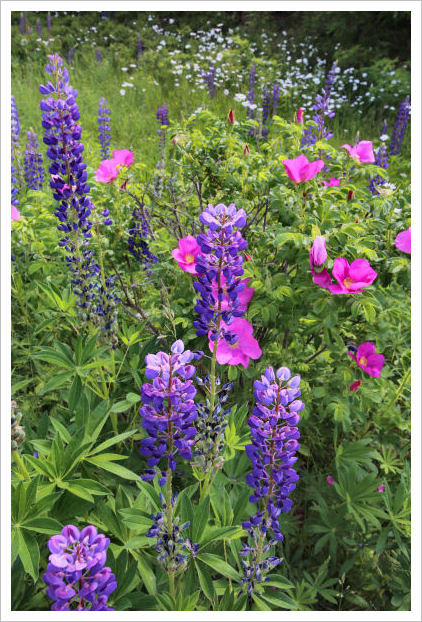 Tamron 15-30/2.8 Di VC USD at 30mm, f16. Canon EOS 6D. 1/100s at ISO 400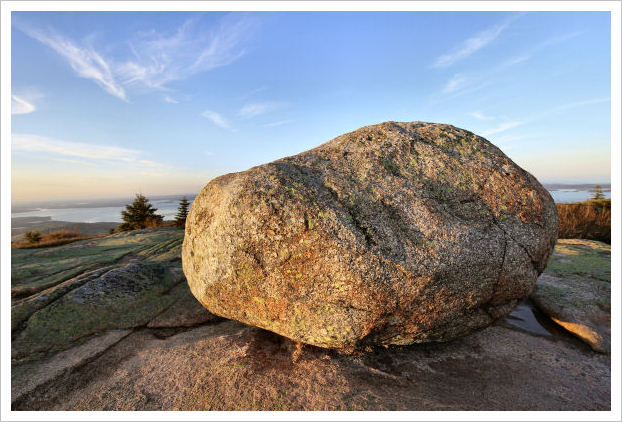 Tamron 15-30/2.8 Di VC USD at 15mm, f8. Canon EOS 6D. 1/50s at ISO 100
Where to Buy
The for Canon EOS is currently in stock available from Adorama for $1199 (free shipping) plus you get a 4% reward ($47.96) which can be used on future purchases.