Tamron 150-600/5.6-6.3 DI VC USD Preview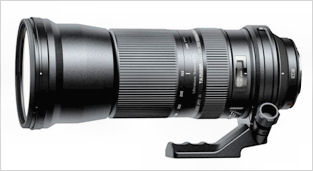 Tamron 150-600/5.6-6.3 DI VC USD
UPDATE 12/13/13: Release date is January 17th 2014. No word on price yet
Tamron have announce the development of a 150-600mm f5-6.3 VC USD lens for full frame and APS-C sensor cameras. The VC indicates optical stabilization (Vibration Compensation) and the USD indicates an Ultrasonic Drive motor. It's the longest affordable telephoto zoom to date. While there are lenses like the Sigma 300-800mm f/5.6 EX DG HSM, it's currently priced at $8000. No price has been announced for the new Tamron lens and Tamron may not have even decided on a price yet. One school of thought might suggests it will be in the same ballpark as the Sigma 150-500mm f/5-6.3 AF APO DG OS HSM which currently sells for around $1000. Given that it's 100mm longer and maintains the same f6.3 aperture at maximum zoom, a price of maybe $1200-$1500 would follow from this logic. If it's competing with the Nikon 80-400 and Canon 100-400, those lenses are in the $1500-$1600 range so the new Tamron might be comparably priced. Of course all of those are mature lenses and when lenses are introduced their prices are usually higher for a while. So I'm going with the $1500 - $2000 range for an introductory price. Of course I could be wrong (in either direction).
No availability has been announced either, but since a sample has been on display at Salon de la Photo 2013 (Paris), it's clearly more than a design concept. I'm sure Tamron would like to get it out before Christmas 2013, though there as yet no hint as to whether that will be possible. It will (eventually) be available in Canon, Nikon and Sony lensmounts. As usual the Sony mount lens won't have stabilization since Sony build stabilization into their camera bodies.
Technically the specs look quite good with 3 LD elements in the front group and 20 elements in 13 groups overall. Tamron's VC stabilization technology has been very effective in all their VC lenses I've tested and their USD motors are typically very quiet and fast focusing. F6.3 at 600mm isn't super fast, but it's only 1.3 stops slower than a $10,000 600/4 lens and with today's DSLRs giving high quality images at higher and higher ISO settings, f6.3 really shouldn't be a problem.
Tamron Europe have published some MTF plots for the lens: (you can read more about what MTF is HERE)
Interpreting these charts the lens looks pretty good, but I've learned not to put too much faith in published MTF charts. You can never tell if these are measured or calculated and if calculated what assumptions have been made. I'll reserve judgment until I've actually had a chance to shoot some test charts with one, but the published data certainly look promising. For reference, here's the published MTF chart for the Sigma 150-500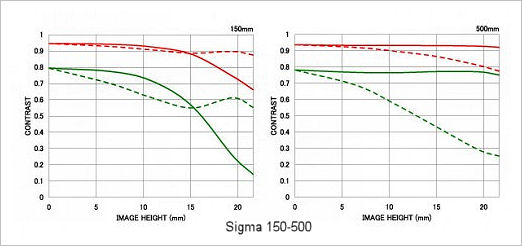 The Tamron MTF chart indicates that it should outperform the Sigma, even at full zoom (600mm vs 500mm), but like I said above, I don't put absolute faith in published MTF charts, particularly when comparing between manufacturers. I'd rather trust what my eyes and my test images tell me!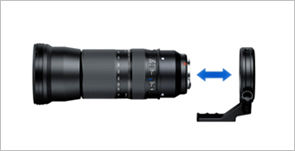 From the pictures of the lens that I've seen, it looks like the tripod mount can be removed, for easier carrying and handholding.
Tamron 150-600/5-6.3 DI VC USD Specifications
| | |
| --- | --- |
| Focal Length | 150-600mm |
| Maximum Aperture | F/5-6.3 |
| Minimum Aperture | F/32-40 |
| Angle of view (diagonal) | 16°25' - 4°8' (for full frame format) - 10°38' - 2°40' (for APS-C format) |
| Lens Construction | 20 elements in 13 groups |
| Minimum Focus Distance | 106.3 in (2.7m) |
| Maximum Magnification Ratio | 1:5 |
| Filter Size | Ø 95mm |
| Maximum Diameter | Ø 105.6mm |
| Length | 10.1 in (257.8mm) |
| Weight | 68.8 oz (1,951 g) |
| No. of Diaphragm Blades | 9 (circular diaphragm) |
| Standard Accessories | Lens hood, detachable tripod mount |
| Compatible Mounts | Canon, Nikon, Sony |
I have my request in with Tamron for a sample to review, but I suspect it will be a while before a sample of the lens is available. When price and availability are announced, I'll update this page and post a notice.
UPDATE 12/13/13: Release date is January 17th 2014. No word on price yet
Here's a copy of the Tamron Press Release: