Tamron SP AF17-50mm F/2.8 XR Di-II LD Aspherical [IF] Review
Performance
I chose to compare the Tamron SP AF17-50mm F/2.8 XR Di-II LD Aspherical [IF] with the Canon EF-S 17-85/4-5.6 IS USM for two reasons. First, they are around the same price and so may be considered by users as alternatives. Second, because I had a Canon EF-S 17-85/4-5.6 IS USM available! Obviously, based on zoom range and aperture, comparison with the Canon EF-S 17-55/2.8 IS USM would also be valid and interesting, but (a) Canon didn't lend me one for review and (b) the Canon lens is $750 more expensive ($1200 vs. $450), which will exclude it for many users.
Distortion

As you can see, there's some barrel distortion at 17mm, but not as much as the Canon EF-S 17-85 IS shows. You pretty much have to expect some barrel distortion at the short end of wideangle zooms. It's quite easy to digitally correct in PhotoShop (or your favorite alternative image editor). Distortion is much lower at 35 and 50mm as you can see from the images below, in fact distortion is pretty low over the whole 20-50mm part of the zoom range.

Vignetting
The following images were shot using a Canon EOS 20D camera. They are "as shot" except they have been resized: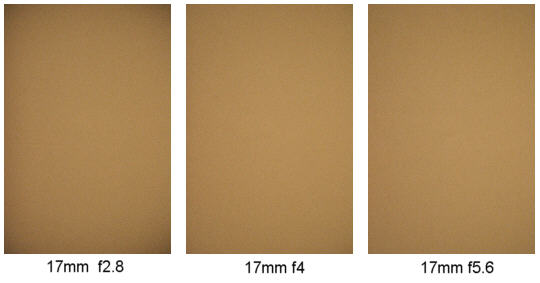 There's mild vignetting wide open at 17mm but it's much reduced by stopping down. Unless you are shooting a uniform target (as I was), it's not likely that the effect would be very noticeable in normal images. It's possible you might see darker corners if shooting landscapes at f2.8 with a uniform sky (though I'm not sure why you'd shoot a landscape at f2.8!).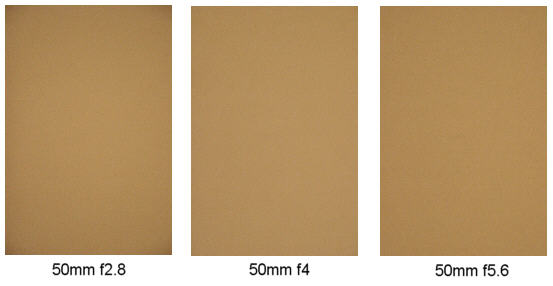 Slight vignetting is detectable with the lens wide open at 50mm, but it's pretty much completely gone at f4. Again the amount of vignetting seen wide open at 50mm would be very unlikely to be noticeable in real world images. Vignetting at intermediate focal lengths (e.g. 35mm) was actually lower than at 17 or 50mm and should not be a problem, even wide open.
NEXT -> Part III - Image Quality
© Copyright Bob Atkins All Rights Reserved
www.bobatkins.com