Canon EOS 70D Hands-on Review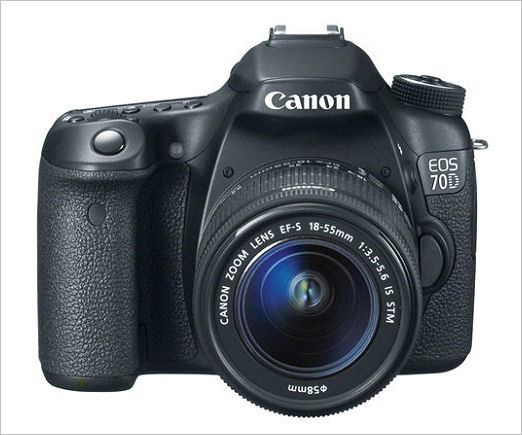 Some time ago I wrote a short review of the EOS 70D based on a brief loan of the camera. Since then I bought one myself and so I've had time to more fully evaluate it and write this, more detailed, review. The replaced the Canon EOS 60D as Canon's mid range APS-C DSLR. It's flanked by the 7D (and now the ) on the more expensive side and the new on the less expensive side.
The EOS 70D has a number of features which are improvements over the earlier EOS 60D, including:
An all new 20MP sensor with each pixel capable of phase sensitive AF
A fully articulated touch sensitive LCD
The return of AF microadjustment capability which was lost on the 60D
Built in WiFi
An upgraded AF sensor system from the EOS 7D
A Digic 5+ processor
Maximum ISO 25600 (with boost)
~7 fps continuous shooting
In camera HDR (though only a composite JPEG is saved).
Single axis electronic level display in viewfinder
98% coverage reflex viewfinder (LCD is 100%)
Currently (2/15) the 70D is selling for around $1100 for the body alone or around $1450 with the 18-135/3.5-5.6 IS STM lens. The exact price depends on what (if any) rebate Canon is currently offering!
The full specifications of the EOS 7oD can be found on the Canon EOS 70D Specifications page.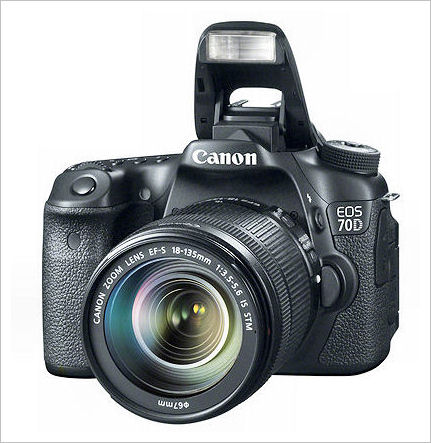 Using the EOS 70D
The EOS 70D features a conventional Canon control layout that will be familar to anyone who has used one of their APS-C DSLRs. The main mode control dial left of the viewfinder. On the EOS 70D it has a locking mechanism, the center button must be pressed before the setting can be changed - this minimizes the odds of accidentally moving the dial. The standard EOS modes are all present. There are the "creative" or PASM modes (Program, Aperture priority, Shutter priority and Manual), a B ("bulb") mode for long exposures and a custom mode "C" mode which can be programmed by the user to default to user defined parameters including AF mode, shooting mode, white balance, exposure compensation, ISO, lens aberration correction, flash control and just about anything else under the user's control.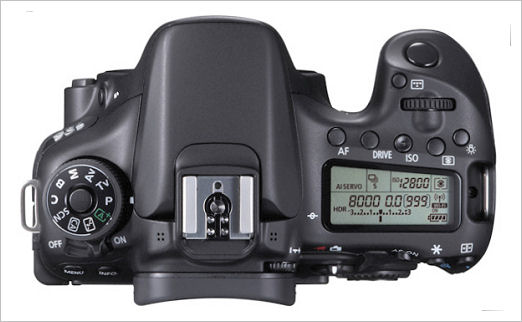 There are 4 other modes. Flash Off is a fully auto mode which won't use the flash, so you can shoot in places that don't allow flash but still be in a fully automatic mode. Scene (SCN) gives a choice of Portrait, Landscape, Close-up, Sports, Night Portrait, Handheld Night Scene and HDR Backlight Control. Scene Intelligent Auto (A+) is a fully auto mode that tries to determine what's being photographed and sets the shooting parameters accordingly. Finally there's a Creative Auto mode which starts out the same as Scene Intelligent Auto but lets the user change things like the lens aperture. It does so via a somewhat confusing menu for the experienced photographer. For example it allows to to change a setting for background blur from blurred to sharp. What it's actually doing is changing the lens aperture, though since this is a beginners mode, it doesn't actually tell you that!
On the right of the viewfinder is the LCD displaying the currently set camera parameters and a set of buttons for setting AF mode, Drive mode, ISO setting, Metering mode and LCD illumination. In front of those is the main control used to change aperture, shutter speed etc and in front of that is the shutter release. Just behind and to the left of the shutter release is a button that allows change of focusing zone modes and positions.
The viewfinder pentaprism has a hot shoe for Canon Speedlites, and microphones for the left and right stereo sound channels. There's also a diopter control wheel to the left of the viewfinder which allows setting of -3.0 to +1.0 diopters to correct for the user's vision.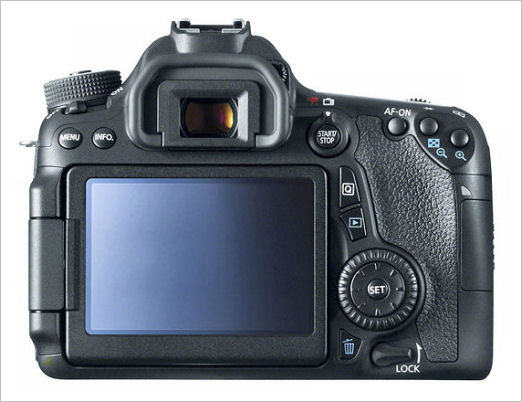 Looking at the back of the camera, the "Info" and "Menu" buttons are at the top left. "Menu" brings up the various camera setting and control options. "Info" controls the amount of information displayed on the screen when images are viewed in LiveView or replay (shutter speed and aperture, ISO, histograms etc.) as well as the horizontal level indicator when shooting in LiveView
To the right of the viewfinder is the video/liveview switch with a start/stop button for those modes in the center. Further to the right are AF (which allows AF without using the shutter button), exposure lock and AF zone selection buttons. Exposure lock doubles as zoom-out in image playback mode and AF zone selection doubles as a zoom-in button.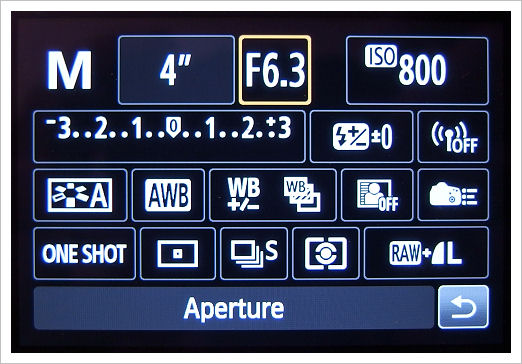 EOS 70D Quick Control Menu screen
To the right of the LCD are the "Q" and ">" buttons. The Q button brings up the Quick Control Menu which allows rapid selection and adjustment of the major camera parameters such as drive mode, ISO setting, metering mode, shooting mode, white balance, exposure compensation, WiFi status, Highlight Tone Priority, AF zone selection and a number of other parameters. It's a touch sensitive screen so all you have to do is touch the parameter you want to change and a new screen comes up which enables you to select the new setting you want. The ">" button is used to playback images or video clips.
The rear control dial surrounds the 8 way multicontroller switch and the "set" button. The control dial can be used to adjust parameters when the top panel buttons are pressed to change ISO, drive mode, metering mode and AF mode. It can also be used, without pressing any buttons, to set exposure compensation or aperture or shutter speed in Manual exposure mode.
At the bottom right of the LCD is the image delete button and below the quick control dial is a switch which prevents the dial affecting any camera settings should it accidentally be rotated.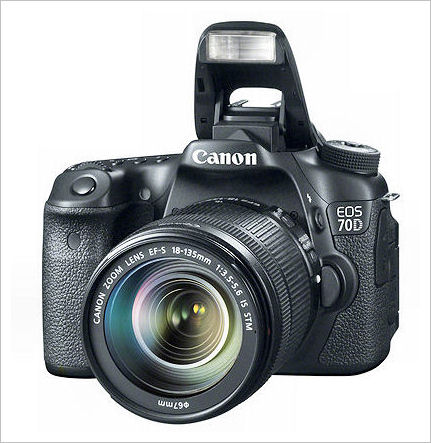 The built-in flash of the EOS 70D has a guide number of around 12 (m @ ISO 100). The flash can wirelessly control compatible Canon Speedlites (via optical pulses), e.g. the 430 EX II and the 600 EX-RT. The internal flash has an angle of coverage matched to that of a 17mm lens. Recycling time is around 3 seconds.
The EOS 70D has WiFi capability built-in. You can connect the camera to a smartphone or tablet via the EOS remote app, remotely control the 70D from a PC (via the EOS Utility), transfer images between different WiFi enables Canon cameras, print from a WiFi enabled printer, upload images to the web via the Canon iMage gateway and view images on DNLA (Digital Living Network Alliance) enabled devices such as TVs.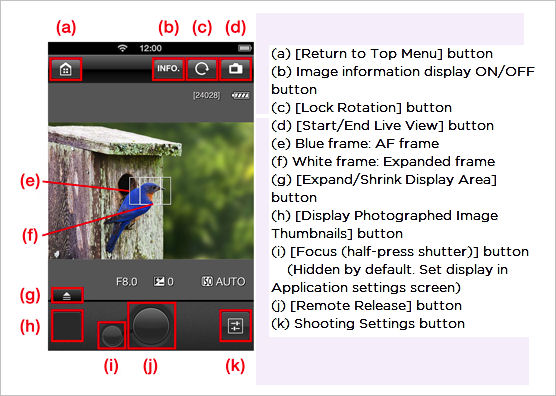 EOS Remote App screen
The WiFi manual for the 70D is a 3MB .pdf file with 172 pages (download), which details all the options .The downside of having so many options is that setting it up isn't as easy as it could be, though if you just want to download images to a smartphone it's not too complex. Basically you use the EOS 7D menu system to turn on the WiFi. You can then give the camera a name (e.g. EOS70D) and it will provide you with a password. You then look for a wireless network with that name (e.g. EOS70) on your smartphone and connect to it using the password that the camera generated. Then you run the Canon Remote app on the smartphone which should give you a list of cameras found (EOS70D if that's the only one in range) and you can select which one to connect to. If you intend to use WiFi a lot you should probably download and study the Canon .pdf manual linked to above. The Canon remote app lets you view images stored on the camera's memory card or you can use LiveView and remotely set a number of camera parameters (ISO, shutter speed, aperture and focus) and fire the shutter. It doesn't give you total control of the camera but it provide a limited set of function which are enough to use the smartphone as a remote release with some camera control.
The new LCD screen is touch sensitive. At first I thought this was a bit of a gimmick, but after a while I actually found it easier and faster to change settings (like ISO, white balance, metering pattern etc.) using the touch screen than using the more conventional buttons and dials. The touch screen is quite responsive and it's easy to select the various items on the screen and change their values. This is particularly useful when shooting in the dark because you don't need to remember what button is where!
I also found the articulated LCD very useful. It's great for low level shots where without it you'd have to by lying on the ground to use the reflex viewfinder, or bent over if trying to use LiveView with a fixed screen. Its also very useful when manually focusing for astrophotography, where the camera is usually pointing up at the sky and a fixed LCD screen is often in an awkward position to view.
Image quality and performance
The Canon EOS 70D has a 20.1MP Dual Pixel CMOS AF sensor. The 70D sensor is made up of around 20 million "dual pixel" sensors, each of which can be used both for imaging as as part of a phase sensitive AF detection system. The phase sensitive AF greatly improves AF accuracy and speed when using LiveView or shooting Video. An obvious question to ask is whether the new pixel design has any negative (or perhaps positive) impact on overall image quality.
The short answer is that as far as I can tell from examining the 70D images, there don't seem to be any negative effects. I compared images shot with the 20.1MP EOS 70D and the 18.8MP EOS 7D. Looking at images shot at ISO settings from 100 to 12800 (the limit of the 7D) to assess image noise, shots of resolution targets at low ISO to assess sensor resolution, and shots at ISO 100 and ISO 3200 underexposed by up to 5 stops to look at dynamic range.
I won't present all the test images here but I will give you my conclusions. The first one is that the performance of the 70D sensor matches that of the 7D sensor, and may slightly exceed it in some areas. Close peeking at the pixel level for resolution differences failed to show any difference. In theory, based on the Nyquist sampling theorem, the 70D could have a native resolution of up to 122 lp/mm while the 7D could have up to 120 lp/mm. This assumes a perfect low pass filter which allows full resolution to be achieved and perfect focus of an aberration free lens at an aperture faster than f8. In practice these number are never achieved because the low pass filter used over the sensor to prevent aliasing always results in some resolution loss, plus lenses are never perfect! I used a Canon EF 85/1.8 at f5.6 for the resolution tests. Though it's an inexpensive lens, it's very sharp in the center of the field when stopped down, so it make a good lens for comparing sensor reolution.
Here's a 100% crop of one of the resolution test shots. Unless you know the target and testing conditions this may not mean much to you, but it does show excellent resolution. 80 lp/mm are clearly resolved, 90 lp/mm are just resolved and 100 lp/mm is partially resolved. Excellent numbers and right up there with the EOS 7D.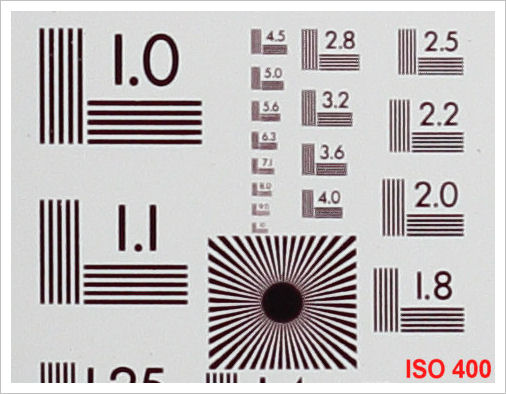 Here's an image that might mean more to you: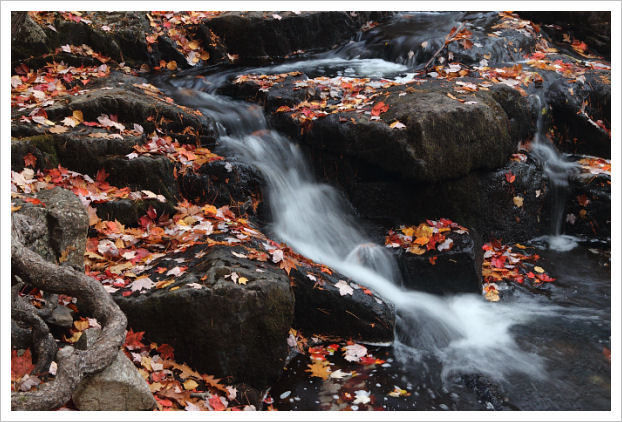 Canon EOS 70D, Canon EF 24-105/4L @ 35mm f8. 0.4s at ISO 400
And a 100% crop from near the center of that image:
Looking at noise, The 70D and 7D again were very close. The EOS 70D images may have looked slightly cleaner at high ISO settings, but the difference wasn't significant.
Dynamic range of the 70D and 7D were pretty much the same, based on shadow detail in highly underexposed images at both ISO 100 and ISO 3200. Certainly not enough difference to make either camera a clear winner.
The overall conclusion is that the new 20MP dual pixel hybrid sensor at least equals and sometimes perhaps slightly outperforms the 18 MP sensor of the 7D which has single function pixels and no hybrid AF capability. Canon certainly have a winner with the new design. However it's worth remarking that the Sony Exmor sensors (which are also used in Nikon's DSLRs) do have higher dynamic range at low ISO settings than current Canon sensors. In most circumstances the Canon sensors are just fine and every bit as good as the Nikon (Sony) sensors. The difference comes when you brighten the deep shadows in post processing. If you have to compensate for serious underexposure or want to bring out detail lost in the deep shadows, the Nikon (Sony) sensors yield a cleaner image. On the other hand the Canon sensor may be slightly better at high ISO settings and may hold more slightly highlight detail.
The noise level of the 70D is pretty similar to that of the EOS 7D. From ISO 100-800 you really don't see any noise. Between ISO 800-3200 noise starts to show but image quality is still very good. By ISO 6400 noise starts to become quite visible and at ISO 12800 it's significant, though the image is certainly still fine unless you want to make large prints. The expanded ISO setting of ISO 25600 while still usable for small prints, but when viewed at 100% it's probably not something you'd choose to use unless you had to.
Here's a 100% crop from a shot taken at ISO 25600, on the left is the RAW image with no noise reduction applied at all. You'll never see this unless you shoot RAW. On the right is the same image but with chrominance and luminance noise reduction applied. This is about what you'd see if you shot a JPEG with default noise reduction.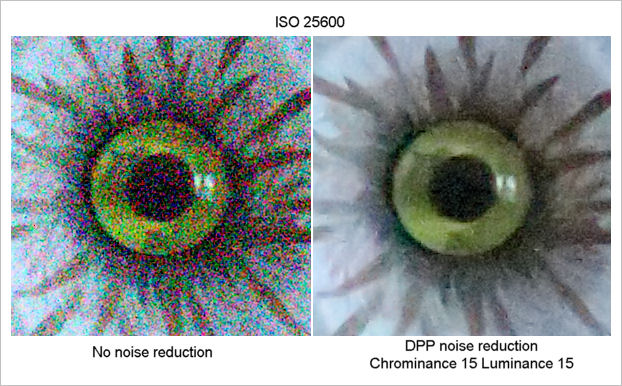 Here's the same thing, but this time at ISO 3200, with and without noise reduction. Less noise reduction has been applied here because there's less noise. Noise reduction always results in some loss of sharpness, so it's always a trade-off as to how much to use.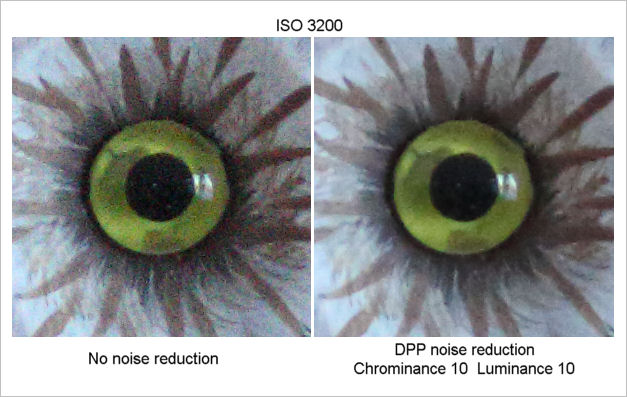 Finally here's a shot taken at ISO 25600. This is the whole frame. As you can see, for small images ISO 25600 is just fine and the image quality at this scale is excellent. A 4x6" print looks good.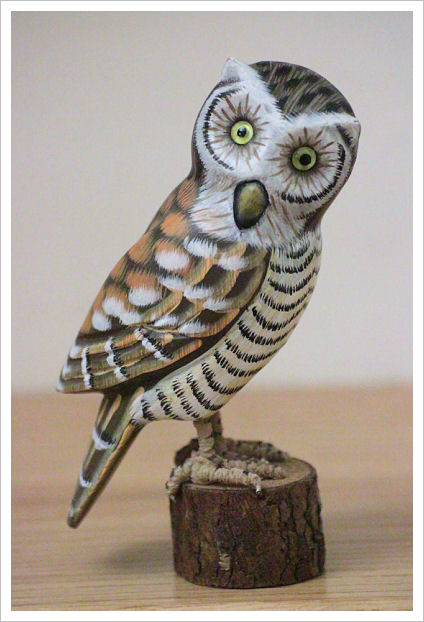 EOS 70D, Tamron 70-300 147mm @ f4.5. 1/160s @ ISO 25600
Autofocus
The EOS 70D has a significantly upgraded AF system over that of the EOS 60D, both for conventional reflex viewing using the separate phase sensitive AF detectors and for Live View and video using contrast and dual pixel AF using the whole sensor. The 70D actually uses the AF hardware as the EOS 7D (though slightly different firmware). All 19 zones have cross sensors, with a high sensitivity zone in the center. The AF microadjust function has been brought back to the 70D. While the EOS 50D had it, for some reason it was dropped on the EOS 60D. The normal AF system (phase sensitive detectors via the reflex view) is as fast and accurate as you would expect from a Canon EOS camera. Some lenses may need AF adjustment, and with the 70D you have it available.
In live view, contrast detection AF, now with assist from phase sensitive pixels, is slower than the reflex viewing phase sensitive AF system, but it's more accurate. This is because the final contrast detection step adjusts the lens back and forth in a feedback loop to optimize focus. This takes time, but increases accuracy over a pure phase sensitive AF system which essentially measure the amount and direction of defocus, then rapidly drives the lens to the calculated focus point without any final check on the focus The addition of the phase sensitive pixels speeds up the live view focus process because they can be used to drive the lens quickly to close to the best focus point and then allow the slower contrast detection component to make the final, more accurate, adjustment.
With the new dual pixel hybrid phase/contrast AF detection sensor, the EOS 70D probably has the best video AF performance of any EOS DSLR. Using an STM lens I found that focus tracked smoothly, silently and accurately when the subject to camera distance changed, not to mention rapidly! The 70D LCD has a "touch to focus" feature, so just by touching the LCD screen you can pull focus between subjects at various distances. Again, with an STM lens (such as the one shown below), this produces a fast, silent, smooth focus change. It's not quite so smooth or silent with a regular USM lens, but it's still very good.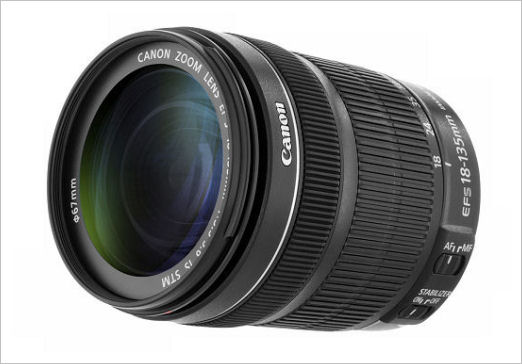 Canon EF-S 18-135/3.5-5.6 IS STM lens
In continuous shooting mode the 70D is capable of around 7fps. Over a number of tests using different memory cards and image resolutions, I found an actual continuous shooting rate of 6.7-6.8 frames/sec. In JPEG mode pretty much any card will give you a large buffer of at least 40 frames, with faster cards the buffer can be 65 shots or more. What the card speed does effect is the speed of continuous shooting once the buffer is full, especially important when shooting in RAW mode. There is also a small effect on buffer size.
In RAW mode, a fast card like the 95MB/s SanDisk Extra Pro class 10 allowed 20 RAW frames to be shot before the buffer filled, then additional shots every 0.54 seconds, A slower card like the 24MB/s Delkin class 10 also allowed 14 RAW frames at full speed, but then it slowed down to a 1.3 seconds between frames. A basic card like the 6MB/s Transcend Class 6 allowed 14 frames to be shot before the buffer filled, then things slowed down to about 2.6 seconds between shots. So a fast card is a good accessory for the EOS 70D. It's capable of using the speed of the fastest cards to its advantage.
Video
I'm not going to write much about video since it's a mode I don't use and so I'm not 100% familiar with. However I can say that the dual pixel AF combined with an STM lens gave very smooth and accurate focus tracking as the camera to subject distance changed. Much better performance than, for example, the EOS 7D, which doesn't have a dual pixel sensor (though the 7D MkII does). Video quality looked very good to me (as a very amateur videographer). A fairly wide range of shutter speeds and ISO values are available in manual and shutter priority video modes. At 30/25/24 fps you can use 1/4000s to 1/30s and at 50/60 fps you can use 1/4000s to 1/60s. ISO is limited to a maximum of 6400.
Sound is stereo, recorded via 2 built in microphones. Audio quality is only fair, but that's the case with built in microphones on almost any camera. With an STM lens there is very little noise pickup from the focusing motor. For higher quality sound you can use an external stereo microphone (1/8" jack). There is no headphone jack for monitoring recorded audio though. Audio level can be manually controlled if desired.
There is an option for 3-10x digital zoom while shooting video. However this does disable the dual pixel AF system and the older contrast detection AF operates. It still works OK, but it's not as fast as dual pixel AF.
Conclusions
The represents a significant upgrade of the capabilities of the EOS 60D. The new sensor with each pixel capable of acting as a phase sensitive AF detector makes AF during video (and in live-view mode) much faster. When coupled with an STM lens the tracking AF video is probably the best of any EOS DSLR, with quick and positive focus adjustments as the subject distance changes. I suspect we will be seeing this new "dual pixel" type sensor in a lot more Canon cameras in the future.
In addition to improved AF, the 70D adds built in WiFi capability and sees the return of AF microadjustment (present on the EOS 50D, but lacking in the EOS 60D).
My tests showed excellent image quality, equal to, and perhaps on occasion slightly better than, that of the Canon EOS 7D.
As I said at the start of this review, I bought an EOS 70D myself, so if you ask if I can recommend it, the answer is clearly "yes"!
Right now (2/15) there are a number of special running on the EOS 70D which are good through the end of February 2015.
You can view them here - Canon EOS 70D Specials . They include:
Alternatives
As I mentioned at the beginning of this review, the sits between the new EOS 7D Mkii and the new EOS Rebel T6s. At a price of somewhere around $1100 (depending on current rebates), it's $700 less expensive than the and around $250 more than the .
The EOS 7D MkII is a significantly more advanced camera with a higher frame rate and a new "top of the line" AF system with multiple user adjustable parameters.. It would be a better choice for a professional shooting action, such as in sports and wildlife photography or photojournalism. The sensor is still APS-C and the overall image quality of the 7D MkII isn't going to be significantly better than that of the 70D, so for someone shooting portraits, travel images, landscapes and just general photography, the 70D will equal the 7D MkII.
To get a significant increase in image quality (at the lowest cost) you'd have to move to the which is currently (2/15) available for around $1500 (after a $300 mail in rebate), about $400 more than the 7D, but $300 less than the EOS 7D MkII. The 6D has a simpler AF system than the 70D, but it does add built in GPS (as well as WiFi). Again not a camera for an action shooter who needs to track focus on moving subject, but a camera that can yield very high image quality.
The new has a lot more features than previous EOS Rebel bodies. It has a top LCD, a rear quick control dial, A 19 point all cross AF system and a new 24MP dual pixel sensor with hbrid AF III. It's a lot closer to the 70D than any previous digital rebel. It does lack the touch screen of the 70D and it lacks microadjustment of AF. The Hybrid AF system just uses some dual pixels for AF, while the 70D's sensor has all dual pixels and so performs a little better.
One factor that might influence some photographers is the Rebel T6s is physically smaller than the EOS 70D. If you have very small (or very large) hands, that might be a factor in your decision. Also, the T6s won't be available until sometime in 04/15 so if you want a camera now (2/15), that's certainly a factor!
One other alternative might be a used EOS 7D. They are currently available for $600-$700. They offer a slightly faster continuous shooting rate than the EOS 70D, more AF control (but the same hardware), dual axis electronic levels, a 100% viewfinder and better sealing against dust and moisture. They lack dual pixel AF, WiFi and an articulated LCD screen. - Used CANON EOS 7D Bodies at Adorama