Resolution
The EOS 7D has the highest pixel density of ant APS-C DSLR, which is to say it has the highest pixel count (18MP) and the smallest pixels (4.3 micron pixel pitch). A smaller pixel pitch results in higher resolution, but smaller pixels (all else being equal( result in higher noise
When it comes to resolution, Nyquist-Shannon sampling theory states that you need two samples per cycle in order to be able to unambiguously reconstruct a waveform. This often gets extrapolated to a statement that you can resolve "X" line pairs/mm if you have "2X" pixels/mm, but that's not really a valid extrapolation for a number of reasons that I won't get into here. It definitely does provide an "upper limit" to resolution though. For the EOS 7D with a 4.3 micron pixel pitch this means the upper resolution limit has an 8.6 micron cycle length, which equates to about 116 lp/mm. In theory the upper resolution limit for the EOS 50D is 106 lp/mm. In practice this theoretical limit won't be reached, and a practical upper limit is probably closer to 90% of the theoretical limit.
Here are data on some other EOS DSLRs
| | | | |
| --- | --- | --- | --- |
| Camera | Pixels/mm | Approx. Resolution* | Lines/image-width* |
| Canon EOS 7D | 232 | 104 lp/mm | 2320 |
| Canon EOS 50D | 213 | 96 lp/mm | 2140 |
| Canon EOS 40D | 175 | 79 lp/mm | 1760 |
| Canon EOS 5D MkII | 156 | 70 lp/mm | 2520 |
| Canon EOS 5D | 121 | 55 lp/mm | 1980 |
* Approx resolution estimated as 90% of Nyquist limit for high contrast sine wave target
While the full frame cameras (5D and 5D MkII) have lower sensor resolution, their larger sensors make up for this and in terms of "lines per picture width", the EOS 5D MkII still leads the pack.
While a theoretical analysis is interesting, a practical test is what really counts and with that in mind I did a number of tests comparing the EOS 7D with the EOS 40D (since those were the cameras I had available to me at the time of testing). You might expect to see a significant difference between the 40D and 7D based on the numbers above and indeed, as the image below shows, on resolution test targets you can clearly see that the EOS 7D gives higher resolution.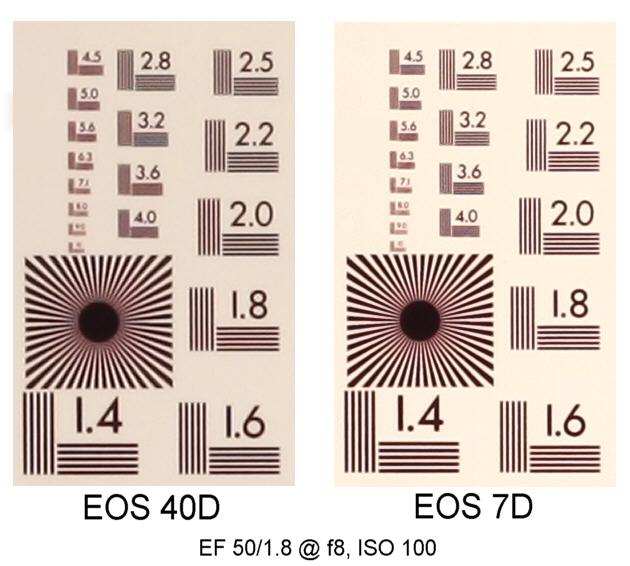 These images were shot indoors, with the cameras on a very heavy tripod. Mirror lock up was used in conjunction with a remote release. The lens was stopped down to its optimum aperture. Everything was done to maximize image resolution. To make comparision easier, the EOS 40D image was upsized by 133% using a bicubic algorithm so that "100%" crops display at the same scale. As you can see, both in the line patterns and from the Siemens star pattern, the EOS 7D image shows more detail. Though this isn't strictly a quantitative test, I'd estimate that the 7D is showing about 25% higher resolution which is pretty much in line with theory.
However (and there's always a "however"), the real world doesn't consist of high contrast, high frequency patterns, so "real world" images may not show quite so much difference. Below are images shot with an EOS 40D and EOS 7D: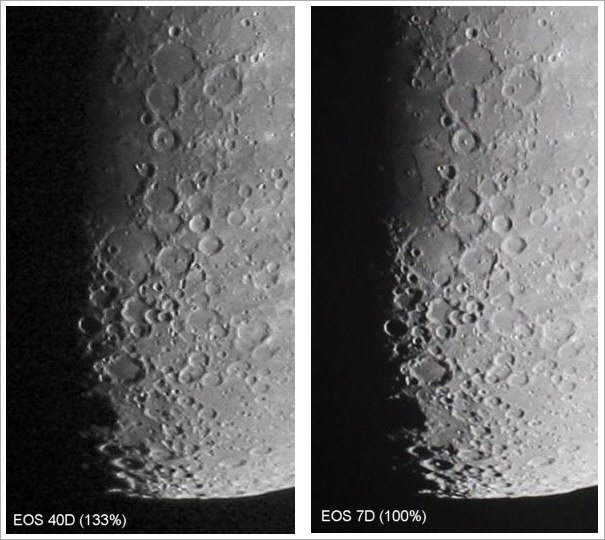 CAnon EF 500/4.5L @ f8
Again great care was taken to maximize sharpness. Mutiple images were taken with each camera and the best of each set selected. A heavy (Bogen 3051_ tripod was used with a strong ball head (Arca Swiss B1). The lens was used at its optimum aperture, the camera mirror was locked up, a remote release was used. As you can see, even after upsizing the 40D image by 133% to match the size of the 7D image, there's not a huge amount of difference.
You might think that more difference might be seen by shooting through a shorter length of turbulant atmosphere, so below you can see two shots of a less heavenly body (a FedEx mailbox...)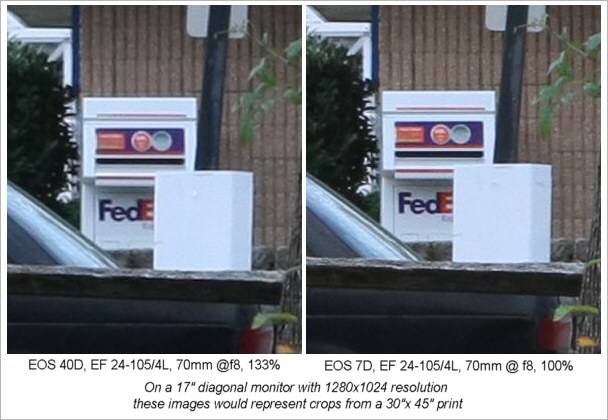 The difference between the images is probably smaller than the difference in pixel count might lead some to expect. Again the camera was mounted on a sturdy tripod and care was taken to optimize conditions in order to obtain the sharpest possible images.
So, while the 7D certainly is capable of yielding higher resolution images than any other APS-C EOS DSLR (and probably any APS-C DSLR from any manufacturer), the real world consequence of the higher pixel count is actually pretty small. What this shows is that we've probably hit the point of diminishing returns when it comes to cramming ever more pixels on an APS-C sensor. I really wouldn't expect to see any practical improvement in image quality if we go to 20MP or even 25MP.
NEXT: ISO and Noise