Canon EOS SL1 (EOS 100D) Review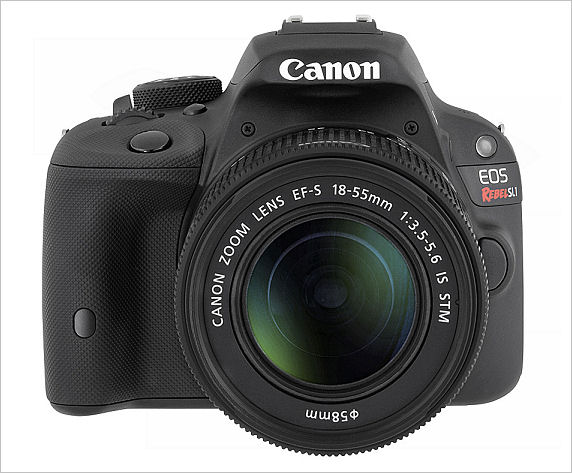 Canon EOS SL1 (100D) with 18-55/3.5-5.6 IS STM lens
The Canon EOS SL1 (known in other parts of the world as the EOS 100D) is currently the smallest and lightest APS-C DSLR yet made by any camera maker. This is not an accident. Canon clearly designed the SL1 to be as small and light as possible, making it an alternative to a mirrorless camera for those who want something small and light. While the body itself isn't as small as many mirrorless bodies, once you add a lens the relative sizes become much closer. The image below shows the relative sizes of the EOS SL1, and EOS M mirrorless body and the EOS Rebel T4i DSLR.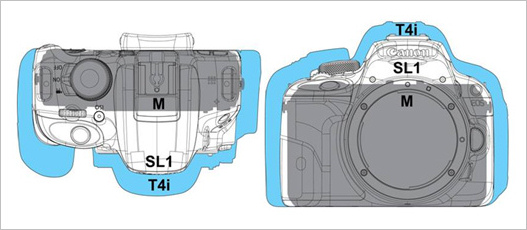 The SL1 body is no larger than many small sensor digicams. For example the following image shows the EOS SL1 (right) compared with a Canon Powershot SX50 digicam.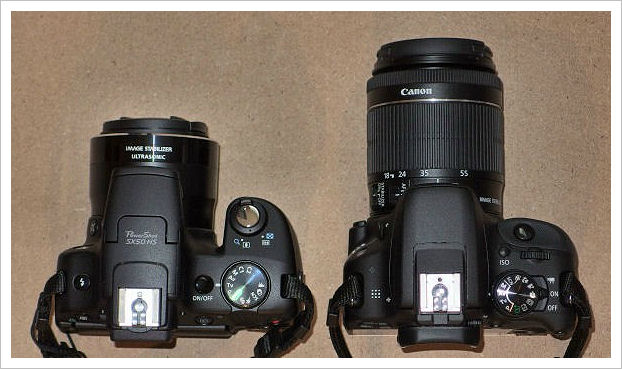 Left: Canon Powershot SX50 HS Right: Canon EOS Rebel SL1 (EOS 100D)
Of course the SX50 HS digicam has a built in 25-1200mm zoom, whereas the SL1 has an 18-55 lens mounted, but the actual camera bodies are similar in size.
I'm concentrating on size here because that's the big selling point of the SL1 and the reason that Canon made it. It doesn't give up anything in the way of performance when compared to Canon's similar Rebel T5i and T3i DSLRs, but it's quite a bit smaller and that may appeal to many potential purchasers
Canon EOS Rebel SL1 (EOS 100D) Main Features
New 18.0MP APS-C CMOS Sensor
DIGIC 5 Image Processor, 14-bit images
Hybrid CMOS AF II covers 80% of frame in LiveView and Video modes
Full HD 1080/30 Video at 30fps with jack for external stereo microphone
Continuous AF with subject tracking in video mode
3.0" Clear View II Touch screen LCD
ISO 100-12800 plus auto, Expandable to ISO 25600
4.0 fps Continuous Shooting
9-Point AF System
Scene Intelligent Auto Mode
Compact and Lightweight; Weighs 0.8 lb
Compatible with all Canon Speedlites, EF and EF-S Lenses
Canon EOS Rebel SL1 (EOS 100D) controls
There's nothing here that won't be familiar to users of any Canon EOS DSLR. The control dials, wheels and buttons are all pretty familiar. On top of the camera is the on/off switch, the main mode dial, the main control wheel and a dedicated button for ISO selection. Perhaps a little new is the on/off switch which now has a dedicated position for video.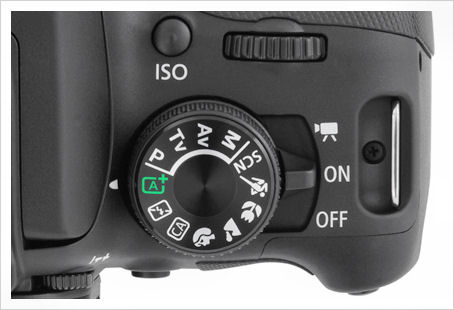 The mode selection dial has the usual "creative" option positions for manual, aperture priority, shutter priority and program modes. In these modes just about every other aspect of the camera can be user selected. White balance, ISO, AF mode, shooting modes (single shot, continuous, self-timer etc), metering modes and so on. The green A+ auto mode (scene intelligent auto) tries to set as many camera parameters as possible based on the camera's analysis of the scene and what it thinks the subject is. It's pretty much the "point and shoot" mode.
If you know what you are shooting there are modes optimized for portraits, landscapes, macro and sports shooting and a general scene mode which brings up a menu giving you a choice from kids, food, candlelight, night portrait, handheld night scene and an HDR (high dynamic range) mode. Again the camera chooses settings it thinks will be optimum for the mode you select.
There are two more modes. One is a "flash off mode" in which the camera again tries to optimize settings for what it thinks you are shooting, but without any flash. This is useful for fully automatic shooting in art galleries, museums, aquariums or other areas where flash is not permitted or not desired.
The final mode is CA or "creative auto". It defaults to the same settings as the A+ scene intelligent auto mode, but it allows the user to change more camera settings if a particular effect (e.g. increased background blur) is desired.
The back of the camera is where most of the user controls are located. At the top left are the "menu" and "info" buttons. The menu button brings up the main camera menus which allow you to customize the camera to your needs and set many of the cameras functions. The Info button controls the amount of information which is displayed on the rear LCD screen. That information includes shutter speed, aperture, ISO setting, shots remaining, battery condition, a histogram (luminance and/or RGB), exposure compensation, metering mode, date and time, white balance and white balance correction settings and shooting style (saturation, contrast, sharpness).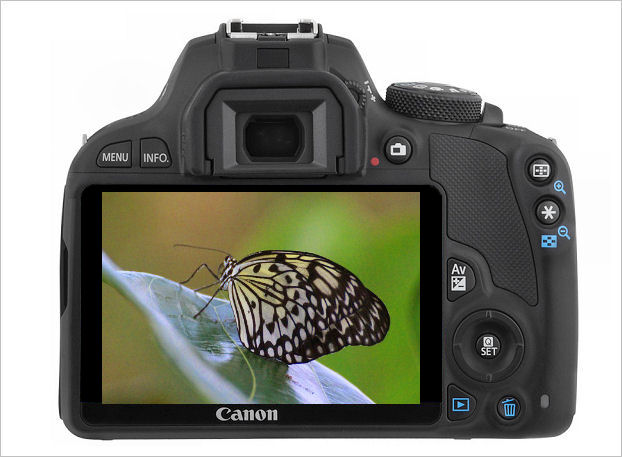 Immediately to the right of the screen is the "A" and "+/-" button. This allows the aperture to be set with the main control dial in Manual more, or exposure compensation to be set in other modes. At the bottom right of the screen is the image playback button and next to that is the image delete button. Immediately to the right of the viewfinder is a button which selects LiveView when the camera is in still shooting mode, or which starts and stops video when the camera is in the video shooting mode. The other two buttons at the upper right corner of the camera control the AF zone selection and exposure lock (*) in shooting mode and control image magnification in playback mode.
The 4 -way controller with the center "Q set" button is used to navigate the menus and highlight selections. Pressing the Q set button brings up the quick set screen as shown below. The LCD is touch sensitive, so you can make most parameter changes from the screen rather than via buttons, switches and menus if you prefer.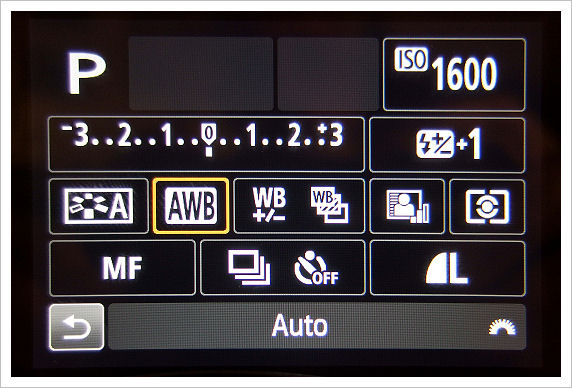 The above example of the quick set screen shows "white balance" selected and the current white balance is set to "auto".
The built in flash has coverage wide enough for an 18mm lens. Flash range is up to about 9ft at ISO 100 with the 18-55 kit lens at 18mm and f3.5. At ISO 1600 that increases to about 35ft. Range is less at 55mm because the maximum lens aperture drops to f5.6. At ISO 100 maximum range at ISO 100 is about 6ft, increasing to 22ft at ISO 1600 and 44ft at ISO 6400. For the technically inclined, this corresponds to a GN (Guide Number) of around 9.5m or 30ft at ISO 100.
Contrary to the information given in about half the other SL1 reviews I've looked at, the EOS SL1 built in flash cannot wirelessly control other Canon Speedlites. It can, like any flash on any camera, trigger simple optical slaves but it can't send any information to off camera Speedlites to control exposure. However the SL1 can control Speedlite settings when the Speedlite is directly mounted in the camera's hotshoe.
Image Quality and overall Performance
The EOS Rebel SL1 has a new sensor so the noise performance is certainly an issue of interest. The 9 sections of the image below are 100% crops from 9 EOS SL1 images shot at ISO settings from 100 to 25600. The standard noise filter has been applied. These are crops from "out of the camera" JPEGs.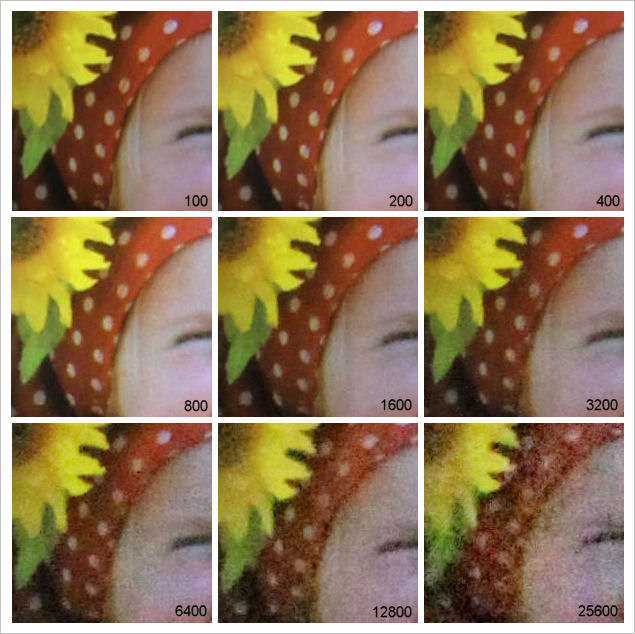 As you can see, image quality holds up very well to ISO 800, with little visible increase in noise. At ISO 1600 and 3200 visible noise appears, but image quality is still good (remember, these are 100% crops). At ISO 6400, 12800 and especially 25600, noise starts to become quite visible, but even at ISO 25600, the images are still fine for web display and small prints. The image below was shot at ISO 6400.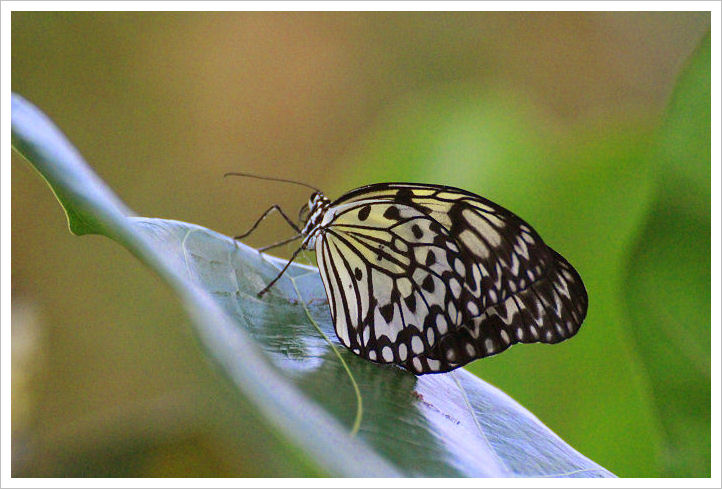 Canon EOS Rebel SL1, ISO 6400, 1/1250s, f5.6, @ 300mm
In terms of resolution, dynamic range and exposure accuracy, the performance of the SL1 is consistent with other current similar EOS DSLRs, such as the T4i, T5i, 60D, 70D and 7D. The smaller body size and new sensor technology have not affected image quality in any negative way. Image quality, color and exposure are all excellent.
Focus accuracy was good, as it is with all EOS DSLRs. The SL1 has 9 AF zones, but only the center zone has a cross sensor. The other 8 zones are sensitive to either only horizontal or only vertical features. Normally this isn't much of an issue, but if you use the outer zones a lot there may be times when AF doesn't lock where it would if you were using the center zone. Like all the Rebel series bodies, there's no AF microadjustment on the SL1. LiveView focusing is significantly improved over earlier EOS models because of the new sensor used in the SL1 which has built in phase sensitive pixels. They enable faster LiveView (and video) autofocus when used in conjunction with the usual LiveView and video contrast detection AF.
The SL1 is very responsive to user input. Shutter lag is about 75ms (same as the T4i and T5i) and only 15ms longer than that of the EOS 7D (60ms). In general the response to any user input (changing modes, pushing buttons, turning control wheels) appears instantaneous.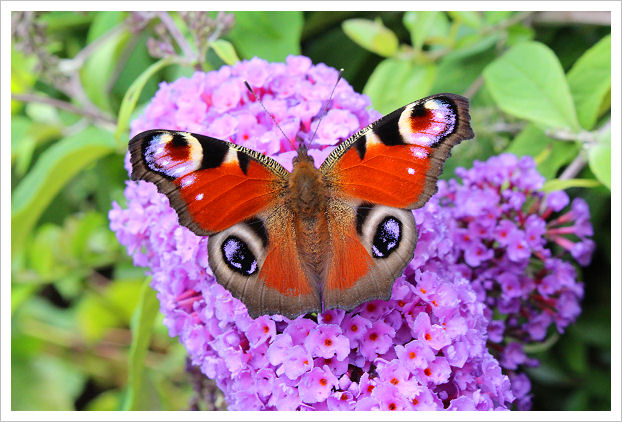 Canon EOS SL1 with 18-55 IS STM @ 55mm, 1/125s at f16, ISO 1600
In continuous shooting mode using a Transcend 8GB class 6 SD card, the SL1 shot 27 JPEG frames at a rate of 3.93 fps, after the 27th frame the rate dropped to around 1.85 fps. In RAW mode the SL1 shot 6 frames at the same 3.93 fps, then slowed to around 0.43 fps. However things speeded up slightly when I used a class 10 SD card. With the Class 10 card, shooting RAW, I got 7 frames at 3.92 fps followed by an average frame rate of 0.4 fps.
Shooting RAW + JPEG with the class 6 card I got 4 frames at 3.93 fps, a 5th frame after another 0.4s and then the continuous shoot rate dropped to 0.37 fps.
Canon state that using a high speed UHS-1 enables SD card you should be able to shoot around 1140 full sized JPEG images at the full 3.9-4fps rate, so you can see that using the current state of the art card will give you a significantly more images before the buffer fills (from 27 to 1140). However the effect on the image buffer when shooting RAW is significantly smaller, going from 6 or 7 images with a class 6 card to only 8 images with a high speed class UHS-1 enables card.
Note that Canon have a basic requirement for card speed of at least class 6 for shooting video. If you aren't shooting video then for normal use (i.e. not trying to shoot long continuous image bursts) I found that even a class 4 card was fine. You can't shoot more than a few seconds of 1080/30 video with it though.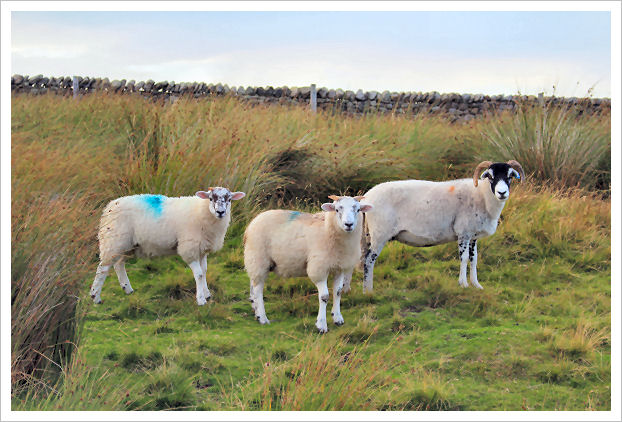 Canon EOS SL1, 18-55 IS STM lens @ 55mm, 1/100s @ f5.6, ISO 100
Video performance was good, within the limitations of the camera. The SL1 can shoot 1080 HD video at 30fps when a class 6 or faster card is used. It doesn't have 24 fps (which some people like because it gives the images a "cinema" look) or 60fps (which can give smoother video when recording moving subjects), but average users probably won't care about that. 30 fps HD video looks pretty good. You might see occasional moire patterns, but that's pretty typical for most DSLR video images. When used with an STM (stepper motor) lens, like the 18-55 or 18-135 STM kit lenses, continuous AF while shooting video works well with smooth and silent focus changes. With non STM lenses (e.g. USM lenses) focus changes aren't as smooth, so if you intend to shoot a lot of video, make sure to but the camera with an STM lens. The IS system of the 18-55/3.5-5.6 IS STM lens was very effective in removing "jerky" motions when shooting handheld.
The touch screen is active while shooting video and you can change the focus area simply by touching the screen, so you can shift focus smoothly between someone close to the camera and someone farther away. Again with an STM lens the process is very smooth and accurate. There's a face detection mode, so when taking videos of people you can be sure that the camera focusing is locked onto the subject rather than the background or some other feature.
Conclusions
Canon did a good job with the EOS SL1. While making it the smallest and lightest DSLR available, they didn't do this by stripping it down in terms of features or performance. In fact the vastly improved Hybrid AF system, which uses both phase sensitive and contrast detection AF now makes shooting video with the SL1 an enjoyable experience. While earlier EOS Rebel models had AF while shooting video, their performance left much to be desired. That's not the case with the SL1. Combined with one of Canon's STM lenses video AF performance is good. Perhaps not quite as fast as the best performing mirrorless cameras, but much better then previous EOS DSLRs and certainly good enough that most users will have few. if any, complaints. Canon didn't skimp on connection ports either, providing the capacity to use an external microphone, a remote release, an A/V or USB connection and an HDMI output port.
The touch screen LCD is also very useful. You don't have to use it if you don't want to since all functions can be accessed by pushing buttons and/or rotating dials, but in some cases using the touch screen can be both faster and easier. The screen isn't articulated, but that's a price you pay to the the super-small body size of the SL1.
The size of the SL1 is about as small as I'd like to go. For me, with fairly large hands, it's on the verge of being too small to get a really good grip on, though it's not quite over the verge! The grip portion of the body is a little smaller than on most other EOS DSLRs, but I used the camera almost every day for two weeks and never felt in fear of dropping it.
I had no complaints about image quality. It fits in with the logical progression of the the EOS line and can hold its own alongside the T5i. Exposure and color were generally good, AF was accurate, image noise was low and sensor resolution is right up there with any competing 18MP sensor. Images can rival those from the more expensive EOS 70D and 7D.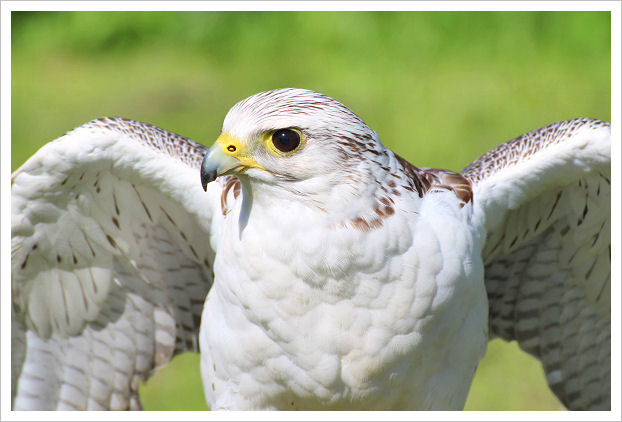 Canon EOS Rebel SL1, @ 300mm, 1/500s @ f7.1, ISO 125
The SL1 has no built in WiFi, which isn't an issue for me but I know some users will want WiFi image transfer capability. In that case, the SL1 is compatible with WiFi enabled SD cards (such as the Eye Fi series). They're available from about $25 for a 4GB class 6 card, so if you need WiFi connectivity, you can get it. There's no built in GPS either (only the EOS 6D has that), but the SL1 is compatible with Canon's hotshoe mounted GPS unit.
Overall the Canon EOS SL1 would be a fine choice for anyone wanting to upgrade from an earlier EOS Rebel camera, anyone buying their first DSLR, anyone wanting to minimize the size and weight of their DSLR or indeed an experienced EOS shooter who needs a small, light, but capable 2nd EOS body. It would also appeal to current EOS DSLR owners who are unsatisfied with the video AF performance of their current camera.
Buying the Canon EOS SL1
The Canon EOS SL1 comes in various "kit" bundles as well as just the camera body. The kits can save you a substantial amount over buying the camera and lens separately, so take advantage of that if you want one of the kit lenses. The EF-S 18-55/3.5-5.6 IS STM is a good starter lens and covers a moderate focal length range, enough for subjects from portraits to landscapes. If you want a little more reach, for example for shooting sports and nearby wildlife, the EF-S 18-135/3.5-5.6 IS STM is an excellent choice, or for even greater reach the SL1 is bundled with the 18-55 IS STM and the new 55-250 IS STM lenses. Both of these are STM lenses which give the best video AF performance. If you buy a kit and want STM lenses, make sure that the 55-250 included is the new STM lens, not the older non-STM lens. The older lens will be cheaper though.
You can check prices and deals at Adorama: