Nikon D7100 24MP APS-C DSLR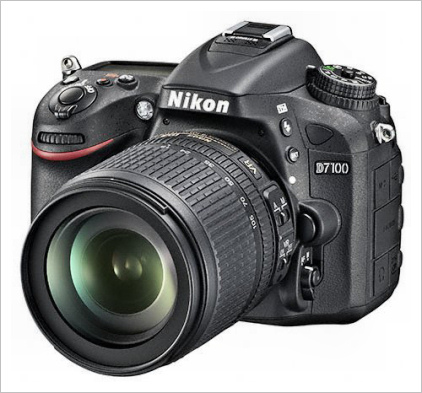 Nikon D7100 24MP DSLR
Today Nikon fired a shot across Canon's bow. The Nikon D7100, a 24MP DX (APS-C) sensor "enthusiast" DSLR body for $1199.95
So what does The Nikon D7100 have? Well, for a start:
All new 24.1 MP APS-C sized CMOS sensor
1080 HD video at 24/25/30/50/60 fps
100% viewfinder
51 point AF system (15 cross type)
-2EV AF sensitivity
2 to 5 frames in steps of 1/3, 1/2, 2/3, 1, 2, or 3 EV exposure bracketing
AF at f8 with center AF zone
ISO 100-6400, expandable to 25,600
6fps at full frame resolution
7fps in 1.3x crop mode (15.4MP resolution)
53ms shutter lag
Dual SD card slots (UHS-1 and SDXC compatible)
1,228,800 dot high-res 3.2" LCD
OLED data display in viewfinder
Spot white balance
3D Color Matrix Metering II (2,016-pixel)
150,000 cycle shutter (1/8000s, 1/250s sync)
Dust and Moisture resistant construction
No Low pass filter in front of sensor
Adorama is currently accepting pre-orders. The D7100 is expect to start shipping around March 21st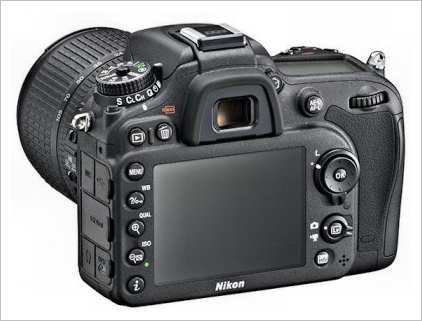 Nikon D7100, 3.2" 1,228,800 dot LCD
The Nikon D7100 is clearly going to be the competition for either the long expected Canon EOS 7D MkII or an EOS 70D, both which I expect to see announce sometime this year. Nikon have experience with small pixel sensors since they've gone to 36MP in their full frame DSLRs (as well as 24MP in the D3200) and the D800E gives them experience with dealing with the effects of not having a low pass filter in front of the sensor. Actually 24MP DX sensors have the same pixel size as a 54MP full frame sensor would so it will be interesting to see what the noise level and dynamic range of the D7100 sensor is and if it's an improvement over that of the the D3200. The recent 36MP sensors have very, very good low ISO dynamic range (see my test of the D800 here).
Leaving out the optical low pass filter in front of the sensor is a bold move, but again Nikon have experience with that on their 36MP full frame Nikon D800E. Actually the D7100 goes a step further. The D800E has a low pass filter, but it also has a secondary "anti-low pass" filter which cancels out its effect. The D7100 leaves out the LPF altogether. The result of that is increased sharpness, but at the cost of moire fringing (colored patterns) on fine detail due to aliasing of high frequency components of the image. This can partly be dealt with in software and I'm guessing it's something that Nikon must have been working on.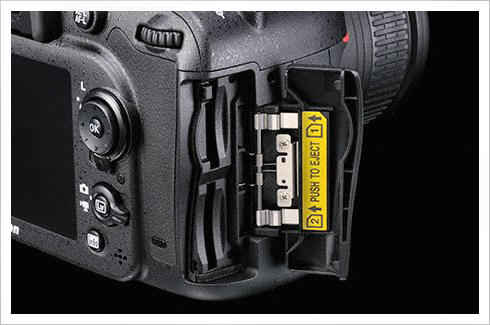 Double SD card slots
The D7100 1.3x mode is interesting, though I guess not super exciting for still work. It's a 1.3x crop of the APS-C format size from 24MP to 15MP so it changes the "lens multiplier" from Nikon's normal 1.5x (Canon is 1.6x) to 2x, the same as the micro 4/3 format. It's actually the area covered by the AF zones in the Nikon D7100. Of course you could just shoot the full APS-C frame, but in the 1.3x mode the files will be smaller and the maximum frame rate goes from 6fps to 7fps. Slightly more interesting is that it can be used in video mode. In video mode the image is downsized anyway, so it really doesn't matter much from a resolution viewpoint whether you start out at 24MP and APS-C or 15MP and a cropped APS-C. Either way you end up with a 1920 x 1080 image. So in that situation you do actually get a useful multiplication of focal length.
An $1199.95 MSRP is very competitive. The EOS 7D is currently selling for around $1450 so it's hard to see a 7D MkII selling for less, and if it has to compete with the Nikon D7100 at under $1200, Canon clearly have an issue to deal with. Perhaps the answer to that issue might be an upgrade of the 60D to a 70D. Since the 60D can be found for a street price as low as $700, Canon could make substantial upgrades to it and still match Nikon's $1200 price on the D7100. As for a 7D MkII, Canon put GPS and WiFi in the full frame 6D which sells for under $2000, so maybe they'll do the same with the 7D MkII to add more value and move it into a class higher than any of the Nikon crop sensor (DX format) DSLRs. I guess we will have to wait and see on that one.
Nikon USA have referred to the D7100 as their "flagship" DX format camera in much the same way as Canon call the EOS 7D their "Flagship" APS-C format camera. That seems a little odd for a $1200 body. I guess that may also mean that Nikon are dropping the D300s (which was their "flagship" DX format body). There is a report that Canon Europe have denied that the D300s is being dropped and that the D300s is still the flagship DX camera, so I guess Nikon need to get their stories straight! As of 02/25/13, the Nikon USA website still refers to the D7100 as "...The new flagship of Nikon's DX-format HD-SLR lineup..."
Here's what Nikon have to say about the D7100:
Adorama and B&H are currently accepting pre-orders. The D7100 is expect to start shipping around March 21st