Canon EF 70-300/4-5.6 IS USM - A few test images
I recently shot a few test images with the EF 70-300/4-5.6IS USM that I though some readers might be interested in seeing.
In the first test I shot some images of a rooftop in New York City using the lens at 300mm, with and without a Tamron 1.4x TC. Manual focus was used with the TC since AF is unreliable at f8 (the effective maximum aperture when a 1.4x TC is used with an f5.6 lens), however the green "focus confirmation" symbol is still effective and indicated best focus.
First here is the full frame shot with the lens alone at 300mm: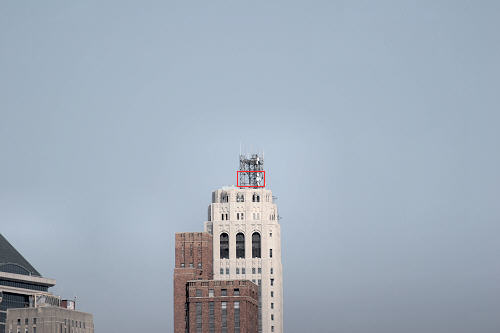 The area outlined in red is shown below, as a 100% crop from images shot at indicated apertures of f5.6 and f8 both with and without the TC. In fact the shots with the TC were at f8 (f5.6 + 1 stop) and f11 (f8 + 1 stop) due the the TC. The images shot without the TC attached were upsized by 140% using a bicubic algorithm to match the scale of the shots taken using the 1.4x TC.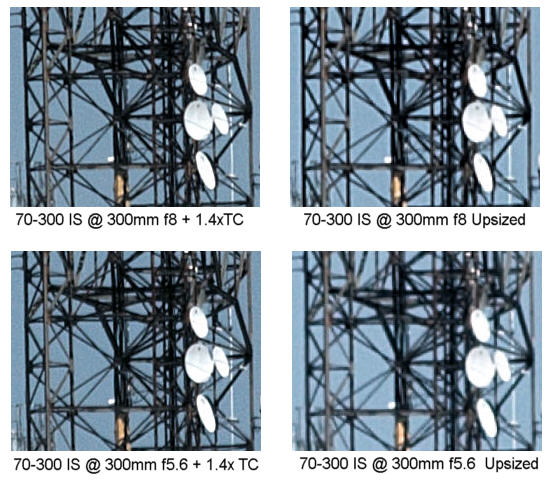 I think it's clear that in this case the use of the TC resulted in better (higher resolution) images. This is in contrast to a similar test I did with the older 75-300/4-5.6 IS USM lens, where the upsized image was better than that shot with the same TC (see Teleconverters - are they useful?). It's also worth noting that with the TC you really don't gain a lot by stopping down, so shooting wide open is OK. Without the TC I think you can see a slight improvement stopping down from f5.6 to f8.
Though the upsized images look a little fuzzy, that shouldn't be taken to mean that the images aren't sharp. The upsizing process inevitably results in lower sharpness, because pixels have to be interpolated in the larger image. To show that the lens is pretty sharp, I've included a grab shot taken of an AWACS aircraft that flew overhead while I was doing the other tests! This was shot at 300mm with the lens wide open (f5.6) and no TC attached.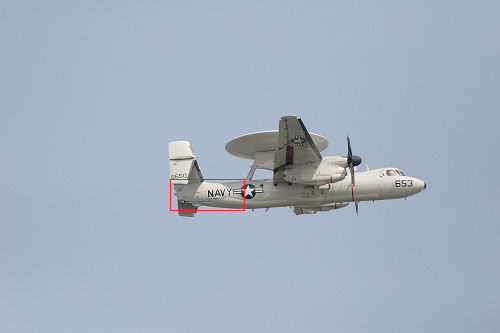 Below is a 100% crop from the area outlined in red.

The image noise is due to the fact that I had the ISO set to 800 by accident, but I think the sharpness of the image speaks for itself.
Where to buy?

I've been buying photo gear through Amazon.com for the last couple of years. Their prices are as low as, sometimes lower than, the photo discount stores, plus they often offer free shipping and on many items they have a generous 30 day return policy. I've found their customer service dept to be helpful too. At the time of writing (05/26/07) they have the lens in stock.

I've also had good luck dealing with Adorama