Canon EF 135mm f2.0L USM Review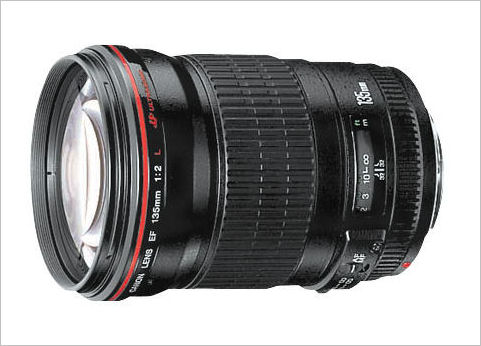 The is an a Canon "classic". First released in 1996 it's pretty much remained unchanged. Canon clearly believe in the old adage "If it's not broke, don't fix it". Despite being one of Canon's earlier lenses, the EF 135/2L USM is very sharp and fast both in the sense of optical speed and focusing speed. These qualities make it an ideal lens for shooting action in low light situations such as indoor sports, concerts and theater photography. In addition the fast optics and moderate focal length make the EF 135/2L and excellent lens for portraits. The small depth of field and the ability to blur backgrounds makes it a lens that than often isolate the subject where slower lenses can't. Portraits in this sense can include both formal portraits and shots such as wedding candids.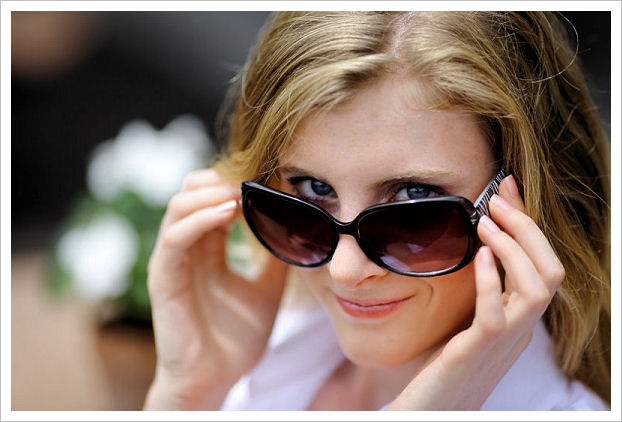 Narrow Depth of Field and large f2 aperture can throw backgrounds out of focus to better isolate the subject
Canon EF 135/2L IS USM Specifications
Focal Length & Maximum Aperture
135mm f2.0
Mount Compatibility
Canon EF and EF-S
Lens Construction
10 elements in 8 groups (2 UD elements)
Diagonal Angle of View (full frame)
18°
Focus
Rear focusing system with

USM

Closest Focusing Distance
0.9m / 3 ft.
Maximum magnification
0.19x (0.41x with 25mm extension tube)
Filter Size
72mm
Max. Diameter x Length, Weight
3.2" x 4.4", 1.7 lbs. / 82.5 × 112.0mm, 750g
Optical Performance
The EF 135/2L USM is very sharp wide open. Doing resolution tests (slanted target) you can see that resolution in fact peaks between f4 and f5.6, but on real world images you'd have a hard time seeing the difference. The images below are 100% crops taken from the center of a series of images shot with an EOS 6D.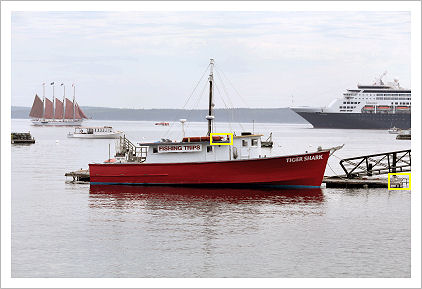 Yellow zones are areas enlarged to 100% below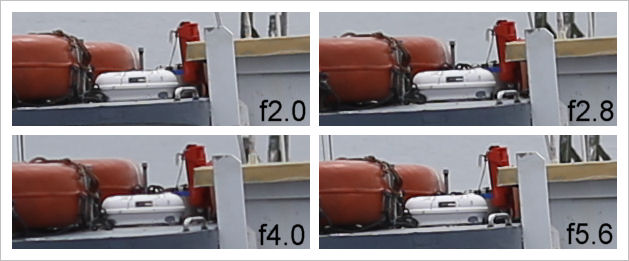 If you look very closely I think you can see the f5.6 image is fractionally sharper then the f2.0 image, you have to look pretty hard and remember these are 100% crops so they represent a small section of a very large image.
Though you can also detect and measure a difference in sharpness at the edges of the image when you stop down from wide open, in practice those differences are pretty hard to see on real world subjects. The 4 100% crops shown below were taken with the EF 135/2L USM mounted on an EOS 6D. It's pretty hard to see any difference as you stop down from f2.0 to f5.6. Resolution tests show that edge sharpness actually peaks at f8 but f5.6 and f8 are pretty close.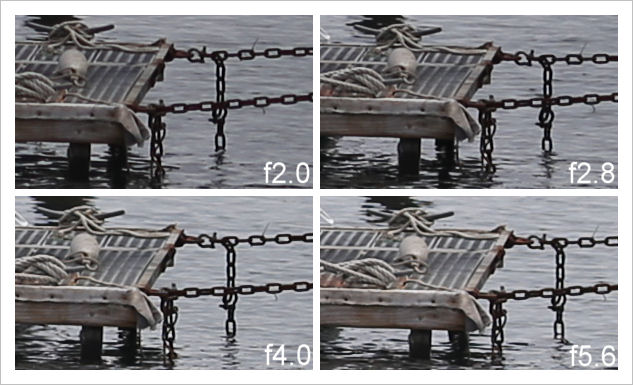 The f2.0 image is slightly darker due to some vignetting wide open, but sharpness holds up well wide open and the edges are very nearly as sharp as the center.
Close focusing the EF 135/2L USM gives a maximum magnification of 0.19x. That's not really macro, but you can get some interesting closeups as the shot of a coneflower below shows.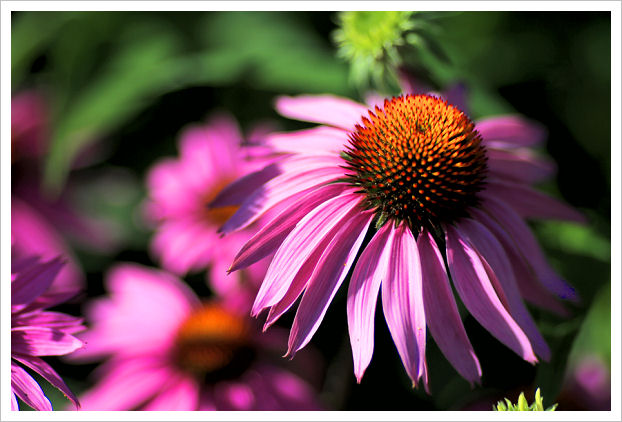 Canon EF 135/2L on EOS 6D. 135mm, 1/4000s @ f2.0, ISO 100
Vignetting is pretty well controlled except for when shooting wide open on a full frame DSLR when the corners are about 1.5 stops darker than the center. However just stopping down to f2.8 reduced this to 0.5 stops and by f4 it's less than 0.3 stops. On a crop sensor (APS-C) sensor even wide open the corners are only about 0.5 stops darker then the center of the image.
Distortion is very low as would be expected from a prime lens of this focal length. The image below shows that distortion is not a problem with this lens.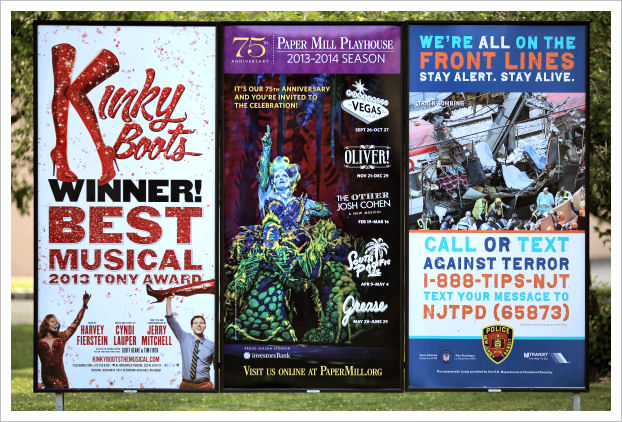 Chromatic aberration is equally well controlled. Even looking in the corners of the image at 100% magnification you'd have trouble seeing any. Below is a plot from an Imatest run. It shows the red, green and blue edges at a point 73% of the way to the edge of the frame. I won't go into all the technical details, but that fact that the red, green and blue plot lines overlap on the rising edge shows that chromatic aberration is minimal.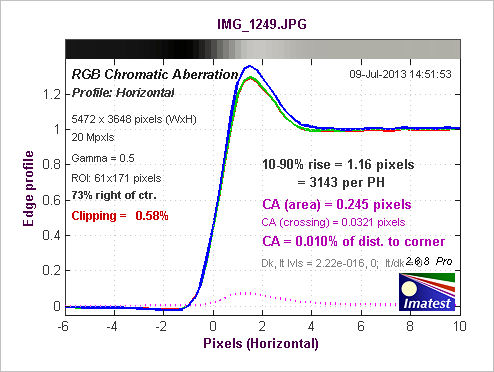 Conclusions
The fast f2 aperture can even blur out backgrounds which are quite close to the main subject
The is one of Canon's best lenses. For an "L" series lens it's reasonably priced at less than $1000 and its optical performance is excellent. It works well for portraits and low light action such as indoor sports. It's also useful for weddings and it can be pressed into service for wildlife since it accepts both the Canon 1.4x TC and 2x TC making it into a 189/2.8 and 270/4 lens respectively. Add on the 1.6x multiplier if you use an APS-C DSLR they effectively become a 302/2.8 and a 432/4 in 35mm FF terms.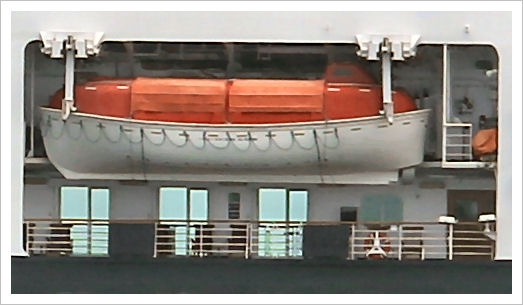 100% crop from image center. EF 135/2L + 2x TC
Alternatives
The next longer lens of similar aperture is the , but that's around $5000, which makes the 135/2L USM seem even more like a bargain. The next shorter similar lens is the . It's about 1/2 the price of the 135/2L, but it's not an "L" series lens, the focal length is shorter and it won't accept the Canon TCs, so that makes it considerably less versatile if you need telephoto capability.
The covers 135mm, but it's a stop slower and it's more expensive. It's also not quite as sharp wide open at f2.8 as the 135/2L is at f2.8. The might come close in image quality at 135mm, but it's more than double the price of the 135/2L, plus, along with the non-IS version, it's larger and heavier and, being white, more conspicuous.
- Check current price and availability.