Sigma 150-500mm f/5-6.3 APO DG OS HSM Review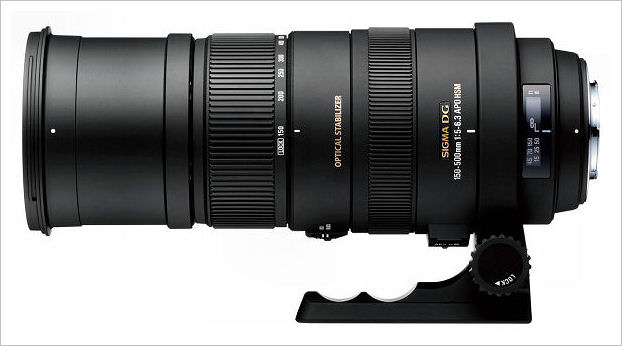 The Sigma 150-500mm f/5-6.3 APO DG OS HSM is one of a growing number of "affordable" telephoto zoom lenses is the $800-$1500 price range. While not as fast or as sharp as a premium telephoto prime, these lenses often provide good value for money and they have a number of advantages over a prime lens. They are smaller and lighter, they zoom and they're significantly less expensive. With optical stabilization they can be handheld and with higher ISO setting becoming available on more cameras, the fact that they may be 1 or 2 stops slower than a prime lens is less important than it used to be.Lenses of this type are useful for wildlife photographers and sports shooters, enabling them to obtain images without getting too close to their subjects. The "APO DG OS HSM" designation indicates that it is a Sigma DG lens (full frame coverage), with OS (Optical Stabilization), an HSM (HyperSonic Motor), and is an "APO" (Apochromatic) design to minimize chromatic aberration.
The finish of the lens is semi matte black and, at around 4.2lbs, it's light enough to handhold fairly easily. The stabilization (OS, 3-4 stops) means that it's a reasonable proposition to handhold this lens, even at 500mm and f6.3.
The lens comes with a hood, hard carrying case, and two straps(one for the lens and one for the case). It's covered by a 1 year Sigma warranty, but for US purchasers who buy the lens from a Sigma-authorized US dealer, the warranty is extended to 3 years
Specifications
| | |
| --- | --- |
| Focal Length | 150-500mm (240-800mm equivalent on Canon APS-C) |
| Aperture | Maximum: f/5-6.3 Minimum: f/22 |
| Format Compatibility | Full Frame, APS-C |
| Angle of View | 16.4° to 5° (150mm to 500mm, full frame) |
| Minimum Focus Distance | 7.22' (2.20 m) |
| Maximum Magnification | 0.19x |
| Filter Thread | 86 mm |
| Diaphragm Blades | 9 |
| Elements/Groups | 21/15 (including 3 Special Low Dispersion (SLD) elements) |
| Dimensions (DxL) | 3.7" x 9.9" (9.40 x 25.15 cm) |
| Weight | 4.19 lb (1.90 kg) |
| Camera Mount Type | Canon, Nikon, Pentax, Sony, Sigma |
| Lens Hood | Supplied with lens |
| Approx. Price (02/15) | $870 - |
Focal Length, Aperture and Optical Stabilization
The marked focal length span of the Sigma 150-500mm f/5-6.3 APO DG OS HSM is, of course, 150mm to 500mm. Remember that focal lengths are always specified for the lens focused at infinity, and it's not unusual for the actual focal length to be up to +/-5% different from the nominal values. A change (decrease) in effective focal length is also pretty common when a telephoto zoom is close focused. Bearing this in mind...
When set to maximum zoom (nominally 500mm) I measured the actual focal length of the Sigma 150-500mm f/5-6.3 APO DG OS HSM set to be around 480mm focused at infinity and around 450mm focused at 10 m (about 30 ft). At the closest possible focus (~2.2 m), magnification is around 0.2x, which implies a focal length of roughly 300mm. None of these numbers are out of the ordinary for a lens of this type.
I did observe some zoom creep. The lens extended from 150mm to 500mm when held pointing downward and retracted from 500mm to 150mm when pointing up. There is a zoom lock at the 150mm position to ensure the lens doesn't accidently extend when being carried.
The maximum aperture of the Sigma 150-500mm f/5-6.3 APO DG OS HSM varies from f/5 between 150mm and 173mm to f5.6 between 174 and 313mm to f6.3 from 314mm to 500mm.
The time required to focus from the closest focus distance (2.2m) to infinity was around 0.95 seconds and that did not change with focal length. The HSM focusing motor noise is very quiet. It's inaudible in normal use. Focusing was generally positive (no hunting) and accurate, with the great majority of the images I shot being well focused.
At 500mm I found the optical stabilization (OS) system enables me to get pretty sharp handheld shots most of the time down to a shutter speed of around 1/125s, occasionally as slow as 1/60s. That's about 2 stops of stabilization most of the time, 3 stops if you are lucky and/or shoot a burst of shots and pick the sharpest. Two stabilization modes are available, one for static subjects and one for moving subjects where the camera is panning to follow them. Potential buyers of the lens for Pentax and Sony cameras should be aware that models in those mounts are not optically stabilized because both system use sensor shift stabilization which is built into the camera body. The Nikon, Sigma and Canon mount lenses all have optical stabilization.
Image Quality
I tested the Sigma 150-500mm f/5-6.3 APO DG OS HSM by shooting both resolution test targets and normal pictorial subjects, using both APS-C crop sensor and full frame DSLRs. I won't attempt to reproduce all the images here, but I'll give my overall conclusions and a few samples. Critical sharpness tests using resolution targets were done using Live View and manual focus in order to separate the intrinsic sharpness of the lens from the accuracy of the AF system. Normal pictorial shoots were taken using AF, which in fact proved to be accurate and consistent.
At 150mm the Sigma 150-500mm f/5-6.3 APO DG OS HSM shows high sharpness from center to edge at f5 and little is gained by stopping down. Chromatic aberration is very well controlled.
At 200mm image quality is very similar to that at 150mm with very good sharpness and negligible chromatic aberration.
At 300mm there's a very slight drop in sharpness wide open. Stopping down does improve sharpness a little, but on normal pictorial targets you'd be hard pressed to see the difference. A very small amount of chromatic aberration can be detected at the edges of the frame.
At 400mm center sharpness remains high the edges are slightly less sharp with the lens wide open. There's a small improvement stopping down to f8, but not so much that I'd feel that I had to do so to get a sharp shot. Chromatic aberration is low, but visible at the edges of the frame.
At 500mm wide open (f6.3) the image is slightly softer and lower in contrast than at 500mm. I'd guess what I'm seeing is probably a small amount of uncorrected spherical aberration, but whatever the cause, stooping down by 2/3 stop to f8 bring up the sharpness and contrast. The edges of the frame aren't as sharp as the center and show a small amount of chromatic aberration. At 500mm I'd probably try to shoot at f8 with this lens if I wanted maximum image quality, however I wouldn't do so if I needed the extra shutter speed that f6.3 would allow.
My bottom line conclusion is that the Sigma 150-500mm f/5-6.3 APO DG OS HSM is a pretty good lens, especially considering its price (02/15 around $870). Sharpness at 150mm is very good from center to edge, even with the lens wide open and on both APS-C and full frame sensors. Sharpness at 500mm is a notch lower wide open at f6.3, but stopping down (by 2/3 stop) to f8 brings the sharpness back up close to that observed at shorter focal lengths.
Here's an example of the sharpness that the Sigma 150-500mm f/5-6.3 APO DG OS HSM is capable of at 400mm and f8. First the whole image (EOS 7D):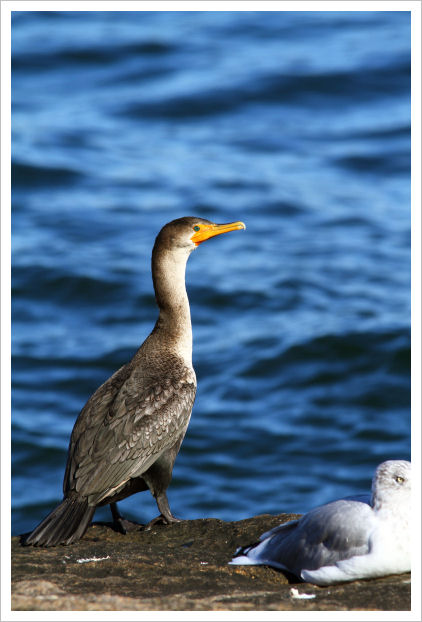 And now a 100% crop of the cormoramt's head. This shot was taken handheld at a shutter speed of 1/250s.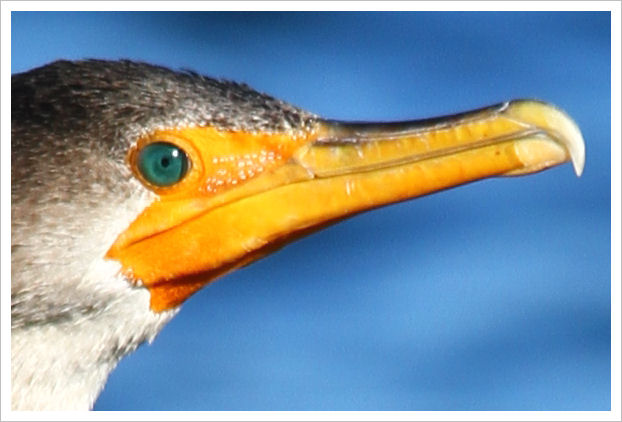 Now here are two similar shots, this time taken at 500mm wide open at f6.3. First the whole frame (EOS 7D)
And now a 100% crop of the head and eye of the cormorant: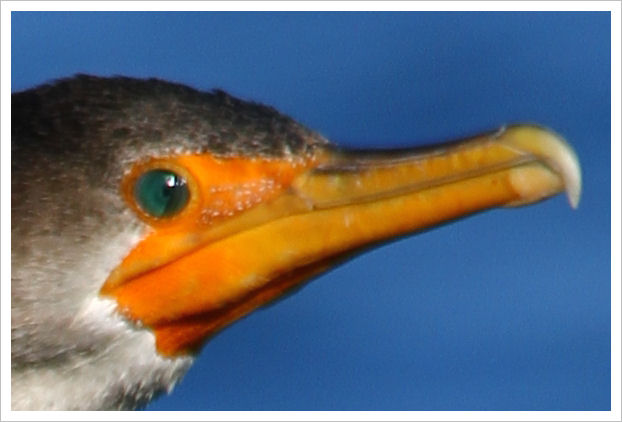 While sharpness certainly isn't bad, I think you can see it's not quite as good as it was at 400mm and f8.
Chromatic aberration
Chromatic aberration is visible between 250mm and 500mm but it's at a fairly low level. Here's an example at 370mm, shot using and EOS 7D DSLR. First the whole frame: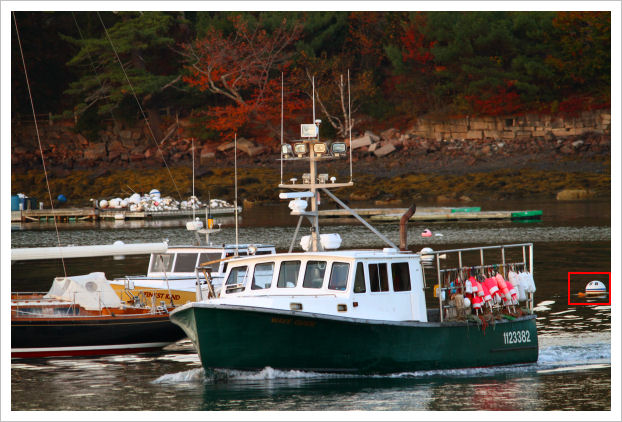 And now the area at the right edge of the frame indicated by the red box in the image abobe. This crop is at 100%.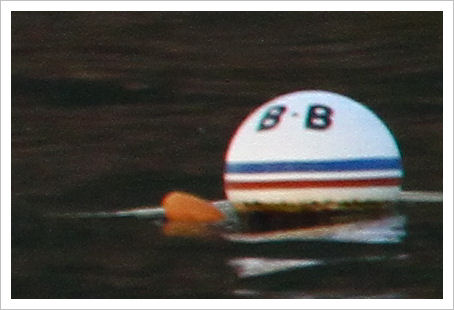 as you can see there is a small amount of red/green fringing on high contrast edges. This can be minimized in post processing if it becomes an issue, but that's only likely if you're making large prints for close viewing. The CA seen at the edges of a full frame shot at 500mm isn't very different from this.
Vignetting
Vignetting is observed with the Sigma 150-500mm f/5-6.3 APO DG OS HSM, especially when the lens is used with a full frame DSLR, wide open or at 500mm. The images below show the extent of corner darkening when shooting with a full frame camera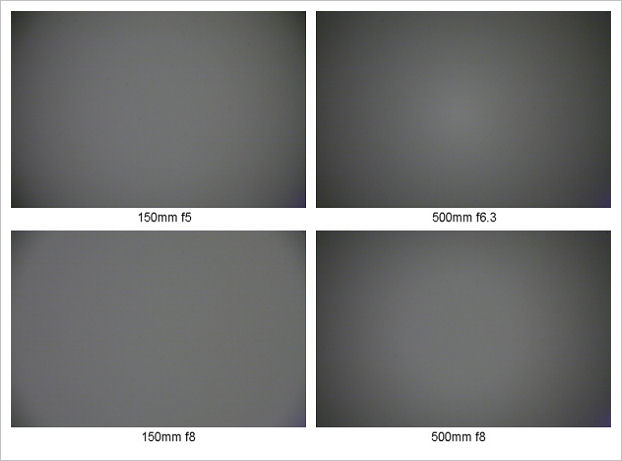 At 150mm vignetting is negligible if the lens is stopped down to f11, but at 500mm the corners are darker even with the lens stopped down to f11.
While this could be an issue, usually it's not. Vignetting is fairly easy to digitally correct in post processing. Also, unless the corners of the frame contain areas which are uniform in brightness (e.g. sky), vignetting even wide open may not be noticeable. If shooting with an APS-C crop sensor camera, vignetting, even wide open at 500mm is very unlikely to be a problem. The image below is the full images captured using an EOS 7D with the Sigma 150-500mm f/5-6.3 APO DG OS HSM wide open (f6.3) at 500mm.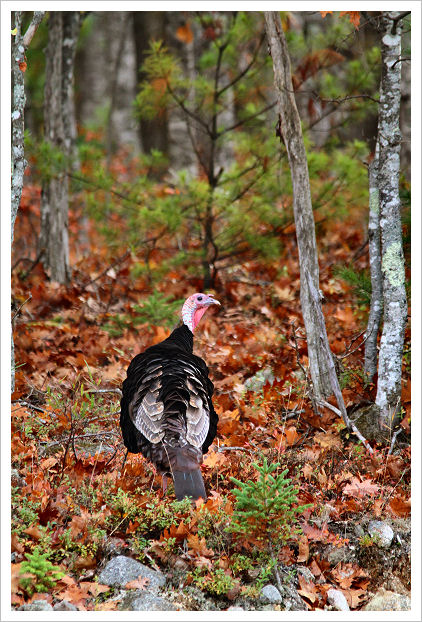 The worst case scenario is shown below. A full frame shot at 500mm and f6.3 with a uniform sky. The top corners are clearly darker.
However with a little digital processing the image is much more uniform as shown below: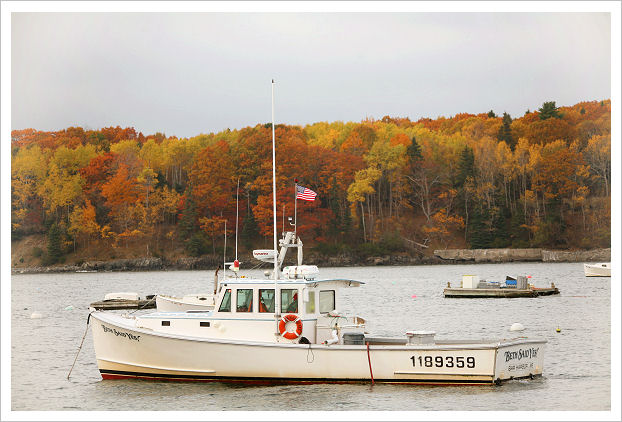 Macro
The Sigma 150-500mm f/5-6.3 APO DG OS HSM isn't a macro lens. Maximum magnification is 0.19x (about 1/5 life size) but nevertheless it's fine for closups of flowers and detail shots of larger objects. On a full frame camera at maximum magnification the area in the image will measure about 5" x 7.5". On an APS-C crop sensor camera like the EOS 7D, the frame will cover about 3.1" x 4.7".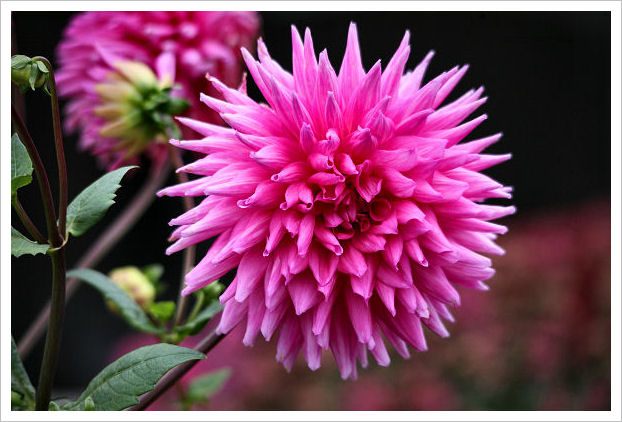 Distortion
Distortion is low at all focal lengths, as would be expected from a telephoto zoom of this type. It would be very unlikely to be a problem, in fact you'd probably have a hard time seeing it, even in architectural shots.
Conclusions
The is a very nice lens, especially considering the price which is currently around $870 (02/14 and includes a $200 instant rebate). The optical sharpness is excellent at shorter focal lengths and still very good through 400mm. The harpness does drop a little when the lens is used at 500mm wide open, though stopping down to f/8 makes it almost as sharp at 500mm as it is at 400mm. The AF speed is average for a lens in this price range. The dedicated telephoto prime lenses from the major manufacturers are faster, but that's to be expected based on their much higher cost.
The exhibits low distortion and chromatic aberration is well controlled, especially at shorter focal length settings. Even zoomed out all the way to 500mm, chromatic aberration is not really problematic and if it really bothers you, digital correction can remove most of it. On the downside there is noticeable vignetting when used with a full frame camera, but that can be easily corrected digitally and even the best and most expensive telephoto primes show some vignetting. The bottom line is while it may not be as fast, sharp, or quick to focus as a 500mm prime lens from Canon or Nikon, it's still a good performer and a good deal at around 1/10th of the cost...plus it's a zoom too!
Alternatives
None of the major camera manufacturers (Canon, Nikon, etc.) make a telephoto zoom that's this long or that's close to the price (~$870 as of 02/15) so the alternatives are lenses made by Sigma themselves and by Tamron, unless you're willing to settle for a reduced focal length range with something like the ($2200) and pay about 2.5x the price.
Sigma has three lenses that are similar to the . There's the new Sigma 150-600mm f/5-6.3 DG OS HSM, which adds 100mm to the focal length, two FLD elements (a glass similar to Fluorite), and an accelerometer to further stabilize the lens when panning. There are two versions of this lens, a "C" version (Contemporary) and an "S" version (Sports). The Sports version, , should have better performance, with extra elements (24 vs. 20), and is weather sealed. The cost of the "S" version is more than $1000 higher than that of the 150-500mm, and at the time of writing (November 2014), the lens has not yet arrived in stores. There's no price or availability information yet on the "C" version, , though presumably it will be less expensive than the "S" model. There's also the , which adds 100mm to the short end of the range along with an extra low dispersion element and a price that's around $650 higher.
From Tamron there's the . It's only around $200 more than the Sigma 150-500mm and it adds 100mm to the long end of the range. Though it was announced quite a while ago (I reviewed last year - Tamron 150-600 Review), it's still in limited supply as of 02/14, though the wait times for an order to be fulfilled are getting shorter. It's a very nice lens though, so worth the wait! For me it would be worth paying the extra $200 over the Sigma 150-600 as the slightly longer reach would be useful for wildlife work.