Tamron 150-600/5-6.3 Di VC USD Review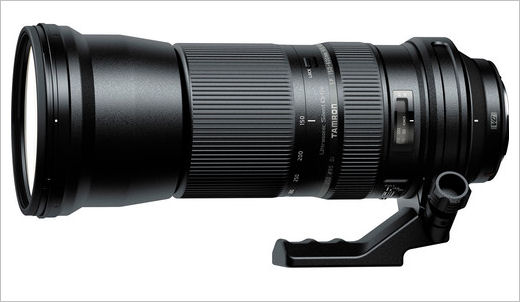 A few weeks ago I posted a first impression of the Tamron 150-600/5-6.3 VC USD, and though I only looked at the performance at 600mm I was impressed with what I saw. I've now had time to look at the Tamron 150-600 in more depth and I'm still pretty impressed by it. In fact my two word review of the lens for anyone looking for a reasonably priced 600mm lens (zoom or not) would be "Buy one"!
Tamron 150-600/5-6.3 DI VC USD Specifications
Focal Length
150-600mm
Maximum Aperture
F/5-6.3
Minimum Aperture
F/32-40
Angle of view (diagonal)
16°25' - 4°8' (full frame)
10°38' - 2°40' (APS-C)
Lens Construction
20 elements in 13 groups
Minimum Focus Distance
106.3 in (2.7m)
Maximum Magnification Ratio
1:5
Filter Size
95mm
Maximum Diameter
105.6mm
Length
10.1 in (257.8mm)
Weight
68.8 oz (1,951 g)
No. of Diaphragm Blades
9 (circular diaphragm)
Standard Accessories
Lens hood, detachable tripod mount
Compatible Mounts
Canon, Nikon, Sony
The is priced at $1069 as of 02/15. Click link for current price and availability.
Tamron 150-600/5-6.3 DI VC USD Features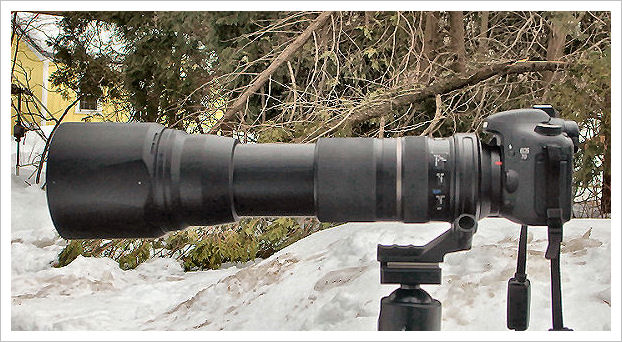 Tamron 150-600/5-6.3 Di VC USD with hood, zoomed to 600mm
The Tamron 150-600 is supplied with a cylindrical type lens hood which mounts on the lens via a bayonet fitting. Unlike the earlier Tamron 200-500 zoom, you can't externally rotate an attached (95mm) polarizer with the hood in place. You could do this with the 200-500 via an adapter that attached between the hood and front of the lens.
Obviously it's a 150-600mm zoom, with the aperture ranging from f5 at 150mm to f6.3 at 600mm. The maximum aperture (as displayed on an EOS 7D) actually changes as follows:
f5 from 150mm to ~ 230mm
f5.6 from ~230mm to ~410mm
f6.3 from ~410mm to 600mm
Note that f6.3 is 1/3 stop slower than f5.6. With a 1.4x TC f6.3 becomes f9 and with a 2x TC f6.3 becomes f12.6. f6.3 is the fastest aperture of a number of 3rd party telephoto lenses. Though Canon normally cut off AF at f5.6 except for a few EOS bodies (currently the 5D MkIII and the EOS 1D X), these f6.3 lenses "fool" the camera into allowing AF at f6.3
There is some "zoom creep" when the lens is tilted up or down by 45 degrees of more. However the zoom can be locked at 150mm to prevent the barrel extending when the lens is being transported.
Almost all marked lens focal lengths are "nominal", in that they are rarely exactly as marked. The actual focal length of long telephotos is often slightly less than marked (and the actual focal length of extreme wideangle lenses is often slightly more than marked). The industry tollerence on focal length is usually considered to be +/- 5%. I measured the focal length of the Tamron 150-600mm lens with the lens focused at infinity and zoomed all the way out to the 600mm mark. The average of several measurements by several different methods was around 590mm, which is within 2% of the nominal focal length and so well within the industry "norm" on focal lengths.
There may be a slight reduction in effective focal length when close focused, as is common with many zoom lenses. However, whatever focal length changes may occur, the maximum magnification is 0.2x at 600mm at a close focus distance of 2.7m (in comparison, the Canon 600/4L II IS USM has a close focus distance of 5m and a maximum magnification of only 0.15x).
The Tamron 150-600/5-6.3 uses a "USD" focusing motor. This is equivalent to Canon's USM motor, i.e. an ultrasonically driven motor giving silent and fast AF. Focus is very quiet indeed, to the point where it's very difficult to hear unless you have your ear next to the lens. There are two focus ranges, infinity to 2.7m and infinity to 15m. I measured the AF speed of the Tamron 150-600 mounted on an EOS 7D (using the center AF zone). In bright light I obtained the following numbers:
150mm, infinity to close focus (2.7m) - 0.30 seconds
250mm, infinity to close focus (2.7m) - 0.33 seconds
400mm, infinity to close focus (2.7m) - 0.33 seconds
600mm, infinity to close focus (2.7m) - 0.41 seconds, infinity to 15m - 0.23 seconds
In very dim light, focus speed dropped. For example at 600mm, focus speed dropped from 0.41s in bright light to 1.5s in very dim light.
Focus accuracy was excellent, no focus microadjustment was required with my EOS 7D for maximum sharpness. The lens does have full time manual focus, so you can manually adjust focus after AF, though there is no need to as long as the camera has chosen the desired AF point.
The tripod mount is solid and locks the lens into position with no detectable play. It can be removed if desired to make the lens a little easier to hand-hold. The lens freely rotates when the tripod ring is loosened, i.e. there are no click stops or detents indicating horizontal and vertical positions.
The "VC" in Tamron 150-600/5-6.3 Di VC USD stands for "vibration compensation", Tamron's designation for their optical stabilization system. Testing at 600mm and handholding the lens with VC turned on I found that I had a pretty good probability of getting sharp images at 1/80s. Looking at several sets of 10 shots sequences, about 20% of the images would be as sharp as if I'd used a tripod, 60% were sharp, but not quite up to tripod sharpness and the remaining 20% shows somw blur due to camera movement. Without VC on none of the shots at 1/80s were sharp (though I suppose if you took enough shots you might get lucky! This corresponds to something over 3 stops of stabilization and makes hand-holding a 600mm lens a workable proposition. I'd say that using a tripod whenever you can at the long end of the zoom range is a good idea, but when it's not practical, handholding the lens can still yield good results and long as you don't let the shutter speed drop too low.
Image Quality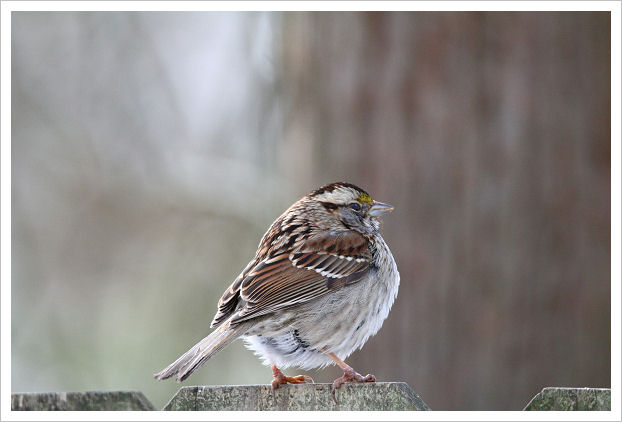 Tamron 150-600 @ 600mm f6.3. Canon EOS 7D (whole frame)
To get a measure of image quality I shot with the Tamron 150-600/5-6.3 on an EOS 7D and an EOS 5D. I shot both resolution targets and "normal" subjects and on occasion compared the Tamron 150-600 with a Canon EF 300/4L and/or Canon EF 500/4.5L. The results of these tests somwhat surprised me in that the Tamron 150-600 performed significantly better than I had expected it to, based on its price. In fact in the center of the 7D image, at f8, the Tamron lens was just about as sharp as the Canon lenses. Even at f6.3 it was pretty close. This applied both at 500mm and 300mm. There was a very slight drop in sharpness at 600mm, but not really enough to worry about. I obeserved resolution of over 70 lp/mm at 600mm and f8 and over 80 lp/mm at 300mm and f8.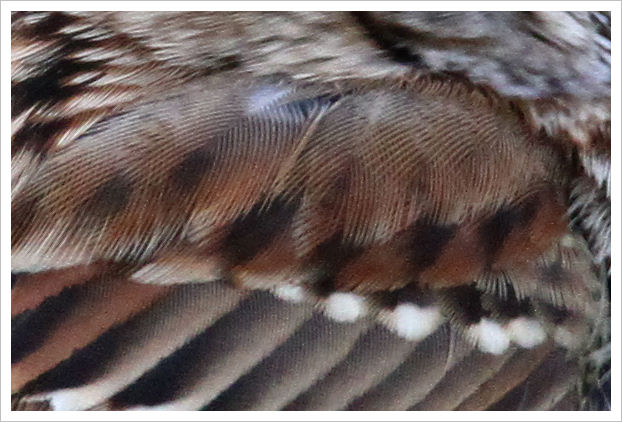 Tamron 150-600 @ 600mm f6.3. Canon EOS 7D, 100% crop (detail from previous image)
The resolution of the Tamron 150-600 held up well to the edges of the APS-C frame and only dropped slightly out at the edges of a full frame. Chromatic aberration was most noticeable at 150mm, dropping to a minimum at around 300mm and increasing a little again at 600mm.
Overall, peak performance occured at f8, though wide open (f5 at 150mm, f6.3 at 600mm) sharpness and contrast were still good.
Vignetting was slight, ranging from about 1 stop (full frame) wide open (150mm and 600mm) to less than 1/2 stop (not really very visible) at f8 (400 and 600mm). At f8 and 150mm or 300mm vignetting was very low (less than 1/4 stop). On an APS-C sensor camera, vignetting was barely noticeable at under 1/2 stop, even wide open. At f8 and all focal lengths, vignetting was low enough that it was hard to detect.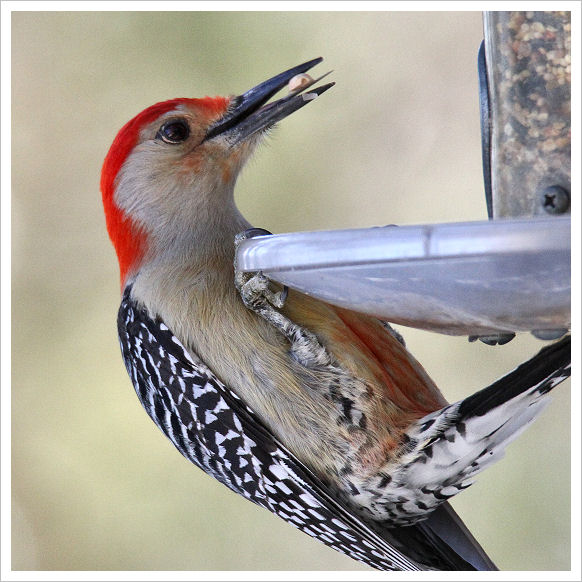 20% reproduction of 2800x2800 section of image shot at 600mm f6.3, Tamron 150-600/5-6.3 VC USD
Though Tamron certainly don't recommend using an extender with the lens, I nevertheless tried one. Canon TCs will not fit due to their projecting front elements, but a Tamron 1.4x will fit. All normal AF is disabled of course and even contrast detection AF will not work (at least on a 7D), but manual focus can be used. The results at 840mm f9 weren't too bad and using the the 1.4x TC produced images with slightly more center detail than images without the TC which had been digitally enlarged by a factor of 1.4x. So while the use of a TC may not be recommended, and requires a sturdy tripod and good technique, it could be an option in some circumstances.
In my previous "first look" I shot some moon images and I'll repeat a couple of them here. The moon is a tough subject with lots of fine detail and a high contrast edge. It's often not a perfect test subject though since good "seeing" (low atmospheric turbulance) is required for maximum resolution, though "seeing" was pretty good at the time I took these shots.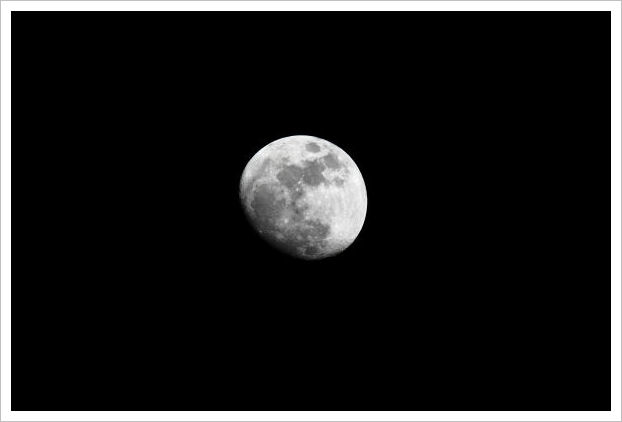 First the whole of the 7D frame showing the magnification at 600mm. Shot at 1/400s, f8, ISO 200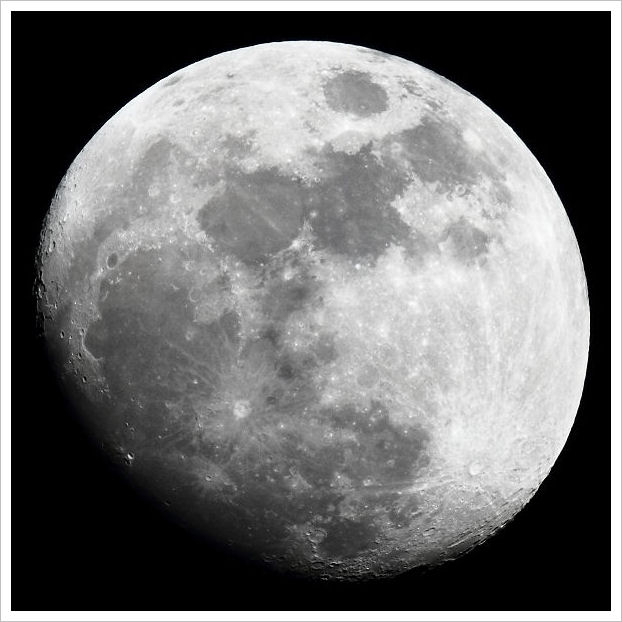 Second, here's just the moon cropped from that frame.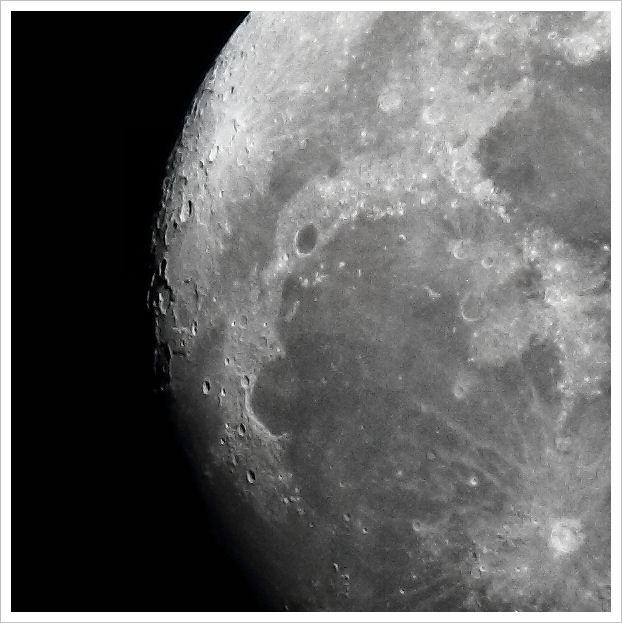 Third here's a 100% crop from the upper left edge of the moon.
Tamron 150-600/5-6.3 Di VC USD Review Conclusions
By any measure, the Tamron 150-600/5-6.3 is a good lens and when you take the price of around $1070 into account I think it's clearly currently the best value in a telephoto zoom. At 600mm it's also 100mm longer than its nearest competitor, the Sigma 150-500 ($900 after $170 rebate as of 03/14) and 200mm longer than the Canon 100-400 ($1349 after mail-in rebate as of 03/14) and Nikon 80-400 ($2300 after instant rebate as of 03/14).
It's solidly built, the AF is accurate, the VC is effective, the sharpness is very good and for a 600mm lens it's both small (around 10" when zoomed to the 150mm setting) and light (just over 4lbs)
If I were looking for a reasonably priced telephoto zoom, or even just a long telephoto, right now the Tamron 150-600/5-6.3 VC USD would be the lens I'd buy.
The Tamron 150-600/5-6.3 Di VC USD can be ordered here:
Note - This lens seems to have exceeded Tamron's expectations in its popularity! As of late 2014, it's typically backordered at just about all authorized vendors, but it is shipping so if you want one, pre-order to get your name on the list!