TOKINA AT-X 12-28mm f4 PRO DX
MARCH 27, 2013 - The Tokina AT-X 12-28mm f4 PRO DX has been introduced as a replacement for the earlier 12-24/4 lens. Not only does it cover an extra 4mm at the long end, but it's a new optical design with 2 aspheric and two low dispersion elements., plus it has a new AF motor system. It is designed for use only on APS-C crop sensor DSLRs
The Tokina AT-X 12-28mm f4 PRO DX will be available in both Nikon and Canon mounts. Though a US price has not yet been announced, the introductory price should be around the same as the price on the existing Tokina 12-24mm F/4 ATX PRO DX II, i.e around $450 (based on the Japanese prices of the two lenses). It should be available in a Nikon mount in April 2013 and soon after in a Canon EOS mount.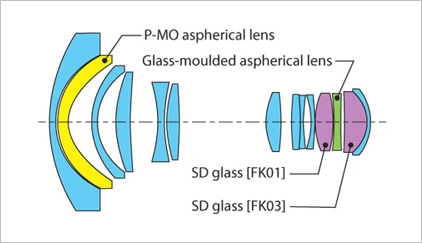 TOKINA AT-X 12-28mm f4 PRO DX Specifications (Nikon mount)
| | |
| --- | --- |
| Focal Length: | 12mm – 28mm |
| Optical Structure: | 14Elements / 12Groups |
| Minimum Focus Distance (m): | 0.25 |
| Maximum Macro Magnification: | 1:4.94 |
| Maximum Aperture: | F/4 |
| Minimum Aperture: | F/22 |
| Number of Diaphragm Blades: | 9 |
| Filter Size (mm): | 77 |
| Overall Length (mm): | 90.2 |
| Maximum Outer Diameter (mm): | 84 |
| Weight: | 530g |
| Lens Hood: | BH-77B |
Here's what Tokina have to say about it:
Alternatives to the Tokina AT-X 12-28mm f4 PRO DX
The main Canon competitor to the would be Canon's excellent EF-S 10-22/3.5-4.5 USM, which currently sells for just under $700. The 28 mm long end might make it slightly more versatile as a "walking around" lens since 28mm on a Canon APS-C DSLR gives the same FOV as a 45mm lens on full frame, i.e. almost a "normal" lens. The 22mm of the Canon corresponds to about 35mm on full frame, making it more of a wideangle. On the other hand you're probably buying the lens for its wideangle capability and the Canon lens is significantly wider at 10mm than the Tokina at 12mm. At those short focal lengths, 2mm makes a noticeable difference. For Canon shooters looking for a superwide zoom, this is probably the lens of choice. At least it's my choice since I bought one myself!

Another alternative to the Tokina AT-X 12-28mm f4 PRO DX would be Sigma's 10-20mm f/4-5.6 EX DC HSM. It's as wide as the Canon, but not as long (20mm vs 22mm) and considerably shorter than the 28mm of the Tokina lens and it's the slowest of the three lenses at the long end (f5.6 at 20mm). The price (around $480) is close to that of the Tokina than the Canon though, so it's another "budget" choice. Optical performance is pretty good, aided by the use of three SLD (Special Low Dispersion) elements and three Aspheric elements. It's available in Canon, Nikon, Sony/Minolta, Sigma, Pentax and Four-Thirds mounts, so for some camera systems it might be the only option in a superwide zoom.
Rounding out the alternative superwide zooms is the Tamron 10-24mm f3.5-f4.5. This lens is in the middle of the group in that it's wider then the Tokina and it's longer than the Canon or the Sigma. It's faster than the Sigma (and the same speed as the Canon). Pricewise it's pretty competitive at around $450 at the moment (after the $50 rebate). It uses four aspheric elements (The main front element is a glass molded aspheric plus there are three hybrid aspheric elements) and two LD (low dispersion) elements. Optical performance is good. If I didn't have the Canon EF-S 10-22, I'd probably buy the Tamron 10-24mm f3.5-f4.5