The State of the Website - 2015
Aurora from Bar Harbor, Maine. Canon EOS 6D, Tamron 15-30/2.8 @ 15mm. 8s @ ISO 3200
Since this website hasn't been updated in a while, I though I should post a "State of the Website" message.
The short version is that I'm still here, the site has not been abandoned and new content and reviews will be posted soon.
The longer version is that I had some medical problems which have made it difficult to work on the website for the last few months. They are resolving and I'm able to do some writing and editing now, and even some lens and camera testing! I'm also removing "stale" links to products which are no longer valid and replaced then with current links to interesting products.
Items I've had a chance to personally test at and which will be the subject of upcoming reviews include a comparison of the Tamron SP 150-600/5-6.3 Di VC USD, Sigma 150-600/5-6.3 DG OS HSM C (Contemporary) and Sigma 150-600/5-6.3 DG OS HSM C (Sports) lenses, a look at the Nikon Coolpix P900 (with an effective 24-2000mm zoom!) and a look at two new lenses from Tamron in their updated "SP" series - the Tamron SP 35mm and 45mm f/1.8 Di VC USD, a hands-on look at the Canon EOS 5DS and a look at the Canon PowerShot SX60 HS and the Canon PowerShot SX530 HS.
Rather than keep you waiting for full reviews, I'll just make a few comments on these items of equipment right here, right now. These are basically "the bottom line" on each item.
. The 2000mm lens is the main feature of the P300 and if you need an extreme telephoto lens in a digital, this is the one to get. It has all the bells and whistles you might want including WiFi and GPS built in. Drawbacks are that it's not by any means a small or light camera (weighs 2 lbs), it can't record in RAW format and it's a bit more expensive ($597 12/15) than similar cameras with shorter lenses, such as the Canon SX60 described below ($449 12/15). For me, I'm not sure the additional cost, weight and size of the P900 gives you all that much more than you get with a smaller, lighter and cheaper camera like the SX60 - unless you really need 2000mm and GPS.
. The successor to the SX50 HS, a camera a own, use and like a lot. The SX60 HS has significantly faster operation than the SX50 and a longer and wider range zoom (21-1365/3.4-6.5), which makes it even better. It also has built in WiFi (but no GPS). The SX60 can store images in RAW format and it has a fold out tilt and swivel LCD screen. It's also compatible with Canon Speedlites.
. The major feature of the SX530 is that it's a camera with a 24-1200mm zoom that you can actually fit in a jacket pocket. Most long zoom cameras aren't pocketable. However it does lack features of a camera like the SX60, such as an electronic viewfinder (EVF) and the ability to store images in RAW format. The LCD is fixed. I prefer the SX60 myself - though there's currently a $150 rebate on the SX530, making the price of only $229 pretty attractive. The SX60 is currently $449 (12/15).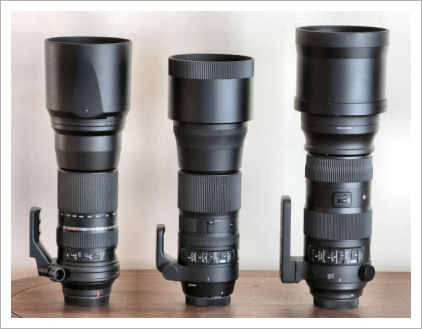 Left: Tamron 150-600 Center: Sigma 150-600 "C" Right: Sigma 150-600 "S"
. A very good telephoto zoom lens at a very good price. No real complaints, other than it doesn't seen to af with TCs (even in Live View) and can't physically accept the Canon TCs. With a 6 year warranty and a current price of $949 (after rebate), it's the best "band for the buck", though Sigma have just announced a $100 rebate on their "C" lens, making the Sigma 150-600 "C" lens only slightly more expensive at $989.
(Contemporary). Optically pretty similar to the Tamron 150-600. It's a little more expensive and has a sticky manual focus ring, but it can accept Canon TCs and it will AF with them in Live View mode. Comes with a carrying case and a 4 year warranty. Best choice if you want to use Canon TCs and don't expect to do much manual focusing. UPDATE: Even better deal. There's now a $100 rebate on this lens, and Adorama have it for $989 rather than the previous $1089, plus they are including a set of accessories Bundle Includes a LensAlign MkII Focus Calibration System, a 95mm UV Filter, a 95mm Circular Polarizer Filter, a Cleaning Kit and a Lenscap Leash II. Here's the link to this Sigma 150-600 "C" bundle. Pro Software Package (Includes Corel PaintShop Pro X7 & Corel AfterShot Pro 2 & Nuance OmniPage 18 & File Center Standard 7)
(Sports). Significantly more expensive than the other two 150-600mm zooms, but more solidly built with smooth manual focusing and smoother rotating tripod collar with click stops. Will actually AF in normal (phase detection) mode with a Tamron 1.4x TC attached, even on an EOS6D, 7D or 70D. Accepts the Canon TCs and will AF with them in Live View mode. Optically not very different from the other two 150-600mm zooms. Probably the better lens for hard (professional) use, but I'm not sure it's worth around 2x the price of the other two 150-600mm lenses for typical amateur users. Update 12/17 - Sigma have announced a $200 rebate on the "S" lens making it $1799 and that includes 105mm UV and Polarizing filters, plus other accessories. Here's the direct link to the Sigma 150-600 "S" bundle.
. Not a lot to say here. A great camera if you want high resolution full frame images. If you don't need full frame or you anticipate cropping the full frame images to APS-C dimensions, then the is probably a better buy. It's cheaper and faster. Price is currently $1399 after the $400 instant rebate (12/15), a very good price for a very good camera.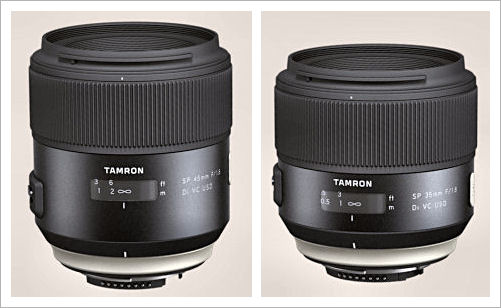 Left: Tamrom 45/1.8&nbsp:&npsp;Right: Tamrom 35/1.8
and . These are two new lenses from Tamron and the first examples of their revamped "SP" (Superior Performance) line. Excellent, fast prime lenses with unusually close focusing and image stabilization The 35/1.8 can give 0.4x magnification and the 45/1.8 can give 0.3x. Not quite macro, but close! These lenses aren't cheap at around $599 (after rebates 12/15) but they are good and the 45/1.8 is currently the only "normal" (45-50mm) focal length lens that's image stabilized.