Sigma 150-600/5-6.3 DG OS HSM C (Contemporary) Hands on review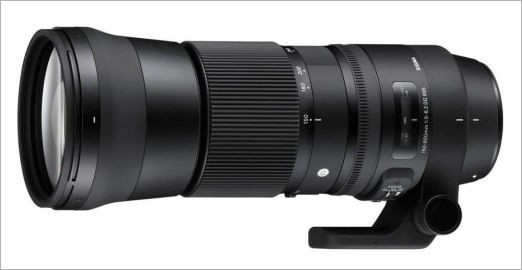 In late 2003 Sigma introduced there Tamron SP 150-600/5-6.3 Di VC USD lens and I reviewed it her last year
Last year Sigma announced two 150-600mm lenses, the Sigma 150-600/5-6.3 DG OS HSM C (Contemporary) at a price similar to that of the Tamron lens, and the Sigma 150-600/5-6.3 DG OS HSM S (Sports) at a price almost double that of the Contemporary lens. I have now had a chance to use all three lenses and compare them with each other. In this review I will concentrate mainly on the Sigma 150-600/5-6.3 DG OS HSM C (Contemporary) lens in a Canon EOS mount.
Sigma 150-600/5-6.3 DG OS HSM C (Contemporary) Specifications
| | |
| --- | --- |
| Lens Construction | 20 Elements in 14 Groups |
| Minimum Aperture | f22 |
| Number of Diaphragm Blades | 9 |
| Minimum Focusing Distance | 280 cm / 110.2 in |
| Filter Size (mm) | 95mm |
| Maximum Magnifications | 1:5 |
| Dimensions (Diameter x Length) | 105x260.1mm/ 4.1x10.2in |
| Weight | 1930g/ 68oz. |
| Mounts | Sigma, Nikon, Canon |
Notes: DG = full frame coverage; OS = Optical Stabilization; HSM = Hyper Sonic Motor
Sigma 150-600/5-6.3 DG OS HSM C (Contemporary) Construction and operation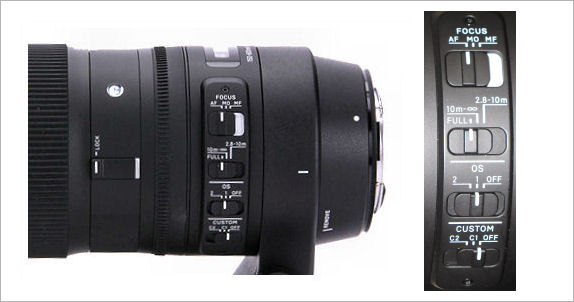 The Sigma 150-600/5-6.3 DG OS HSM C (Contemporary) feels has a composite metal/plastic construction, but it doesn't feel "flimsy" in any way. Zooming action via a rotating ring is quite smooth. It is possible to "push-pull" zoom, but I don't think the lens was really designed with this in mind. The zooming action is stiff enough that there is no "zoom creep" even with the lens lend vertically. There is a zoom lock at the 150mm position to prevent the zoom from extending when the lens is being carried. The rotation of the zoom ring is in the same direction as that of Canon EOS lenses (opposite to the direction of rotation of Nikon Zoom Lenses).
The manual focusing ring (which sits between the zoom lock and the controls in the image above) isn't the best feature of the Sigma 150-600/5-6.3 DG OS HSM C (Contemporary). It's fairly small and it's quite stiff, which can make the final small adjustments (when manually focusing using Live View and 10x magnification) a bit tricky. One thing to note is that if you grip the focus ring tightly, the focus action gets even stiffer, to the pint of binding, so a loose grip on the ring is recommended
The tripod ring holds the lens well. Rotation isn't particularly smooth, but it's not bad. There are no click stops to guide you when switching from horizontal to vertical orientation. The tripod ring can be removed from the lens if you are sure you won't be using a tripod. This makes the lens slightly more comfortable to hand hold. Sigma supply a rubber band which fits in the gap left when the tripod ring is removed (a mice tough).
There are three focusing modes - Manual, AF (with full time manual focus option available) and a "manual override" mode in which manual focus takes precedence over autofocus at all times, even during the autofocus process and during high speed continuous shooting.
The Sigma 150-600/5-6.3 DG OS HSM C (Contemporary) has three focus ranges. The first is 2.8m to Infinity (the full AF range). If you know the approximate distance of your subject you can speed up AF search by limiting the range to 2.8m to 10m for subjects that will be close, or 10M to Infinity for subjects you know will be far away
There are three stabilization (OS) settings, Off, Normal (stabilized on two axes) and Panning (stabilizes on one axis). The viewfinder image is quite "fluid" even when stabilization is active, but the system words well, giving at least 2 stops of stabilization at 600mm and at least 3 stops at 150mm by my measurements. You may see different numbers, depending on how steady your hands are!
You will also see another set of switches marked "Custom", with positions "off", "C1" and "C2". These can be used in conjunction with Sigma's USB dock. This is a system which connects the lens to a PC running the Sigma USB dock software. This software an update the lens firmware, but it can also modify the lens focus speed, the Stabilization characteristics and can get a user defined focus range. These users defined settings can then be accessed and the C1 and C2 custom functions. In addition to these functions, the USB Dock system can be used to correct and front or back focus you find (I didn't find any, but it's possible some photographers using different camera system might).
Sigma 150-600/5-6.3 DG OS HSM C (Contemporary) Optics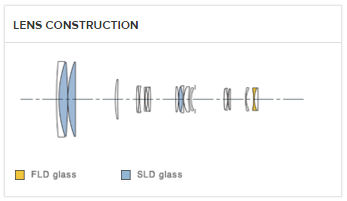 The optical layout is shown above. The second and third (large) elements are SLD (super low dispersion) glass and there's a smaller SLD element around the middle of the lens. The second to last element is FLD, a type of glass with similar properties to Fluorite (anomalous dispersion). The special elements of low and anomalous dispersion glasses help to minimize chromatic aberration.
The MTP plots below include the effects of diffract ion. Sometimes the plots exclude diffraction and in that case the numbers are higher and often react 1.0 in the center. Real lenses never have an MTF of 1.0 when diffraction is included.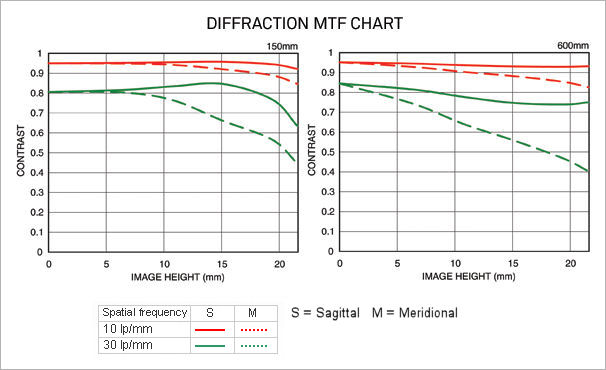 So what does this tell us? Well, the you can think of the red lines as showing contrast and the green lines showing resolution. That's not strictly true, but it's good enough for this purpose (for more on MTF see http://www.bobatkins.com/photography/technical/mtf/mtf1.html). The plots show pretty good and uniform contrast across the frame. At 600mm wide open (all these plots are with the lens wide open), the lens is pretty well diffraction limited in the center of the field (diffraction limited at f6.3 is an MTF of around 0.86). The splitting of the solid and dotted lines shows astigmatism (which lowers overall resolution). The level of astigmatism shown here isn't excessive. If you look at MTF plots for a $12,000 Canon 600/4L IS II you'll see a similar splitting (note, The Canon plots appear NOT to include diffraction, so be careful when comparing them).
I actually looked at the aerial image produced by the lens wide open at 600mm. This essentially involves using lens as a telescope, with the eyepiece replaced by a microscope to look at the image produced by the lens. Wide open at 600mm I could see over 200 lp/mm. The theoretical diffraction limit is around 250lp/mm, so if the lens isn't actually diffraction limited in the center wide open, it's pretty close!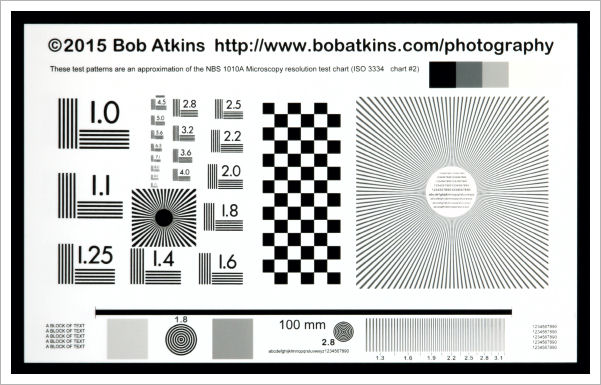 Sample Test Target. More on resolution testing can be found here: Resolution Testing
Of course seeing such high resolution in a microscope using a resolution test target in a controlled environment is quite different to recording the image of a bird sitting in a distant tree on the digital sensor of a DSLR. For a start the DSLR sensor is likely to have a resolution of somewhere between 70 and 110 lp/mm. That immediately reduced the maximum possible resolution to below 100 lp/mm. There there's the fact that that the bird and the tree will probably be moving in the wind. Then there's the fact that the atmosphere is turbulent, which leases to image blurring. So you don't end up with a 200 lp/mm resolution image being recorded on your memory card, but you might well be able to capture and image at over 80 lp/mm.
The maximum focal length of the is, of course, 600mm. This is a "nominal" focal length and standard industry practice is to be within 5% of this nominal value. I measured the actual focal length, when focused at infinity, to be 583mm, which is consistent with industry standards. There is some change in maximum focal length when the lens is close focused - as is common with many, if not most, zoom lenses. At the closet focus distance of 2.8m I'd estimate the focal length to be somewhere in the 350-400mm range. This really isn't of much consequence. The important facts about close focusing are that the closest focus distance is 2.8m, and at that distance the magnification is 0.2x, or about 1/5 life size.
Focal lengths (infinity focus) are marked at 150mm, 180mm, 200mm, 250mm, 300mm, 400mm, 500mm and 600mm. Between 150mm and 179mm the maximum aperture is f5.0, between 180mm and 387mm the maximum aperture is F5.6 and between 388mm and 600mm the maximum aperture is f6.3.
Focus search time from 2.8m to infinity was around 1s at 600mm and around 0.65s at 150mm. Autofocus was generally accurate, with no consistent front or back focusing. There was occasionally a very small shot to shot focusing difference (as seen with most lenses), but it wasn't a significant issue and the focus differences were very small (only really visible looking at shots of resolution test targets).
Sigma 150-600/5-6.3 DG OS HSM C (Contemporary) Image Quality
In a nutshell, image quality good, with no real weak spots at any aperture or focal length. I'd say image quality probably peaks in the 300-400mm region, but still holds up very well at 150mm and 600mm. At all focal lengths there is a slight increase in sharpness and contrast if you stop down a little, peaking at about f8, but this is a lens you can shoot wide open and still expect good results. Center image sharpness is higher than the edges, especially when shooting full frame rather than APS-C, but even at the edges the quality is still good, especially if you shoot RAW and correct any chromatic aberration. There's a little chromatic aberration which can seen at the two ends of the focal length range, though in the 300-400mm region it's hard to see. Distortion is minimal and unlikely to cause a problem. There is some vignetting wide open and it's most visible at 150mm (see images below). Vignetting can be lessened by stopping down or fairly easily corrected digitally.
Here are some example shots:

Canon EOS 6D, Sigma 150-600.5-6.3 DG OS HSM "C", 150mm @ f5, center of frame @ 100% on right

Canon EOS 6D, Sigma 150-600.5-6.3 DG OS HSM "C", 400mm @ f5.6, edge of frame @ 100% on right

Canon EOS 6D, Sigma 150-600.5-6.3 DG OS HSM "C", 600mm @ f6.3, center of frame @ 100% on right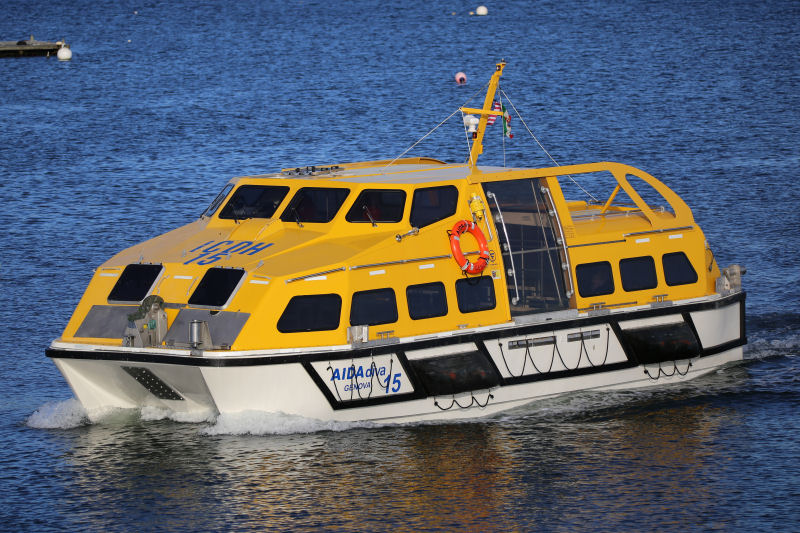 Canon EOS 6D, Sigma 150-600.5-6.3 DG OS HSM "C", 196mm F5.6 (whole frame)
Using TCs with the Sigma 150-600/5-6.3 DG OS HSM C (Contemporary)
Nobody is ever satisfied with the focal length of a telephoto lens. There's always an urge to add a 1.4x or 2x multiplier to go even longer. Is this an option with the Sigma 150-600/5-6.3 DG OS HSM C (Contemporary)?
The answer is a qualified "yes". The Sigma 150-600/5-6.3 DG OS HSM C (Contemporary) will actually accept Canon 1.4x and 2x TCs. The rear of the lens is wide and deep enough to accept the protruding front element of the Canon TCs. It will also accept 3rd party TCs that don't have a protruding front element. I tried it with My Tamron 1.4x C-AF MC4 TC. Adding a 1.4x to an f6.3 lens makes it f9, so you end up with a lens that will zoom out to 840mm f9. With the Canon TCs, the corect (f9) aperture is reported, but with the Tamron 1.4X the camera thinks the lens is still f6.2. Most Canon DSLRs (and all the ones I own!) cut off AF at f5.6 (or 6.3 with suitable lens electronics which make the camera still AF at f6.3). However neither the EOS 6D, 7D or 70D could achieve AF in normal phase detection mode, even though they would try when using the Tamron TC. All is not lost though as AF was achievable with the Canon TCs (but not the Tamron 1.4x) in Live View mode - which used contrast detection AF. Both Canon TCs cut off all attempts at normal (phase detection) AF, but both would achieve focus focal on a subject using Live View. For optical testing I used manual focus in live view with 10x screen magnification. This removes any errors and uncertainly due to autofocus errors and/or variability.

Left: 100% crop 600mm + 1.4x Canon TC = 850mm @ f10 (optimally processed) : Right 600mm at f6.3 enlared by 1.4x times (140% crop) to same image scale
So you can get AF, but how good is it and how good is the image quality. AF in live view works, but looking closely at the resulting image, AF may not be accurate. This is a little odd, since Live View AF works on contrast detection, so it should be accurate but I found it wasn't. I looked at two samples of the lens. On one sample it seemed accurate most of the time but on the other it was close, but not as good at manual focus. So be warned. Maybe your lens and your camera body will give good focus, but it's something to check. As far as image quality of a well focused image goes, with a 1.4x, it's not bad. Best results are obtained stopped down to f11, using a tripod, shooting RAW and correcting the resulting image for chromatic aberration, which does increase with the TC added. If you do everything right the resulting image sharpness is pretty good. It's certainly better than enlarging a shot taken without a TC.
Under optimal conditions of a stable tripod, a remote release and careful checking of focus decent results can be obtained (especially when optimally digitally corrected for CA and sharpness). However with a 2x TC best results come at f16, and f16 is a pretty small aperture to be using at 1200mm if you want a reasonably fast shutter speed. It's usable, but not very practical compared with using a Canon 600mm prime with a TC at f8, which not only gives you a two stop advantage, but also (with the right EOS bogy) regular high speed phase sensitive AF. Optically the results of a 2x TC weren't too bad. Resolution dropped by around 30% at 1200mm compared to 600mm without the TC, but the increase in image scale of 200% means that the shot with a 2x does capture more subject detail.
Over all I'd say that using a 1.4x TC is quite practical as long as the light is good and you take care to optimally expose, focus and process the image. For 100% certainly of optimum focus, I'd recommend using manual focus, or at least checking whether using Live View AF is giving you consistent and optimal results. The practicality of using a 2X TC is more debatable.
Sigma 150-600/5-6.3 DG OS HSM C (Contemporary) - Conclusions
Is it as good as a Canon 600/4L IS II USM? No, of course it's not. It isn't as sharp, it isn't as fast optically, it doesn't focus as fast or track focus as well, it's not as well weather-sealed and it doesn't work as well with TCs if you want to go longer. However it's less than 1/10th of the price and it's smaller and lighter. Dollar for dollar, the Sigma lens is a better by. If you disregard price, the Canon is the better lens. How much better? Certainly not 10x better.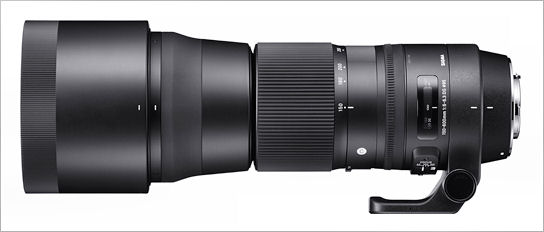 The (Contemporary) is an ideal lens for an amateur photographer (or even a pro) on a budget. It's light enough to carry around, the stabilization makes it possible (if not actually desirable) to shoot it hand held and its price makes it affordable. I wouldn't hesitate to recommend it to someone wanting a telephoto zoom. In fact I'd recommend it to anyone wanting a 500mm or 600mm lens even if they didn't particularly want a zoom, since there are no comparably priced prime telephoto lenses. The 4 year warranty and carrying case are nice extras. As long as you are ware of its limitations - relatively slow seed being the main issue, for under $1000, it's a bargain. The stiff manual focus action is annoying, but realistically you have to ask how often would you expect to be using manual focus?
There's currently (12/15) a $100 instant rebate on the lens making the price $989. Adorama have two special deals.
(1) - You can buy the for $989 and get a 4% credit towards any future purchase ($39.56)
(2) - You can buy the Sigma 150-600mm F5-6.3 DG OS HSM C for $989 and get a bundle of extras (which includes:
LensAlign MkII Focus Calibration System
95mm UV Filter
Cleaning Kit
Lenscap Leash II
95mm Circular Polarizer Filter
Pro Software Package (Includes Corel PaintShop Pro X7 & Corel AfterShot Pro 2 & Nuance OmniPage 18 & File Center Standard 7)
The 95mm filters might be useful, though remember that this isn't a fast lens and a Polarizer will require an extra couple of stops of exposure. The filters are Vivitar branded and inexpensive. Don't expect premium optical quality from "free" filters. A good multi-coated 95mm CPL filters sells in the $200-$400 range. The Vivitar filters sell in the $20 range. You get what you pay for.
You can see all the options in all the mounts (Sigma mount lenses come with a free USB Dock as well!) here All Sigma 150-600/5-6.3 DG OS HSM C senses and bundles
Right now (12/15), given the current prices and rebates, If I was going to buy a telephoto zoom, the is the one I would buy. The fact that it can accept the Canon TCs is certainly a plus for me as a Canon users. I'd probably then put the $39.56 Adorama credit towards a
Alternatives to the Sigma 150-600/5-6.3 DG OS HSM C (Contemporary)
The obvious alternative is the . It's about the same price (depending on rebates, it may be slightly cheaper), it's about the same size and weight, and it's optically very similar. In terms of optics, taking all focal lengths, aperture and positions in the frame into account, there's no really significant difference between these two lenses. The Tamron lens has a 6 year warranty (vs 4 years) and doesn't come with a case. However it has a much smoother manual focus action. It also can't accept the Canon TCs due to the TC's protruding front element hitting part of the rear lens mount. The Tamron also has only one stabilization mode (the Sigma has 2) and two focus range (the Sigma has 3). I reviewed the Tamron lens just after it came out - see Tamron 150-600/5-6.3 VD USD Review
Sigma also have a more expensive alternative, the . It's a better built lens using more metal parts with improved weather sealing. The Sports model has slightly different optics, the large front elements being made of FLD glass rather than SLD, which should lead to lower levels of chromatic aberration. In fact it does, though neither lens is really troubles by CA. The Sports lens has very smooth manual focus, can be locked in position at any of the marked focal lengths and has a smoothly rotating tripod mount with click stops at 90 degree intervals. Downsides to the Sports lens are that it's about 2 lbs heavier and twice the price of the Contemporary version. That price difference can't really be justified in terms of optical performance, but could be in terms of construction, and durability. The AF may be also be slightly better than the Contemporary version and I got it to AF in phase detection mode (normal AF) with a Tamron 1.4x TC attached (something neither than Tamron nor Sigma "C" lens would do). It currently (12/15) carries a $200 instant rebate making the final price around $1799, so it's still relatively affordable for what you get.
I suspect most readers of this website are probably Canon owners, but for any Nikon users, Nikon recently released the . It doesn't have the zoom range of the 150-600 Sigma or Tamron lenses and it's a bit more expensive at around $1397 (12/15), but it is slightly faster (F5.6 vs. f6.3).
The best Canon can do in telephoto zooms is the ($1300 12/15)and it's more recent (and more expensive) update, the ($2199 12/15). Good lenses (especially the Mk II version), but more expensive and 400mm is significantly shorter than 600mm. With a 1.4x TC these lenses still top out at 560mm and f8.